Can Cotes-du-Rhone age?
Contrary to the traditional image of a wine collector fondling dusty, decades-old bottles in a cobweb-festooned cellar, the lion's share of all the world's wine is not meant for aging. Only a tiny fraction of wine (though generally the best fraction) is designed to benefit from cellar time.
By and large, the basic red Côtes-du-Rhône - the Grenache-heavy blend from the Southern Rhone that's often served in pitchers in French bistros and cafés - falls into the do-not-age category. Hearty, fruity and acidic, it's fine right off the merchant's shelf and won't go around the bend for a year or even a few. But it gains nothing from careful aging, eventually losing its fruit without gaining any of the subtle, complex "tertiary" flavors that elevate more ageworthy wines.
But how about the Côtes-du-Rhône Villages wines that we're featuring in this month's Wine Focus?
Certainly at the level of the wines entitled to carry their own village name on the label, either standing alone (Gigondas, Vacqueyras and three others) or following the regional designation (Côtes-du-Rhône Villages Rasteau, Côtes-du-Rhône Villages Cairanne, and many more), we're talking about wines that bear more than a passing resemblance to the local flagship appellation, Chateauneuf-du-Pape.
There's no real question that Chateauneuf-du-Pape is an ager: A good one will be drinkable, although perhaps rough with tannic astringency, for four or five years after the vintage. Then it typically goes through a "dumb stage" until around its eighth birthday, whereupon - assuming careful cellaring at cool, constant temperatures - it goes into a long plateau of maturity and may last until 15 to 20 years after the vintage or more, depending on your tolerance for earthy, oxidizing funk in older reds.
As you might expect, quality Côtes-du-Rhône Villages rarely last that long (although Gigondas can come close); but good ones, starting from a base of concentrated fruit and good acid balance, can certainly emulate the aging profile of Chateauneuf on a somewhat more accelerated time scale.
Digging through my small collection of dusty bottles in search of something to test this premise, I ran across just the thing, a gift from a wine-loving friend a while back (thanks, Bob!): Two bottles of 1999 Côtes-du-Rhône Villages Saint-Maurice, a small, less-well-known village in the Drôme, a stretch of the Rhone Valley hills a bit north of the Vaucluse region around Mont Ventoux that's been the center of attention in my other Côtes-du-Rhône articles this month. Saint-Maurice is just south of Vinsobres, a commune that only recently graduated to named-village status.
Both wines proved to be holding up very well, normally full under tight, sound corks. Both were certainly showing earthy signs of maturity, but ample fruit remained, and little or no hint of geriatric status in either color or aroma and flavor.
WEB LINKS: For a good discussion of the Drôme villages, including Saint-Maurice, check this link on Tony Fletcher's well-done iJamming.com site:
http://www.ijamming.net/Wine/CotesduRhoneVillages2.html
To visit the Wine Focus section of WineLovers Discussion Group, click:
http://www.wineloverspage.com/forum/village/viewforum.php?f=18
Domaine Viret 1999 Côtes-du-Rhône Villages Saint-Maurice "Maréotis"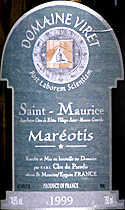 Inky blackish-purple; garnet-pink at the edge. Black raspberries, not overly fruit-forward but fresh and true; distinctly earthy aroma back notes, more mineral than barnyard. Mouth-filling flavors follow the nose, berries and earth, mouth-watering acidity and soft tannins. Seems just a bit more youthful than its sibling, fruit and earth and crisp acidity in good balance, drinking well and showing no symptoms of an impending fade. U.S. importer: LDM Wines Inc., NYC; Louis/Dressner Selections. (Nov. 10, 2001)
FOOD MATCH: Fine with a lightly spicy variation on the chicken "paprikash pilaf" featured in the Nov. 1, 2007 Wine Advisor FoodLetter.
Domaine Viret 1999 Côtes-du-Rhône Villages Saint-Maurice "Renaissance"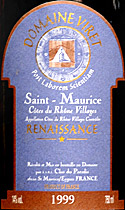 Very dark purple, garnet edge; no real sign of brown at the clear edge. Black fruit and an edge of "horsey" barnyard, brett definitely present but appropriate for the wine and its age, not out of control. Flavors consistent, dark-berry fruit and earth, structural acidity and still a bit on the tannic side. Plenty of life left, good complexity, and an appealing wine assuming you like that earthy-barnyard Old World style. U.S. importer: LDM Wines Inc., NYC; Louis/Dressner Selections. (Nov. 10, 2001)
FOOD MATCH: Pizza with toppings chosen to match, arugula and goat cheese with a bit of chopped Canadian bacon.
FIND THESE WINES ONLINE:
Compare prices and find online vendors for Domaine Viret's Saint-Maurice wines on Wine-Searcher.com:
http://www.wine-searcher.com/
find/Viret%2bMaurice/-/-/USD/A?referring_site=WLP

Today's Sponsor
Shop Now, Ship Later with The California Wine Club!
Beat the holiday rush and place your gift orders now with The California Wine Club at www.cawineclub.com. There will be no billing and no shipping until December, so order now, uncork yourself a glass of wine and relax knowing that your holiday shopping is done!

Since 1990 The California Wine Club has been introducing wine enthusiasts to California's best "mom & pop" wineries. These award-winning wines are made in such limited supply they can't be found in local stores. Every month features a new winery and a new adventure! Make this holiday memorable and send a gift that will be enjoyed month after month.

A monthly gift from The California Wine Club includes two bottles of award-winning wine plus our informative and beautiful 12-page magazine, Uncorked. Every wine is guaranteed and reorder discounts up to 50% off retail are available.

Send as many months as you wish and save on gifts of 3, 6, 9 and 12 months. $34.95 per month plus shipping and handling. Visit www.cawineclub.com or call 1-800-777-4443 and we'll take care of all the details!

Talk About Wine Online
If you have questions, comments or ideas to share about today's article
or wine in general, you're always welcome to drop by our online WineLovers Discussion Group. This link will take you to the forum home page, where you can read discussions in all the forum sections:
http://www.wineloverspage.com/forum/village
Everyone is free to browse. If you'd like to post a comment, question or reply, you must register, but registration is free and easy. Do take care to register using your real name, or as a minimum, your real first name and last initial. Anonymous registrations are quietly discarded.
To contact me by E-mail, write wine@wineloverspage.com. I'll respond personally to the extent that time and volume permit.
PRINT OUT TODAY'S ARTICLE
Here's a simply formatted copy of today's Wine Advisor, designed to be printed out for your scrapbook or file or downloaded to your PDA or other wireless device.
http://www.wineloverspage.com/wineadvisor2/
2007/11/can_cotesdurhone_age-print.html

This week on WineLoversPage.com
• Oxford Town Wine: So, what's on your mind?
As the days grow shorter and cooler, opines writer John Juergens, we can turn our focus inward. It is a great opportunity to spend some time reflecting on life, either alone or with friends. And what better way to facilitate your ruminations than with a nice "meditative" wine?
http://www.wineloverspage.com/oxford/meditative.phtml
• Our Internet radio "TalkShoe": Bubbly, not Champagne!
From Cremant de Bourgogne to Franciacorta, Prosecco to Cava and on to American sparkling wine, there's plenty of bubbly out there that's not Champagne. We'll talk about them on our Internet Radio TalkShoe Saturday, Nov. 17, at 1 p.m. US EDT (10 a.m. Pacific, 7 p.m. in Western Europe).
http://wineloverspage.com/talkshoe/
All our previous TalkShoes are available for listening or downloading from the archives!
http://wineloverspage.com/talkshoe/latest.htm
• WineLovers Discussion Group: Old World, New World: Geography or style?
Traditionally, "The Old World" in wine refers to Europe while "New World" covers North America and wine-producing regions below the Equator. But have these terms shifted to the extent that they now reflect competing wine styles - subtle, mineral, earthy and terroir-based Old World versus fruit-driven, oaky and high-alcohol New World? Read the discussion and add your own comments in the WineLovers Discussion Group!
http://www.wineloverspage.com/forum/village/viewtopic.php?t=11946
• Netscape/Compuserve Community Poll: How helpful is your wine shop?
Thinking specifically of the local, bricks-and-mortar wine shop you use most often, we're curious how helpful you consider its management and staff. This week's only poll invites you to choose among a range of options from "poor" to "excellent," and follow up with a comment if you wish. Click here to vote:
http://community.netscape.com/winelovers?nav=messages&tsn=1&tid=5462