Farewell to a friend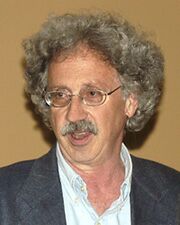 JOHN GIVEN
I hope you'll pardon a brief excursion into something more deeply personal than our usual topics today, but I think it's important, and ultimately wine-related, and leads to a simple suggestion that I don't think it would hurt any of us to hear.
It's been a rough couple of weeks around here, starting with the loss of a cousin, Bill Weis; then a friend's aunt, Anna Mae Barrett; and then, shockingly, the sudden death of Danny Boyle, a friend and co-worker, felled in his 40s by a massive heart attack. I've been spending more time than I might wish at funeral homes, sharing sorrow with friends and family, an exercise that I'm afraid will be happening more often as my Baby Boom cohort grows older.
Then Monday the phone rang again, and I learned through hot tears that John Given, a man I met several years ago as an importer specializing in offbeat Italian wines and who has since become a good friend, died last week after a short but severe illness.
John and I hit it off in Email as we discovered how much we enjoyed similar wines. After enjoying a few glasses together in Louisville and in Italy, we soon discovered that we had a lot in common than just wine, ranging from our '60s-generation youth to our politics to a shared history as newspaper reporters.
I last saw John a couple of months ago, when he was in town in September, and we enjoyed a happy evening at a favorite local eatery, catching up and tasting through a dozen of his wines (Italy in a wine glass, Sept. 14). He mentioned that he hadn't been feeling well, but said he thought it was just a bit of arthritis in his shoulder.
If only.
That was the last time I talked with John, although we enjoyed several of his wines including a few he had left behind in September. When his wife, Ann Katrin, called with the sad news this week, I realized with an eerie sensation that we had opened, and mightily enjoyed, one of his best Proseccos on Oct. 31, the day after he left us.
There couldn't have been a more appropriate memorial, as Prosecco was one of the first wines John imported. It's hard to believe now, with this affordable, light and tasty sparkler from the Veneto so hugely popular, that a decade ago few people outside Italy had ever heard of it.
When John discovered the Bellenda winery's excellent Prosecco in 1998, he started importing it himself because he couldn't interest any of the larger U.S. importers in taking it because the conventional wisdom held that a wine so obscure would never sell.
As it turned out, John caught Prosecco on a rising curve, and he sold out. A career in importing was launched, and Bellenda is still one of his top producers.
Ann Katrin tells me that John Given Wines Inc. won't close. She intends to keep the Manhasset, N.Y., company going, and I certainly wish her well.
And here's that simple piece of advice I promised you: Love your friends, and let them know it. Don't wait to tell them you care, because tomorrow might be later than you think. And drink good wine together while you can.
I think we'll pop the cork on another bottle of Bellenda tonight, in John's memory. Godspeed to you, old friend.
Bellenda 2006 "San Fermo" Prosecco di Conegliano Valdobbiadene Brut ($15)

Clear straw color with a touch of gold; its frothy mousse falls back fast but leaves a persistent bubble stream. Distinct green-apple aroma and flavor with hints of rising bread dough. Crisp, tart and bone-dry, cleansing and refreshing, a particularly effective bubbly with food. U.S. importer: John Given Wines Co., Manhasset, N.Y. (Oct. 31, 2007)
FOOD MATCH: Excellent as an aperitif, friendly with a wide range of lighter fare from seafood, fish and poultry to pork or lighter-style vegetarian dishes. It was fine with my favorite home version of Cantonese shrimp with lobster sauce.
VALUE: Prices vary regionally, but it's certainly a bargain in the middle teens.
WHEN TO DRINK: Ready to enjoy, although you can certainly keep it for New Year's or even leave it in a cellar or even on a wine rack in a cool place for a year or two.
WEB LINK:
Here's a fact sheet on Bellenda "San Fermo" Prosecco on the U.S. importer's Web page:
http://www.jgwines.com/Factsheets/Bellenda06.html
FIND THIS WINE ONLINE:
John Given's wines are distributed in many states of the U.S., and his office will be happy to help you find local or Internet sources. Click "Contact Us" on the John Given Website,
http://www.jgwines.com
or send E-mail to info@jgwines.com
Compare prices and find vendors for Bellenda Prosecco on Wine-Searcher.com:
http://www.wine-searcher.com/
find/Bellenda/-/-/USD/A?referring_site=WLP

Today's Sponsor
A message from WineLibrary.com
You may have seen us featured in GQ magazine, The Wall Street Journal, New Jersey Monthly and elsewhere. WineLibrary.com features a huge collection of top wines from around the world, great gifts and accessories, a daily video blog (WineLibraryTV), huge selection of futures and much, much more!
NEW! Order your 2005 Bordeaux Futures by the bottle! Click here for more info! Log on to WineLibrary.com today and browse our enormous selection of futures from the 2005 vintage in Bordeaux. Looking for Cheval Blanc, Mouton, Pavie, Leoville Las Cases or others? We have them all available as futures now! It's the vintage we will all be talking about for years ... order your futures today before it's too late!
Bottom line, we offer the lowest prices, the largest selection, lightning fast shipments and the greatest customer service in the industry! WineLibrary.com is your one-stop shop for everything wine ... so what are you waiting for? Log on to WineLibrary.com today!

Talk About Wine Online
If you have questions, comments or ideas to share about today's article
or wine in general, you're always welcome to drop by our online
WineLovers Discussion Group. This link will take you to the forum home page, where you can read discussions in all the forum sections:
http://www.wineloverspage.com/forum/village
Everyone is free to browse. If you'd like to post a comment, question or reply, you must register, but registration is free and easy. Do take care to register using your real name, or as a minimum, your real first name and last initial. Anonymous registrations are quietly discarded.
To contact me by E-mail, write wine@wineloverspage.com. I'll respond personally to the extent that time and volume permit.
PRINT OUT TODAY'S ARTICLE
Here's a simply formatted copy of today's Wine Advisor, designed to be printed out for your scrapbook or file or downloaded to your PDA or other wireless device.
http://www.wineloverspage.com/wineadvisor2/
2007/11/farewell_to_a_friend-print.html