Wine Focus - Rhone Villages
Why does so much French wine seem to come from villages? There's Beaujolais Villages and Côte-de-Beaune Villages and Mâcon-Villages and many more, including the topic of today's dissertation, Côtes-du-Rhône Villages.
No, it's not that wine is best made in small towns, although the French word "Village" (pronounced "Vee-lahzh") means pretty much the same as the English word.
In this context, though, under tradition codified in wine law, "Villages" indicates a higher quality level: wine made from grapes grown in and around specific villages whose vineyards have consistently produced the region's best fruit.
In most cases, including Côtes-du-Rhône Villages, wines are also governed by more stringent regulations aimed at ensuring quality standards: Vineyards claiming the Villages appellation are limited to lower production per acre and higher minimum levels of alcohol.
Wine geeks will note that these criteria are similar to the distinction in Italy between generic regional wines (Chianti) and the wines perceived as higher quality from a designated central region (Chianti Classico).
We're taking an up-close-and-personal look at Côtes-du-Rhône Villages as this month's "Wine Focus" in our WineLovers Discussion Group forum, where you're welcome to drop in, share tasting reports, ask questions and talk about the month's topic.
Before we move on to today's tasting report, let's have a quick summary of the Côtes-du-Rhône Villages. While generic Côtes-du-Rhône ("Hills of the Rhone") covers a vast stretch of both the Southern and Northern Rhone Valley, Villages vineyards cover only about one-eighth of that broad region. About two dozen villages qualify to have the village name included on the label, with the most familiar names lying along the foothills of Mont Ventoux, looming in the haze east of Chateauneuf-du-Pape in the photo from my 2005 Rhone Valley tour pictured above in our graphics edition.
Historically, a few of the most reputed villages have been "promoted" to appellations in their own right: Gigondas and Vacqueyras were the first to gain independent status, with Beaumes-de-Venise and Vinsobres joining them two years ago; another, Rasteau, is negotiating for similar status.
The other named villages have the local name tacked on, like Côtes-du-Rhône Villages Cairanne. Although it's not possible to pick out specific villages in the photo (you'll find a higher resolution image at http://www.wineloverspage.com/graphics1/ventoux.jpg ), you can trace several of the most familiar names in a wide S-shaped curve from Cairanne on the left through Rasteau, Seguret, Vaison, Sablet, Gigondas and Vacqueyras to Beaumes-de-Venise on the right.
With a few odd exceptions, most notably the famous sweet white Muscat wine of Beaumes-de-Venise and a small amount of white wine made from Marsanne, Roussanne and Viognier, Côtes-du-Rhône Villages wines are usually red, with the Grenache grape dominant, Syrah and Mourvedre playing supporting roles, and any of the 13 grapes permitted in Chateauneuf-du-Pape permitted but less often used.
At its best, Côtes-du-Rhône Villages can come close to Chateauneuf-du-Pape in character and style, and it generally does so at a fraction of the price. Value-seekers, take note.
To visit the Wine Focus section of WineLovers Discussion Group, simply click:
http://www.wineloverspage.com/forum/village/viewforum.php?f=18
To get started, I suggest you read Forum participant Tim York's excellent summary of this topic at this forum link:
http://www.wineloverspage.com/forum/village/viewtopic.php?t=11786
Today's Sponsor
Finding your favorite wines just got easier with The California Wine Club!
The California Wine Club's online Wine Store has a new look! You may now search for your favorite wines by varietal, price and even region. Visit the Wine Store at www.cawineclub.com today to find your favorite wine and save up to 50 percent off normal retail prices.
Since 1990 The California Wine Club has featured limited-production wines from California's best "mom & pop" wineries. Each month features a new winery and includes two bottles of award-winning wine and a beautiful 12-page magazine, Uncorked. Just $34.95 per month plus shipping, handling and tax where applicable.
For yourself and as a gift, a membership from The California Wine Club takes the guesswork out of finding quality wine at a reasonable price. Visit www.cawineclub.com or call 1-800-777-4443. Mention The 30 Second Wine Advisor and receive a bonus bottle in your first shipment.

Château Beauchêne 2005 Côtes-du-Rhône Villages ($11.99)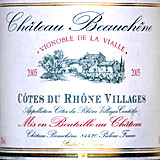 Clear dark garnet. Fresh raspberry and red cherry aromas, pleasant, more subtle than fruit-forward. Flavors consistent with the nose, juicy red fruit and zippy acidity in good balance; just a touch of soft tannic astringency on the tongue, with mouth-watering acidity and discreet red-berry fruit in a long finish. U.S. importer: Wine Adventures Inc., West Des Moines, Iowa. (Nov. 2, 2007)
FOOD MATCH: Red meat in any form should serve it well; I crossed ethnic boundaries to make a splendid match with bowls of spaghetti and good-quality meatballs with a fresh tomato sauce.
VALUE: Particularly in the age of the strong Euro, a lower-teens price for a table red of this quality suggests backing up a truck to the wine-shop door.
WHEN TO DRINK: No rush to drink it up befor it fades, but it's offering such a beautiful balance of fresh fruit and crisp acidity now, it's hard to imagine it evolving into anything much better than this.
WEB LINK:
The Château Beauchêne Website is published in French and English. To find the English version, click the small link "English Version" toward the bottom of the home page.
http://www.chateaubeauchene.fr/
FIND THIS WINE ONLINE:
The winery Website offers an Email link for information about finding Château Beauchêne around the world. You'll find it on this page:
http://www.chateaubeauchene.fr/
en/04_where_to_find_us/42_in_the_world.php
Compare prices and find online vendors for Château Beauchêne's wines on Wine-Searcher.com:
http://www.wine-searcher.com/
find/Beauchene/-/-/USD/A?referring_site=WLP

E-Book on Cheap Wine
I recently ran into an Atlanta-based wine "geek," Ed Gandia, who has taken the quest for good cheap wines about as far as it can go. Ed tasted a huge number of cheap wines - in many cases, taking a bullet so you won't have to - in an effort to build a comprehensive directory of specific wines and producers whose under-$10 wines pass his muster.
He has published a fine E-book called "Fool-Proof Wine Values" that incorporates the results of his extensive tastings into a useful consumer guide, featuring reports on 147 inexpensive wines from 44 producers that meet his tough criteria: In his opinion, they taste like wines priced in the $20 to $50 range but cost $10 or less; deliver consistent quality year after year, and are readily available at wine shops in the U.S.
"Fool-Proof Wine Values" is a downloadable E-book, available online as a PDF document (but you can print it out at home if you prefer to read it on paper). Ed sells it for $19, with his 100 percent, 60-day, no-questions-asked, money-back guarantee.
If you're regularly in the market for good, inexpensive wines, I think you'll find this E-book will pay for itself in your next few visits to the wine shop. You can buy it and download it immediately using this link, which will return a commission to help us pay the rent at WineLoversPage.com:
"Fool-Proof Wine Values"
http://winelovers.winebook1.hop.clickbank.net/?tid=124898SN

Talk About Wine Online
If you have questions, comments or ideas to share about today's article
or wine in general, you're always welcome to drop by our online WineLovers Discussion Group. This link will take you to the forum home page, where you can read discussions in all the forum sections:
http://www.wineloverspage.com/forum/village
Everyone is free to browse. If you'd like to post a comment, question or reply, you must register, but registration is free and easy. Do take care to register using your real name, or as a minimum, your real first name and last initial. Anonymous registrations are quietly discarded.
To contact me by E-mail, write wine@wineloverspage.com. I'll respond personally to the extent that time and volume permit.
PRINT OUT TODAY'S ARTICLE
Here's a simply formatted copy of today's Wine Advisor, designed to be printed out for your scrapbook or file or downloaded to your PDA or other wireless device.
http://www.wineloverspage.com/wineadvisor2/
2007/11/wine_focus_rhone_villages-print.html

This week on WineLoversPage.com
• WebWineMan: Négoçiant Wines
The French word "négoçiant" refers to a middleman who purchases grapes, juice or wine in bulk from small producers, then bottles and distributes the wine under its own label. Richard Fadeley and his Columbia (S.C.) Free Times tasters review a selection of négoçiant wines.
http://www.wineloverspage.com/webwineman/negociant07.phtml
• Our Internet radio "TalkShoe": Training your palate!
Last week, guest participant Max Hauser and our Internet Radio TalkShoe regulars got so far into the subject of training your palate for wine that we're going to continue the topic Saturday, Nov. 10, at 1 p.m. US EDT (10 a.m. Pacific, 7 p.m. in Western Europe). You're welcome to tune in, or call and talk.
http://wineloverspage.com/talkshoe/
Saturday's TalkShoe introducing this topic is now available for downloading or listening online. You can hear it, and listen to all our previous TalkShoes, in the archives!
http://wineloverspage.com/talkshoe/latest.htm
• WineLovers Discussion Group: Genetically modified yeast?
A genetically modified (GM) yeast will be introduced for winery use this year. Does the idea of GM yeast in wine concern you? Do you think its use should be disclosed on the wine label? Read opinions and add your own in the WineLovers Discussion Group!
http://www.wineloverspage.com/forum/village/viewtopic.php?t=11859
• Netscape/Compuserve Community Poll: Genetically modified yeast in wine?
Jumping off from the forum discussion above, we'd like to know what you think about the use of GM yeast in wine. Are you all for it, adamantly opposed, or somewhere in-between? This week's ballot offers you the opportunity to express your opinion, and say your piece. Click here to vote:
http://community.netscape.com/winelovers?nav=messages&tsn=1&tid=5454