Today's Sponsor
• Connoisseurs' Series This exceptional program brings you the kind of rare, limited-production California jewels that are often available only on tightly allocated mailing lists. www.cawineclub.com/ connseries
In This Issue
• Wine in the microwave!?
The very idea might be enough to make a wine snob faint dead away, but under some very specific circumstances, cautious use of the nuke oven may make sense.
• Connoisseurs' Series This exceptional program brings you the kind of rare, limited-production California jewels that are often available only on tightly allocated mailing lists. Featured this month are two outstanding 2003 Napa Cabernets from Anselmo Vigne and Signorello.
• This week on WineLoversPage.com
New articles offer a report on Sagrantino from Umbria and reviews of 100 new wine releases for autumn. We discuss wine and cheese in our Internet Radio TalkShoe; watch for next week's topic! Our WineLovers Discussion Group evaluates a retailer's praise for Robert M. Parker Jr.; and our weekly poll asks about the importance of vintage in your wine buying.
• Administrivia Change E-mail address, frequency, format or unsubscribe.
Wine in the microwave!?
Wine is pure, wine is natural. Wine has been made by hand for at least 8,000 years, and the very idea of subjecting it to high-tech abuse seems wrong in so many ways.
Accordingly, the very idea of popping a ration of fine wine into the microwave oven might be enough to make a wine snob faint dead away. Under some very specific circumstances, though, cautious use of the nuke oven may make sense.
Here's one: In Friday's 30 Second Wine Advisor, I talked about keeping leftover wine in an open bottle. Unfortunately, wine deteriorates quickly once it's opened. While a day or two of "breathing" may actually improve youthful, immature wines, all wines soon deteriorate with exposure to air, losing their fruit and then oxidizing, eventually taking on the nutlike scent of cheap Sherry.
Keeping a recorked, partly finished bottle in the refrigerator seems to slow down this process. In my experience, table wines start to show changes after only a few days at room temperature, but can hold on for a week or two in the fridge. Fortified wines like Port, because of their alcoholic strength, last longer, although even there, I wouldn't count on more than a week at room temperature, three or four weeks under refrigeration.
But refrigerating red wine or Port creates a service problem. These wines are best served at cool room temperature, not cold. A quick taste of Port or Cabernet straight from the fridge will provide a useful lesson that you won't soon forget. Most people find cold red wine tastes thin, sour and out of whack.
Enter the microwave! A short session in the nuke oven will quickly bring your wine back to serving temperature, and it will not harm the wine provided you warm it in short bursts of 10 to 15 seconds on the first zap, perhaps even less on a second and third zap if the wine seems to need it.
Even if the bottle will fit in your microwave, you're probably better off to decant it into a Pyrex measuring cup for ease in handling. And do take care not to overdo. Boiling your wine - or even getting it really hot - is certainly worse than serving it cold.
But please be assured that, even with a very fine wine, a careful, step-by-step microwave warming will do no harm. And just in case you were wondering, chilling wine and then taking it back to room temperature (and even repeating this process) doesn't hurt it, either. Your fine wines deserve respectful treatment, but generally speaking, modern commercial wine is rarely fragile. Relax, don't worry, enjoy your wine.
Today's Sponsor
The Connoisseurs' Series: Showing off the glory of West Coast wines
As regular readers know, I usually offer my notes every month on the current offering from California Wine Club's limited-membership Connoisseurs' Series.
These exceptional wines, selected each month by Connoisseurs' Guide publisher Charlie Olken and California Wine Club Proprietor Bruce Boring, give wine lovers the opportunity to sample the kind of rare, limited-production California jewels that are often available only on tightly allocated mailing lists.
Connoisseurs' Series members may subscribe for monthly, alternate month or quarterly packages. Each shipment includes two to four bottles of California's top wines, with detailed background information. Monthly shipments average $125-$175, including all shipping and handling. There's no membership charge, no long-term commitment (cancel any time), and every wine is guaranteed.
Call The California Wine Club at 1-800-777-4443 to join or learn more about The Connoisseur's Series. Feel free to tell them that I sent you ... and, if you join, please don't hesitate to contact me by E-mail and tell me what you think.
This month's offering was exceptional as usual, featuring three excellent California wines. I surveyed a side-by-side pair of first-rate 2003 Napa Cabernets, both of them very fine values for this high-end category. Both are cellar keepers that deserve years of careful aging, yet they're very approachable now, particularly with breathing and a good red-meat food match. They were perfect with a classic pairing, grass-fed local lamb chops pan-seared with garlic and rosemary.

Anselmo Vigne 2003 Napa Valley Cabernet Sauvignon ($60 retail, $54 per bottle for half or full case orders by Connoisseurs' Series members)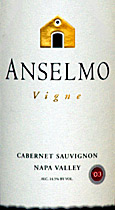 Very dark purple, almost black. Very appealing cherry-berry aromas, full and fresh, gain complexity from a more subtle backdrop of dark, bittersweet chocolate. There's a distinct tart-cherry note in the flavor, too, full and structured, shaped by firm acidity and perceptible but very smooth and accessible tannins. It carries its 14.5 percent alcohol very well, neither hot nor harsh. Juicy medium-rare lamb chops pan-seared with fresh rosemary make a perfect accompaniment even at this youthful stage, though again this is a wine made for cellaring. Although it's already at a high point, it has much more to gain from years of careful storage. Only 290 cases were made. Winery Website: http://www.anselmo-vigne.com (Oct. 27, 2007)

Signorello 2003 Napa Valley Cabernet Sauvignon ($40 retail, $33 per bottle for half or full case orders by Connoisseurs' Series members)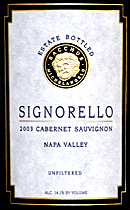 Black, with a garnet edge. Seems closed upon first uncorking, but it opens up to attractive blackcurrant-cassis aromas. Full, very tannic - a wine built for aging - but juicy, tart blackcurrant fruit and espresso notes of well-integrated oak work their way through the youthful astringency, and its 14.1% alcohol, almost light by modern Napa Cabernet standards, seems almost Old World in its balance. A red-meat food match tames the tannins and helps show off this wine's considerable potential. Attractive now, particularly with vigorous decanting and breathing time and the right food pairing, but five to 10 years of careful cellaring will pay real rewards. An unfiltered blend of 75% Cabernet Sauvignon, 14% Merlot, 11% Cabernet Franc. Winery Website: http://www.signorellovineyards.com (Oct. 27, 2007)

Talk About Wine Online
If you have questions, comments or ideas to share about today's article
or wine in general, you're always welcome to drop by our online WineLovers Discussion Group. This link will take you to the forum home page, where you can read discussions in all the forum sections:
http://www.wineloverspage.com/forum/village
Everyone is free to browse. If you'd like to post a comment, question or reply, you must register, but registration is free and easy. Do take care to register using your real name, or as a minimum, your real first name and last initial. Anonymous registrations are quietly discarded.
To contact me by E-mail, write wine@wineloverspage.com. I'll respond personally to the extent that time and volume permit.
PRINT OUT TODAY'S ARTICLE
Here's a simply formatted copy of today's Wine Advisor, designed to be printed out for your scrapbook or file or downloaded to your PDA or other wireless device.
http://www.wineloverspage.com/wineadvisor2/
2007/10/wine_in_the_microwave-print.html

This week on WineLoversPage.com
• Bucko's Wine Reports: Autumn 2007 Releases
The crisp bite of the morning air; the smell of burning leaves floating on a gentle breeze ... The little hobgoblins preparing their holiday rounds. Autumn calls for hearty red wine, and you'll find several to fit the bill in Randy "Bucko" Buckner's monthly report on 100 new wine releases.
http://www.wineloverspage.com/bucko/bucko1007.phtml
• Italian Wine Guide: Sagrantino from Umbria
In Italy's Umbria, many winemakers have decided to plant international varieties such as Cabernet Sauvignon and Merlot to appease the market. ... Thankfully, writer Tom Hyland reports, the producers near the small town of Montefalco have decided to emphasize their own unique wine: Sagrantino di Montefalco, a robust red made from the local Sagrantino grape.
http://www.wineloverspage.com/italwineguide/sagrantino07.phtml
• Our Internet radio "TalkShoe": Wine and cheese
Why do wine and cheese go together so well? What specific wines and cheeses match? We took on this tasty topic in Saturday's Internet Radio TalkShoe, now available for listening - as are all our previous TalkShoes - in the archives!
http://wineloverspage.com/talkshoe/latest.htm
We'll be live atain Saturday, Nov. 3, at 1 p.m. US EDT (10 a.m. Pacific, 7 p.m. in Western Europe), with another TalkShoe on a wine topic of interest. You're welcome to tune in, or call and talk.
http://wineloverspage.com/talkshoe/
• WineLovers Discussion Group: Robert Parker "rarely incorrect"?
A wine shop's Email solicitation, seeking to sell wines highly rated by Robert M. Parker Jr., declared that the well-known American wine writer's "judgment and analysis is rarely incorrect." Meaning no disrespect, we're not sure the man has achieved a papal state of infallibility. How about you? Read and join in this spirited online conversation in our WineLovers Discussion Group:
http://www.wineloverspage.com/forum/village/viewtopic.php?t=11675
• Netscape/Compuserve Community Poll: Importance of vintage in wine buying?
The 1989 vintage was hot and ripe in much of Europe, rainy and disappointing in Napa. The floods of 2002 wiped out Chateauneuf-du-Pape and dampened Europe, but it was a fine year in Napa. When you buy wine, how much weight do you give to vintage? Stop by and click to express your opinion in our CompuServe/Netscape forum poll:
http://community.netscape.com/winelovers?nav=messages&tsn=1&tid=5445