Rustic pleasure
Like a lot of common wine-tasting terms, "rustic" is less than precise. It's wine language for poets, not for scientists, as its meaning shifts in ways that laboratory equipment can't measure. Indeed, my "rustic" might be your "urbane."
Still, "rustic" turns up fairly frequently in winespeak, and frankly, once explained, it translates into a wine of nostalgic pleasure for me.
Like the Country Mouse of childhood fable, as I wrote in a 2002 article on this wine-vocabulary term, a wine that's "rustic" lacks the smooth veneer of urban sophistication.
I noted then that the term was either too recent or too obscure to earn listing as a separate entry in the basic wine encyclopedias, an omission that remains un-filled in the most recent Third Edition of Jancis Robinson's comprehensive "Oxford Companion to Wine."
But it's clearly in modern use, as quick searches on Google - or through my own tasting reports on WineLoversPage.com - will quickly reveal: A quick search on "Rustic Wine Descriptor" brings up 854 Google hits.
So what is it? A "rustic" wine is hearty, earthy, perhaps even a bit rough. It's a wine that gives the impression of the good old days, before technology and a changing market inspired the production of "squeaky clean" wines that forswear earthy character in favor of pure, clean fruit.
For a fine example, consider today's tasting report, a red blend of 80 percent Sangiovese and 20 percent indigenous Ciliegiolo from Tuscany's coastal mountains, Massa Marittima. Then we ran into another fine rustic wine last night, Altos 2006 "Los Hormigas" Mendoza Malbec. More about that another day.
Today's Sponsor
A message from WineLibrary.com
You may have seen us featured in GQ magazine, The Wall Street Journal, New Jersey Monthly and elsewhere. WineLibrary.com features a huge collection of top wines from around the world, great gifts and accessories, a daily video blog (WineLibraryTV), huge selection of futures and much, much more!
NEW! Order your 2005 Bordeaux Futures by the bottle! Click here for more info! Log on to WineLibrary.com today and browse our enormous selection of futures from the 2005 vintage in Bordeaux. Looking for Cheval Blanc, Mouton, Pavie, Leoville Las Cases or others? We have them all available as futures now! It's the vintage we will all be talking about for years ... order your futures today before it's too late!
Bottom line, we offer the lowest prices, the largest selection, lightning fast shipments and the greatest customer service in the industry! WineLibrary.com is your one-stop shop for everything wine ... so what are you waiting for? Log on to WineLibrary.com today!

I Campetti 2005 "Castruccio" Monteregio di Massa Marittima ($12.99)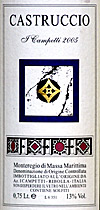 Dark reddish-violet with a clear edge. Black cherries and spice in the foreground with hints of smoke and earthy "barnyard" lurking behind them. Flavors consistent, earthy black fruit built on tart, mouth-watering acidity, with dark fruit and pleasant barnyard in the finish. Definitely "rustic," but pleasantly so; an appealing, old-style wine and a fine red-meat match. U.S. importer: Vintner Select, Mason, Ohio; a Marc de Grazia Selection. (Oct. 20, 2007)
FOOD MATCH: Grass-fed local rib eye steak, pepper-crusted and pan-seared medium-rare.
VALUE: This earthy, "rustic" style, like fruit bombs at the other end of the spectrum, has its fans and its foes. If you like the style, as do I, then it's a fine bargain in the lower teens.
WHEN TO DRINK: No rush to drink it more quickly than the next year or two, but the chances are that it won't evolve appreciably with cellar time.
WEB LINK:
Here's a producer fact sheet on the exporter's page, where you'll find links to specs on the 2005 Castruccio and many other I Campetti wines:
http://www.marcdegrazia.com/
mdg/ing/scheda_produ.jsp?KProduttori=8&lingua=ING
FIND THIS WINE ONLINE:
Compare prices and find vendors for I Campetti Castruccio on Wine-Searcher.com:
http://www.wine-searcher.com/
find/Campetti%2bCastruccio/-/-/USD/A?referring_site=WLP

Talk About Wine Online
If you have questions, comments or ideas to share about today's article
or wine in general, you're always welcome to drop by our online
WineLovers Discussion Group. This link will take you to the forum home page, where you can read discussions in all the forum sections:
http://www.wineloverspage.com/forum/village
Everyone is free to browse. If you'd like to post a comment, question or reply, you must register, but registration is free and easy. Do take care to register using your real name, or as a minimum, your real first name and last initial. Anonymous registrations are quietly discarded.
To contact me by E-mail, write wine@wineloverspage.com. I'll respond personally to the extent that time and volume permit.
PRINT OUT TODAY'S ARTICLE
Here's a simply formatted copy of today's Wine Advisor, designed to be printed out for your scrapbook or file or downloaded to your PDA or other wireless device.
http://www.wineloverspage.com/wineadvisor2/
2007/10/rustic_pleasure-print.html