Shiraz in Focus
Our Wine Focus feature on Shiraz this month is generating a lot of discussion and tasting reports on this ultimate New World wine from a grape variety that France calls Syrah but that Australia has made its own under a variant moniker.
With the month only midway through, wine lovers from all over the world - including a hearty band of Australians - have posted hundreds of thoughtful remarks in more than 40 Shiraz-related topics on our WineLovers Discussion Group.
Rather than offering you the usual sermon today, let's launch the new week with a few quick summaries followed by links to specific forum discussions where you're welcome to follow the conversations and cordially invited to join in with comments and tasting notes of your own.
• Shiraz: An Introduction and Overview from an Australian Perspective
David Lole, an Australian wine enthusiast from Canberra, kicked off the month's discussion with this thoughtful essay. It provides an affectionate look at the grape and the wine from an Aussie perspective, a refreshing new way of envisioning Shiraz for the rest of us. "The real beauty and secret of Australian Shiraz," he concludes, "is that somewhere between the best and the worst you'll be able to find an ocean of more than decent juice at not too high a price that will be approachable as a youngster and should improve and probably last for a lot longer than most would expect." To view this topic, click:
http://www.wineloverspage.com/forum/village/viewtopic.php?t=11183
• In defense of Big and Bold Aussie Shiraz
Wine blogger and Shiraz expert Mike Pollard opened another worthy discussion in a well-reasoned and civil demurral from the conventional wisdom that big, high-alcohol Shiraz is necessarily a bad thing. Balance, after all, is the key.
http://www.wineloverspage.com/forum/village/viewtopic.php?t=11359
• Timeline of the name "Shiraz" in Australia
How did the name "Syrah" in France turn into "Shiraz" Down Under? Most wine authorities simply state the distinction without examining it, but not wine lover Bob Ross, who has undertaken an extended, scholarly research effort and sought input from wine historians. Among tidbits: The grape was variantly called "Scyras" in France as far back as 1826, at which time the grape was already linked in legend to Shiraz in Persia; he cites emerging evidence that "Shiraz" was not an Australian locution but was taken Down Under from England in the early days.
http://www.wineloverspage.com/forum/village/viewtopic.php?t=11401
• Sparkling Shiraz
Finally, I've added another Shiraz report of my own, dipping into the offbeat but intriguing category of Sparkling Shiraz with a note on a dark, frothy and affordable red sparkler from Paringa in South Australia. Although I've learned to be wary of Sparkling Shiraz in the $10 range, many of which are made in a sweet, gulpable style, Paringa's entry proved intriguing, a fruit-forward, berryish and fairly dry Shiraz that just happens to open with a pop and pour out with a fizz. You'll find my tasting report below.
Today's Sponsor
No billing and no shipping until December from The California Wine Club!
Why Wait? Place your holiday gifts now receive no billing and no shipping until December plus get a gift for you.
The California Wine Club is a memorable gift for family, friends and co-workers. Send as many months as you wish! Every month features a new winery and a new adventure!
Each month is $34.95 plus shipping and includes:
• Two bottles of award-winning wine hand-selected from California's best "Mom & Pop" wineries
• Beautiful and entertaining 12-page magazine, Uncorked
• Discounts of up to 50% on reorders
• A 100% satisfaction guarantee
Order your holiday gifts now, receive no billing and no shipping until December, and receive a convenient Wine Tote from Built NY with Screwpull corkscrew.
The California Wine Club is America's oldest and most trusted wine club. Visit www.cawineclub.com or call 1-800-777-4443 to learn more.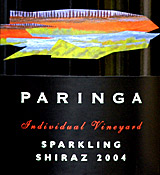 Paringa 2004 "Individual Vineyard" South Australia Sparkling Shiraz ($10.99)
Inky-dark purple with a frothy, persistent violet mousse and a lasting bubble stream. Blackberries and blueberries and a whiff of menthol, typical fruit-forward South Australia Shiraz and a prickly and frothy sparkling wine. More appealing than many Sparkling Shiraz at this lower end of the price range. (I saw one under Sarah and Sparky Marquis's sought-after MollyDooker label in the same store for something like $45. I passed.)
FOOD MATCH: Fine for sipping by itself; it made a decent pairing with a dinner salad topped with thin strips of teriyaki-style beef.
VALUE: No complaints at just past $10; as noted, many low-end Sparkling Shiraz are much less appealing.
WHEN TO DRINK: Not a wine made for cellaring, and the 2004 bottle on this vintage suggests it's been rattling around the system for a while. Buy it, drink it, move on.
WEB LINK:
Paringa's Website, apparently made for the U.S. market, contains a gallery of photos, a detailed history of the winery, but only limited information about the wines and no fact sheet on the sparkler that I can find.
http://www.paringa.net
FIND THIS WINE ONLINE:
The importer's Website includes an unusually comprehensive list of U.S. distributors by state, complete with phone numbers and even Email addresses.
http://www.paringa.net/distributors.htm
Compare prices and find vendors for Paringa Sparkling Shiraz on Wine-Searcher.com:
http://www.wine-searcher.com/
find/Paringa%2bSparkling%2bShiraz/-/-/USD/A?referring_site=WLP

Talk About Wine Online
If you have questions, comments or ideas to share about today's article
or wine in general, you're always welcome to drop by our online WineLovers Discussion Group. This link will take you to the forum home page, where you can read discussions in all the forum sections:
http://www.wineloverspage.com/forum/village
Everyone is free to browse. If you'd like to post a comment, question or reply, you must register, but registration is free and easy. Do take care to register using your real name, or as a minimum, your real first name and last initial. Anonymous registrations are quietly discarded.
To contact me by E-mail, write wine@wineloverspage.com. I'll respond personally to the extent that time and volume permit.
PRINT OUT TODAY'S ARTICLE
Here's a simply formatted copy of today's Wine Advisor, designed to be printed out for your scrapbook or file or downloaded to your PDA or other wireless device.
http://www.wineloverspage.com/wineadvisor2/
2007/10/shiraz_in_focus-print.html

This week on WineLoversPage.com
• WineBlueBook: Pinot Noir, White Burgundy and more
WineBlueBook has relaunched with a new monthly format and database. Neil Monnens lists recent releases on the basis of both critical point scores and price, making it easy to recognize selections of exceptional quality-price ratio.
http://www.wineloverspage.com/qpr/qprwines.phtml
• Our Internet radio "TalkShoe": Going horizontal
What's a horizontal tasting? Comparing wines made from different vineyards or regions during the same vintage. Join us as we taste and learn in our Internet Radio TalkShoe on Saturday, Oct. 20, at 1 p.m. US EDT (10 a.m. Pacific, 7 p.m. in Western Europe). Click for the details:
http://wineloverspage.com/talkshoe/
"The War Between the Grapes," our light-hearted look at preferences for red wines or white, is now online. Browse and listen to all our previous TalkShoes in the archives!
http://wineloverspage.com/talkshoe/latest.htm
• WineLovers Discussion Group: Jancis Robinson views the changing wine world
The respected British wine scribe's remarks on the changing world of wine prompt an interesting conversation in our online WineLovers Discussion Group. Won't you drop by and join in?
http://www.wineloverspage.com/forum/village/viewtopic.php?t=11424
• Netscape/Compuserve Community Poll: Most underrated grape?
This week we're seeking to rehabilitate the reputations of a few grapes that don't get the respect they involve, as we invite you to vote for your favorite under-rated variety. The ballot offers a short list, plus a fill-in-the-blank option for "other." Click here to vote:
http://community.netscape.com/winelovers?nav=messages&tsn=1&tid=5429