Gallo does Malbec
If you don't think that trends move fast in the wine marketing business, consider this opinion that I wrote in March 2002:
And now, just as some wine enthusiasts are starting to look around at Pinot Gris/Grigio and other white alternatives to Chardonnay, Malbec is starting to show up as an intriguing option for those bored with Merlot.
Pinot Grigio and Malbec the next big things? Merlot starting to fade? While I'm fairly proud that I wrote that well before the character Miles uttered his famous quote in Sideways, it's hard to believe that just five years later, both of these once-offbeat varieties have moved not merely within range of wine geeks' radar but into the mass market.
And if any further evidence is needed to prove that Malbec has made it, here you have it: Giant E & J Gallo is importing its own brand of Malbec now.
Although Gallo no longer ranks as the world's largest wine company - even more humongous Constellation (formerly Canandaigua) passed it by a couple of years ago - Gallo still calls itself the world's largest family-owned wine company, and it still sells enough wine that, if it were an independent nation, it would rank in the world's Top Ten for wine production.
Gallo got that big by an almost unerring sense for what the market wants in wine at just about every price point. Recent years have seen a remarkable diversification in its portfolio, including the wines that it makes under a remarkable range of labels (from Thunderbird to Marcelina and Rancho Zabaco, just to name a few) and wineries that it has purchased outright (Louis M. Martini being one historic property now under Gallo's roof).
Finally, and increasingly in recent years, Gallo boasts an expanding collection of international wines that it imports into the U.S., in many cases buying the lion's share of a partner's production and offering a bit of technical advice in the winery as well. You'll find loads of Italian wines in this portfolio (Ecco Domani, Da Vinci), a French label made for export (Red Bicyclette); Australians (McWilliams and Black Swan) and a New Zealand wine (Whitehaven).
Indeed, this division appears to be growing so fast that Gallo's Website designers can't keep up. Its stylish "Portfolio" pages,
http://jobs.gallo.com/Portfolio/Portfolio.asp
don't yet show several new producers added this year: The popular Martin Códax whites from Spain; a new "Sebeka" label from South Africa, and - the subject of today's tasting - the Don Miguel Gascón brand of Malbec from Nicholas Catena's Bodegas Escorihuela Gascón, billed as one of Argentina's oldest Malbec producers.
If Gallo is there, Malbec has arrived. Not that there was any real doubt about that. The deal with Gascón was announced last May. The wines began arriving on U.S. shelves in recent weeks. It's a pretty good Malbec, too, high on the alcohol meter but otherwise rustic and earthy in the old-fashioned Mendoza style that I prefer. See my tasting report below.
Today's Sponsor
A message from WineLibrary.com
You may have seen us featured in GQ magazine, The Wall Street Journal, New Jersey Monthly and elsewhere. WineLibrary.com features a huge collection of top wines from around the world, great gifts and accessories, a daily video blog (WineLibraryTV), huge selection of futures (including red hot 2005 Bordeaux at incredible pricing) and much, much more!
Search our quick loading/high speed database of the hottest new wines from California, France, Italy, Australia, New Zealand, Spain, Germany, Austria, South America and more. Join our e-mail service and get an early heads up when wines like Bryant, Harlan, Dominus and others arrive!
Bottom line, we offer the lowest prices, the largest selection, lightning fast shipments and the greatest customer service in the industry! WineLibrary.com is your one-stop shop for everything wine ... so what are you waiting for? Log on to WineLibrary.com today!
For our Free Shipping Item of the Day, log on to http://free.winelibrary.com!

Each day at 1 p.m. we add a new item that is set for Free Shipping!!
Quantity is limited and products will sell out, so be sure to check out http://free.winelibrary.com each day at 1 p.m. for the new item!

Don Miguel Gascón 2006 Mendoza Malbec ($9.99)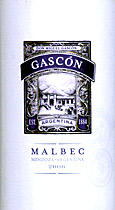 Very dark blackish-purple, dark-garnet edge. Intriguing, fruit and earth, blackberries and damp clay and something surprisingly (and, believe it or not, pleasantly) reminiscent of cigar ashes. Full and ripe, black fruit and subtle earth. Good acidic and tannic structure, though the 14.2% alcohol comes across a bit hot. On the rustic side, but frankly, I'd rather have a modestly priced Malbec in this old-fashioned style than a generic "international" red. U.S. importer: Gascon USA, Hayward, Calif. (Oct. 2, 2007)
FOOD MATCH: Argentina ... Malbec ... beef. Great with juicy burgers. Any questions?
VALUE: No complaints at $10.
WHEN TO DRINK: It's drinking well now and not really made for long-term cellaring, but there's no need to worry about keeping it around for a year or two.
WEB LINK:
The Don Miguel Gascón Website, apparently built by the importer, offers limited information on its single, ad-style page:
http://gasconwine.com/
FIND THIS WINE ONLINE:
A link from the winery Website offers online sales in many parts of the U.S.:
http://www.thebarrelroom.com/wineshop/gascon
Check prices and look for vendors for Gascón Malbec on Wine-Searcher.com:
http://www.wine-searcher.com/
find/Gascon%2bMalbec/-/-/USD/A?referring_site=WLP

Talk About Wine Online
If you have questions, comments or ideas to share about today's article
or wine in general, you're always welcome to drop by our online
WineLovers Discussion Group. This link will take you to the forum home page, where you can read discussions in all the forum sections:
http://www.wineloverspage.com/forum/village
Everyone is free to browse. If you'd like to post a comment, question or reply, you must register, but registration is free and easy. Do take care to register using your real name, or as a minimum, your real first name and last initial. Anonymous registrations are quietly discarded.
To contact me by E-mail, write wine@wineloverspage.com. I'll respond personally to the extent that time and volume permit.
PRINT OUT TODAY'S ARTICLE
Here's a simply formatted copy of today's Wine Advisor, designed to be printed out for your scrapbook or file or downloaded to your PDA or other wireless device.
http://www.wineloverspage.com/wineadvisor2/
2007/10/gallo_does_malbec-print.html