Today's Sponsor
• Like it, or your money back! The California Wine Club
What makes The California Wine Club special? The answer is quite simple: Hand-selected wines from California's best mom & pop wineries.
www.cawineclub.com
In This Issue
• Sweet red revisited
An awful lot of people would like to enjoy a sweet red table wine, but it's mighty hard to find one.
• Like it, or your money back! The California Wine Club
What makes The California Wine Club special? The answer is quite simple: Hand-selected wines from California's best mom & pop wineries.
• Le Rocche Adesso 2006 Cagnina di Romagna ($11)
Grapey and fresh, this offbeat wine from Emlia-Romagna offers one fair answer to the question, "Does anybody make a sweet red table wine?"
• This week on WineLoversPage.com
Articles on the secret word in wine-list discussions and California's take on Albariño, and technical problems delay our Internet Radio TalkShoe on "Red vs. White" until this weekend. In our WineLovers Forum, we're talking about wine-tasting groups and how to join them, and our weekly CompuServe forum poll asks whether you belong to a wine-tasting group.
• Administrivia Change E-mail address, frequency, format or unsubscribe.
Sweet red revisited
An awful lot of people would like to enjoy a sweet red table wine, but it's mighty hard to find one. "Help me find a sweet red" is one of the wine questions I receive most often, and my September 2006 article on the topic, "Sweeter than wine," remains one of the most-downloaded editions of The 30 Second Wine Advisor.

As I wrote in that article, it seems that many newcomers to wine are startled by their first taste of red wine. They expect something sweet and grapey, but they get a mouth-whack from a beverage that seems unsweet, sour and bitter.
Most of us who've developed a love for wine eventually learned to embrace the difference, whether it was love at first sight or a gradually acquired taste. We've found that a "dry" (unsweet) and "sour" (acidic) flavor profile in wine actually goes better with food; and complementing a meal, after all, is perhaps wine's highest and best use.
But this discovery eludes quite a few unsatisfied would-be wine enthusiasts who continue wandering in the wilderness, sampling the exceptions from Port (a rich, heavy, strongly alcoholic and usually expensive fortified dessert wine) to soft-drink-style carbonated wine coolers.
Last year's article found an unusual Italian exception to the rule: A relatively lightweight table wine that's red and sweet, carrying a low but not inconsequential level of alcohol, no carbonation, and a distinctly fruity and sweet flavor.
That wine, Bernardi "Camauro" Cagnina di Romagna, is no longer available in the U.S. Happily, however, the importer, the estimable John Given of Manhasset, N.Y., says he has signed on with another producer offering "the exact same wine" under a new label.
From the same Cagnina di Romagna region in Emilia-Romagna around Bologna, an Italian community where people know how to eat and drink well, say hello to Adesso 2006 Cagnina di Romagna, one of the world's few red wines that gives a straight answer to that frequently asked question about the sweet, table-worthy red.
Adesso (the Italian word means "Now") comes in at a featherweight 9 percent alcohol, and for those who care about technical data, its sweetness measures at 70 grams per liter, which is very sweet indeed, placing it in the same sugar category as a Coca-Cola, but you'll find no high-fructose corn syrup or any other additives in this wine, only the natural sweetness of grapes. You'll find my tasting report below.
Today's Sponsor
Like it, or your money back! The California Wine Club
What makes The California Wine Club special? It's a question we hear often this time of year as holiday shoppers start looking for that "perfect gift."
The answer is quite simple: We hand-pick every wine we feature, and every wine comes from a real working "mom & pop" winery. Since 1990 club owners Bruce and Pam Boring have traveled wine country searching for award-winning wines made in such limited supply, they can't be found in local stores. Unlike most other clubs, there are never any bulk, closeout or private-label wines, and every wine is 100 percent guaranteed.
Each month includes two bottles of limited-production, award-winning wine and our detailed and beautiful magaszine, Uncorked. Just $34.95 plus shipping/handling and tax where applicable.
Hundreds of 30 Second Wine Advisor subscribers experience The California Wine Club each month and know that it is a true wine adventure. Discover The California Wine Club for yourself, and if you are not 100 percent satisfied with your first month, we will refund your money or ship you something else!
Call 1-800-777-4443 to take advantage of this no-risk offer, or visit www.cawineclub.com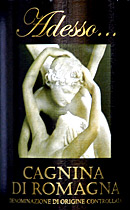 Adesso 2006 Cagnina di Romagna ($11)
Very dark purple with a distinct reddish hue. Grapey, juicy raisins, a hint of something minty and herbal on the nose; fresh wine-grape and dried-fruit flavors follow the nose, quite sweet but not sticky, with sufficient acidity to keep it from cloying. It doesn't really resemble Coca-Cola, but the sweet, dark fruit character inspires comparison, and quite frankly, I find this much more palatable than Coke. An ice cube adds structure and mutes the sweetness a bit, and it makes a surprisingly appealing match with the flavors of Cantonese-style stir-fried beef and green peppers. Not an everyday item for wine "geeks," but an excellent answer to the frequently asked question from those aching for a sweet red wine. U.S. importer: John Given Wines Co., Manhasset, N.Y. (Oct. 7, 2007)
FOOD MATCH: See above.
VALUE: Pink, white or any other color, a sparkling wine of this quality is a splendid bargain in the middle teens.
WHEN TO DRINK: I wouldn't cellar this - enjoy the young, fresh fruit, particularly with the short, synthetic cork. In Emilia-Romagna, it's usually released in the fall and drunk up over the holidays.
PRONUNCIATION:
Cagnina di Romagna = "Cahn-yee-nah dee Ro-mahn-yah"
WEB LINK:
Here's the U.S. importer's Adesso spec sheet:
http://www.jgwines.com/Factsheets/LeRoccheAdesso06.html
FIND THIS WINE ONLINE:
Given's wines are distributed in many states of the U.S., however, and his office will be happy to help you find local or Internet sources. Click "Contact Us" on the John Given Website,
http://www.jgwines.com
or send E-mail to info@jgwines.com
Find online vendors and check prices for Adesso on Wine-Searcher.com:
http://www.wine-searcher.com/
find/Adesso%2bCagnina/-/-/USD/A?referring_site=WLP

Talk About Wine Online
If you have questions, comments or ideas to share about today's article
or wine in general, you're always welcome to drop by our online WineLovers Discussion Group. This link will take you to the forum home page, where you can read discussions in all the forum sections:
http://www.wineloverspage.com/forum/village
Everyone is free to browse. If you'd like to post a comment, question or reply, you must register, but registration is free and easy. Do take care to register using your real name, or as a minimum, your real first name and last initial. Anonymous registrations are quietly discarded.
To contact me by E-mail, write wine@wineloverspage.com. I'll respond personally to the extent that time and volume permit.
PRINT OUT TODAY'S ARTICLE
Here's a simply formatted copy of today's Wine Advisor, designed to be printed out for your scrapbook or file or downloaded to your PDA or other wireless device.
http://www.wineloverspage.com/wineadvisor2/
2007/10/sweet_red_revisited-print.html

This week on WineLoversPage.com
• Vino 101: The Price is Right
The consumer wants to purchase wine. The restaurant server wants to sell it. Yet all too often, both parties are uncomfortable talking about the one thing that motivates them both: Money. Writer Jorge Eduardo Castillo looks at this transaction from a server's perspective.
http://www.wineloverspage.com/vino101/price07.phtml
• Schaefer on Wine: Albariño: Old world meets new world
A number of Santa Barbara and Central Coast winemakers are intrigued by Albariño. Following his trip to the Spanish wine region, correspondent Dennis Schaefer reports on California Albariño.
http://www.wineloverspage.com/schaefer/albarino2_07.phtml
• Our Internet radio "TalkShoe": Red or white?
Tell us about your favorite wine color, and tell us why you think so. It's The War Between the Grapes in next week's Internet Radio TalkShoe! We regret the technical difficulties that kept us from presenting this TalkShoe at the originally scheduled time last weekend, but we'll try it again on Saturday, Oct. 13, at 1 p.m. US EDT (10 a.m. Pacific, 7 p.m. in Western Europe). Click for the details:
http://wineloverspage.com/talkshoe/
Meanwhile, you're always to browse all our past TalkShoes, downloading the mp3 files to your computer or listening device or listening in streaming audio from our archived editions online:
http://wineloverspage.com/talkshoe/latest.htm
• WineLovers Discussion Group: Joining a wine tasting group
You've been invited to join a local wine-tasting group. Should you be nervous? What do you need to know? Read this discussion and please join in with your own suggestions in our online WineLovers Discussion Group!
http://www.wineloverspage.com/forum/village/viewtopic.php?t=11266
• Netscape/Compuserve Community Poll: Do you belong to a tasting group?
Following up on the discussion above, we're curious how many readers belong to a social or educational wine-tasting group, either formal or casual. Click here to vote:
http://community.netscape.com/winelovers?nav=messages&tsn=1&tid=5422