Today's Sponsor
• TheWineBuyer.com
Buy old favorites and try new discoveries shipped directly to your door. The only place to buy wine online.
TheWineBuyer.com
In This Issue
• War between the grapes
Let's recalibrate our taste buds by returning to fundamental questions: Do you prefer red or white wine? Tell us Why!
• TheWineBuyer.com
Buy old favorites and try new discoveries shipped directly to your door. The only place to buy wine online.
• Pierre Sparr 2005 Alsace Riesling ($13)
Delicious citrus and white flowers, crisp and dry. This white wine is refreshing, food-friendly and easy to enjoy.
• Administrivia Change E-mail address, frequency, format or unsubscribe.
War between the grapes
Now and then, as we go about the enjoyable process of learning more about wine, it's useful to go back and re-examine some of the most basic elements of the beverage we enjoy.
What do we love in wine? And why do we love it? Reviewing our thoughts about these fundamentals can be an effective way to refocus after we've been stretching our minds with technicalities from "terroir" to wine chemistry.
To that end, today we seek to recalibrate our taste buds by returning to a couple of very fundamental questions: Do we prefer red or white wine? And why?
The first question is easy. Most of us know what we like. The "why" question makes things more interesting, because it requires us to stop and think about what we enjoy in wine.
Maybe you like red wine because reds tend to be more full-bodied, rich and complex. Or perhaps the purported health benefits of the antioxidants in red grape skins appeal to you.
Or if you're a white-wine enthusiast, you may be enthralled by the relative lightness and delicacy of whites; or their affinity for seafood, or maybe the "transparency" of many white wines that allows subtle flavors and, often, earthy minerality, to shine through.
Your reasons may be different, and to be quite frank, any reason for your preference is legitimate. But I think taking just a few moments to think about these basics, and to focus on what appeals to us in any wine, is a worthwhile exercise for the wine lover.
We're planning to have a little fun with this concept tomorrow in our weekly Internet radio "TalkShoe," as we'll discuss - and invite telephone call-ins - on "Red or White? The War Between the Grapes."
I'd like to take this opportunity to invite you to call in, if you haven't done so before. The WineLoversPage.com TalkShoe is very similar to a radio talk show, except that we're cordial and welcoming, don't argue about politics, and do focus the conversations on wine. Participants can listen via their computers, live or by downloading the program later; calling in involves placing a call to a U.S. telephone number and entering a simple code. (Participation is free except that the phone call will be billed by your provider at standard long-distance rates.)
HOW TO TUNE IN
"The War Between the Grapes" will go live tomorrow, Saturday, Oct. 6, at approximately 1 p.m. US Eastern Daylight Time, which is 10 a.m. on the West Coast, 6 p.m. in the UK and 7 p.m. in most of Western Europe.
To participate by telephone, simply dial +1-724-444-7444. Enter the code 11888# when prompted; then 1# to enter the group.
To listen live online without phoning in, click the orange "Listen Now" button on the WineLoversPage.com TalkShoe page,
http://www.wineloverspage.com/talkshoe/
Finally, to take part in a poll and conversation on the burning question, "Red or White" on the WineLovers Discussion Group, click
http://www.wineloverspage.com/forum/village/viewtopic.php?t=11210
For today's tasting report, we check out a worthy white, an affordable and food-friendly Riesling from Alsace. My notes are below.
Today's Sponsor
TheWineBuyer.com
TheWineBuyer.com is your best source for wine on the Internet. Buy your old favorites and new discoveries and have them shipped right to your door! Try our Wine Gift Ideas for all your upcoming holiday wine gifts, whether personal or corporate. Sign up for our email newsletter and be the first to find out about special wines and sales: Starting Monday, Oct. 8, we'll be counting down our Top 10 Wines of the Year. Check out our Wine Education Pages and enhance your wine knowledge.

Pierre Sparr 2005 Alsace Riesling ($13)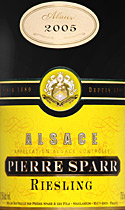 Clear light straw color with golden glints. Delicious fruit and floral aromas, citrus and white flowers. Crisp and dry, limey fruit with a back note of tangerine and an almost homeopathic hint of caraway, over tangy, mouth-watering acidity that hangs on in a very long finish. Refreshing, food-friendly and easy to enjoy. U.S. importer: W. J. Deutsch & Sons Ltd., Harrison, N.Y. (Oct. 3, 2007)
FOOD MATCH: A versatile companion with fish, seafood, chicken, poultry or veal. It went particularly well with a dish crafted to match, the simple sea bass pan-roasted with onions, garlic and citrus featured in the Oct. 4, 2007 30 Second Wine Advisor FoodLetter.
VALUE: No complaints at this low-teens price point, but shop around, as Wine-Searcher.com shows many vendors offering it for $10 or less.
WHEN TO DRINK: With its tasty fruit, good balance and steely acidity under a heavy-duty metal screw cap, and considering Riesling's unusual capacity for aging, I wouldn't bet against it developing into something special with a few years in the cellar.
WEB LINK:
The Pierre Sparr Website offers good information about Alsace and its gastronomy as well as the producer and its wines. Wait for the Flash intro to load (or click "Passer l'Introduction" to bypass it), then choose the small French or British flag icon for your choice of French or English.
http://www.vins-sparr.fr/
FIND THIS WINE ONLINE:
For a worldwide list of distributors on the winery Website, click:
http://www.vins-sparr.fr/Import.php4?lang=2&marque=5&pos=1
Compare prices and find online vendors for Pierre Sparr Alsace Riesling on Wine-Searcher.com:
http://www.wine-searcher.com/
find/Sparr%2bRiesling/-/-/USD/A?referring_site=WLP

Talk About Wine Online
If you have questions, comments or ideas to share about today's article
or wine in general, you're always welcome to drop by our online WineLovers Discussion Group. This link will take you to the forum home page, where you can read discussions in all the forum sections:
http://www.wineloverspage.com/forum/village
Everyone is free to browse. If you'd like to post a comment, question or reply, you must register, but registration is free and easy. Do take care to register using your real name, or as a minimum, your real first name and last initial. Anonymous registrations are quietly discarded.
To contact me by E-mail, write wine@wineloverspage.com. I'll respond personally to the extent that time and volume permit.
PRINT OUT TODAY'S ARTICLE
Here's a simply formatted copy of today's Wine Advisor, designed to be printed out for your scrapbook or file or downloaded to your PDA or other wireless device.
http://www.wineloverspage.com/wineadvisor2/
2007/10/war_between_the_grapes-print.html