Vintage Hugh Johnson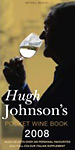 As Hugh Johnson approaches his 70th birthday, who could blame him for slowing down a little? For more than 30 years this British scribe has been perhaps the world's most prolific wine writer - and certainly one of its most amiable. His wine books could literally fill a six-foot shelf, and that's not counting his substantial writing on gardening and other topics.
So it's no surprise that, in recent years, Johnson has begun sharing some of the load, in particular sharing much of the responsibility for his excellent "World Atlas of Wine" to his equally estimable British counterpart, Jancis Robinson.
So it was with both happiness and some nostalgia that I unwrapped the new, 2008 edition of Johnson's annual "Pocket Wine Book" this week.
As I wrote in a review last spring of his chatty biography, "Hugh Johnson: A Life Uncorked," I feel a deep affection for Johnson, whose little pocket wine encyclopedia - it must have been the 1978 edition - was my first introduction to serious wine. As this prolific scribe added book after book to his collection, I read them as quickly as he turned them out, and it's no exaggeration to say that his approach and his style molded the way I think about wine.
The 2008 Pocket Wine Book is the 31st annual edition, and I must have had 25 of them or more. It has grown a little thicker over the years, and somewhere along the way saw its name change from "Wine Encyclopedia" to "Wine Book."
Frankly, it doesn't usually change all that much every year, but I invariably order the new one all the same - at $10 plus change from Amazon.com, it's hardly a financial burden, and it's worth the toll to me simply to have Johnson's thoughts on the most recent vintages and to read his brief, thought-provoking essays that introduce each edition. This year's topic, by the way, "Point Scoring," explaining why he has never embraced, and never will embrace, the 100-point scoring system.
Additional features new this year include a short article about Italian wine, with short bios and photos of a gallery of top wine makers and disussion of Italian wine and food; he declares 2006 "a great year ... a five-star vintage" in Italy.
Another new, short feature, "Big Brand Review," offers his brief notes on about 30 modest wines from industrial-scale producers around the world, including "The Best" (Concha y Toro Casillero del Diablo and Jacob's Creek Shiraz/Cabernet, for example); "Passable" (Kumala Western Cape Colombard/Chardonnay), and a few singled out as "Poor" (including Yellow Tail Merlot, dissed as "dreadful vanilla ... wine for Coke drinkers"). The usual sections on vintages, varieties, serving temperature, buying advice and wine-and-food matching are all present and accounted for.
Most important, though, is the heart and soul of the book, nearly 250 fine-print, pocket-size pages packed with information on more than 6,000 wines, presented in concise, simply coded form that make it possible to look up virtually any wine you'll find in a restaurant or wine shop, with brief comments and background information, suggestions as to good vintages and those currently drinking well, along with his one- to four-star "general quality rating," an evaluation that expresses his opinion of the producer, not the specific wine.
Just for fun, let's have Johnson tell us about today's featured wine (featured below), a modestly priced Shiraz from Western Australia that I chose for this month's Wine Focus in our online forums.
So, on page 245, under "Australia":
"Plantagenet Mount Barker, WA r w (sp) *** (Reds) 95 98' 01' 03 (05') The region's elder statesman: wide range of varieties, especially rich CHARD, SHIRAZ and vibrant, potent CAB SAUV."
And, checking the region's vintage conditions on Page 236:
"WESTERN AUSTRALIA (WA) 2004 ... mild weather, long autumn. Good flavours, some lacking intensity."
It's a bit cryptic, yes, but a simple "key to symbols" on the book jacket and on Page 11 explains it all. Plantagenet, located in the Mount Barker region of Western Australia (WA) makes red, white and sparkling wines and wins Johnson's three-star quality rating, "well-known, highly reputed." He considers Plantagenet's 1995 and 1998 reds good vintages and ready to drink, the 2001 and 2003 to be held, and the 2005 provisionally recommended based on early tasting. The tick mark after 1998, 2001 and 2005 indicates that he considers these wines "particularly successful for the wine in question."
Note that this is not an unabridged encyclopedia. It doesn't detail, for instance, that Hazard Hill is a low-budget label from Plantagenet and likely won't reward aging. Still, this is a lot of information to pull out of a few lines of small print, and I can tell you that I rarely travel without keeping the Pocket Wine Book handy.
If you'd like to order "Hugh Johnson's Pocket Wine Book" from Amazon.com, the following link offers it for $10.17, a 32 percent saving from the $14.95 list price. Orders placed using this exact link will return a small commission to WineLoversPage.com.
http://www.amazon.com/exec/obidos/ASIN/1845333209/robingarrswineloA/
To read Amazon.com reviews and, if you wish, purchase the other Johnson books mentioned in this column:
"World Atlas of Wine" (with Jancis Robinson):
http://www.amazon.com/exec/obidos/ASIN/1845333012/robingarrswineloA/
"Hugh Johnson: A Life Uncorked":
http://www.amazon.com/exec/obidos/ASIN/0520248503/robingarrswineloA/
Today's Sponsor
A message from WineLibrary.com
You may have seen us featured in GQ magazine, The Wall Street Journal, New Jersey Monthly and elsewhere. WineLibrary.com features a huge collection of top wines from around the world, great gifts and accessories, a daily video blog (WineLibraryTV), huge selection of futures (including red hot 2005 Bordeaux at incredible pricing) and much, much more!
Search our quick loading/high speed database of the hottest new wines from California, France, Italy, Australia, New Zealand, Spain, Germany, Austria, South America and more. Join our e-mail service and get an early heads up when wines like Bryant, Harlan, Dominus and others arrive!
Bottom line, we offer the lowest prices, the largest selection, lightning fast shipments and the greatest customer service in the industry! WineLibrary.com is your one-stop shop for everything wine ... so what are you waiting for? Log on to WineLibrary.com today!
For those of you in the NY/NJ area, grab your tickets to the 2007 Super Tasting today! Click this link for full details!
http://winelibrary.com/show_special.asp?section=supertasting2007
Sample over 700 wines from around the world ... all for one low price of admission! Just $85 per ticket!
Monday and Tuesday, Oct. 8 and 9, at the Manor in NJ! Tickets are required. Start time 5:30 p.m. Click this link for full details!
http://winelibrary.com/show_special.asp?section=supertasting2007

Plantagenet 2004 "Hazard Hill" Western Australia Shiraz ($11)
Blackish-purple with a garnet edge. Blackberries and a distinct note of menthol on the nose. Tart, berryish, fruit-forward but not at all jammy on the palate. Nicely structured with crisp acidity; 14% alcohol shows its presence, but by big Shiraz standards, it's on the low end. Nobody would mistake this for a Rhone red, but it shows the relatively balanced Western Australia style. U.S. importer: Robert Whale Selections, Washington, D.C. (Oct. 1, 2007)
FOOD MATCH: A good match with a simple ragu-style pasta sauce made with chopped leftover steak and tomatoes, onions and garlic.
VALUE: More than fair at or near the $10 point.
WHEN TO DRINK: Ready to drink, but its heft and structure should hold it for several years.
WEB LINK:
The producer's Website features a fact sheet on 2004 Hazard Hill Shiraz on this downloadable PDF document:
http://www.plantagenetwines.com/files/tasting/2004_Hazard_Hill_Shiraz.pdf
Here's a link to the U.S. importer's page about Plantagenet's Hazard Hill Vineyard, with links to its wines:
http://www.robertwhaleselections.com/winelist.cfm?ourwinesid=32
FIND THIS WINE ONLINE:
The winery Website offers contact information for an international list of distributors:
http://www.plantagenetwines.com/go/where-to-buy
Compare prices and find online vendors for Plantagenet Hazard Hill Shiraz on Wine-Searcher.com:
http://www.wine-searcher.com/
find/Plantagenet%2bHazard%2bShiraz/-/-/USD/A?referring_site=WLP

Talk About Wine Online
If you have questions, comments or ideas to share about today's article
or wine in general, you're always welcome to drop by our online
WineLovers Discussion Group. This link will take you to the forum home page, where you can read discussions in all the forum sections:
http://www.wineloverspage.com/forum/village
Everyone is free to browse. If you'd like to post a comment, question or reply, you must register, but registration is free and easy. Do take care to register using your real name, or as a minimum, your real first name and last initial. Anonymous registrations are quietly discarded.
To contact me by E-mail, write wine@wineloverspage.com. I'll respond personally to the extent that time and volume permit.
PRINT OUT TODAY'S ARTICLE
Here's a simply formatted copy of today's Wine Advisor, designed to be printed out for your scrapbook or file or downloaded to your PDA or other wireless device.
http://www.wineloverspage.com/wineadvisor2/
2007/10/vintage_hugh_johnson-print.html