What rhymes with Orange?
The word "orange" has no exact rhyme in English, or so the legend goes*; but there's a place in France where the locals like to think they've come up with a word for it.
In the Southern Rhone Valley, some of the more enthusiastic vine growers in the Principauté d'Orange might argue that their "Orange" rhymes with "Châteauneuf-du-Pape."
In fact, Principauté d'Orange is a mere, humble Vin de Pays (a French classification reserved for vineyard land that lacks sufficient status or wine-producing heritage to rate the "Appellation d'Origine Contrôlée" moniker).
Still, this good-size stretch of vineyard land that lies around the ancient Roman town of Orange ("Aw-rahnzh," in fractured French), lies not far north of Châteauneuf-du-Pape and shares some of its geological history, a prehistoric period beneath the waters of a greater Rhone that left behind fields of gravel and rounded stones. What's more, Orange makes its hearty red wines from some of the same grapes used throughout the surrounding Cotes du Rhone, including Grenache, Syrah, Cinsault and Carignan.
That's sufficient similarity to give la Principauté d'Orange an intriguing selling point, and what more does a canny wine marketer need? What's more, while a good Châteauneuf will set you back at least $30 or so nowadays, and a great one two or three times that toll, it's hard to find a Principauté d'Orange (if, in fact, you can find one at all) for more than $10.
Does it taste like Châteauneuf-du-Pape? Well ... based on today's featured wine, an affordable Orange from Domaine le Grand Destré, I wouldn't want to push this analogy too far. Let's say that this Orange is to Châteauneuf as an orange Popsicle is to a freshly picked Valencia orange.
But for a couple of dollars under 10 bucks, it's not a bad buy. My notes are below
POETS' CORNER
* If you've got time on your hands and just have to learn more about words that rhyme with Orange ("Lozenge"? "Strange"?), here are a couple of Web links to spend some time with.
• Oxford Dictionaries: Are there any words that rhyme with orange?
http://www.askoxford.com/asktheexperts/faq/aboutwords/orange
• Wikipedia: Orange (word)
http://en.wikipedia.org/wiki/Orange_%28word%29
(Page down to the section under "Rhyme.")
Today's Sponsor
A message from WineLibrary.com
You may have seen us featured in GQ magazine, The Wall Street Journal, New Jersey Monthly and elsewhere. WineLibrary.com features a huge collection of top wines from around the world, great gifts and accessories, a daily video blog (WineLibraryTV), huge selection of futures (including red hot 2005 Bordeaux at incredible pricing) and much, much more!
Search our quick loading/high speed database of the hottest new wines from California, France, Italy, Australia, New Zealand, Spain, Germany, Austria, South America and more. Join our e-mail service and get an early heads up when wines like Bryant, Harlan, Dominus and others arrive!
Bottom line, we offer the lowest prices, the largest selection, lightning fast shipments and the greatest customer service in the industry! WineLibrary.com is your one-stop shop for everything wine ... so what are you waiting for? Log on to WineLibrary.com today!
For those of you in the NY/NJ area, grab your tickets to the 2007 Super Tasting today! Click this link for full details!
http://winelibrary.com/show_special.asp?section=supertasting2007
Sample over 700 wines from around the world ... all for one low price of admission! Just $85 per ticket!
Monday and Tuesday, Oct. 8 and 9, at the Manor in NJ! Tickets are required. Start time 5:30 p.m. Click this link for full details!
http://winelibrary.com/show_special.asp?section=supertasting2007

Domaine le Grand Destré 2005 Vin de Pays de la Principauté d'Orange ($8.99)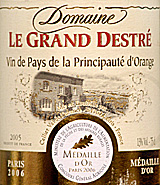 Very dark garnet. Aromas of plums, black pepper, smoke and grilled meat. A bit light in the mouth, an odd combination of bold aromas, light body and seriously astringent tannins cloaking simple black fruit and rather soft acidity. Rustic, somewhat awkward, yet pleasant overall, and good at the table; rare beef brings it around. Wine Adventures Inc., West Des Moines, Iowa. (Sept. 8, 2007)
FOOD MATCH: Medium-rare, pepper-crusted rib eye steak makes a fine companion, taming the wine's tannins and bringing it into balance.
VALUE: Excellent quality-price ratio at this under-$10 level, particularly as a food wine.
WHEN TO DRINK: There's no particular rush to drink it up, but I don't see it gaining from further aging.
PRONUNCIATION:
Principauté d'Orange = "Prahn-si-po-tay doh-rahnzh"
FIND THIS WINE ONLINE:
Domaine le Grand Destré is in limited distribution; to find it and other wines of Principauté d'Orange, follow this link on Wine-Searcher.com:
http://www.wine-searcher.com/
find/Principaute%2bOrange/-/-/USD/A?referring_site=WLP

Talk About Wine Online
If you have questions, comments or ideas to share about today's article
or wine in general, you're always welcome to drop by our online
WineLovers Discussion Group. This link will take you to the forum home page, where you can read discussions in all the forum sections:
http://www.wineloverspage.com/forum/village
Everyone is free to browse. If you'd like to post a comment, question or reply, you must register, but registration is free and easy. Do take care to register using your real name, or as a minimum, your real first name and last initial. Anonymous registrations are quietly discarded.
To contact me by E-mail, write wine@wineloverspage.com. I'll respond personally to the extent that time and volume permit.
PRINT OUT TODAY'S ARTICLE
Here's a simply formatted copy of today's Wine Advisor, designed to be printed out for your scrapbook or file or downloaded to your PDA or other wireless device.
http://www.wineloverspage.com/wineadvisor2/
2007/09/what_rhymes_with_orange-print.html