Today's Sponsor
• Does a wine glass need a stem?
Treat yourself to a few of the stemless Riedel O glasses through the link provided, and your purchase will help us pay the rent for WineLoversPage.com and your 30 Second Wine Advisor.
Details below!
In This Issue
• Tannic Tannat
Looking for a benchmark example of tannic astringency in wine? You won't find a better demonstration than the uncommon French (and Uruguyan) grape Tannat.
• Bodega Carlos Pizzorno 2004 "Don Próspero" Región Canelón Chico Tannat ($14.99)
Evolved, rich and complex, almonds and hazelnuts and hints of beeswax over crisp white fruit in the aroma and flavor.
• Does a wine glass need a stem?
Treat yourself to a few of the stemless Riedel O glasses through the link provided, and your purchase will help us pay the rent for WineLoversPage.com and your 30 Second Wine Advisor.
• Administrivia Change E-mail address, frequency, format or unsubscribe.
Tannic Tannat
If you're looking for a benchmark wine to help you pin down that scratchy, mouth-drying black-tea astringency that wine tasters call "tannic," you'd be hard-pressed to find a more vivid example than the uncommon French grape that may actually take its name from the effect: Tannat.
Tannins, simply put, are complex organic compounds (known as "phenolics" in chemistry-speak) that occur naturally in grapeskins, seeds and stems and that impart a distinctly astringent (mouth-puckering) flavor in wine. A smaller amount of tannin may also be contributed by oak, particularly in wines aged in small, new oak barrels.
Because red wines are fermented with the grape skins while white wines usually are not, reds tend to be much more tannic than whites; and certain varieties are particularly tannic, including Cabernet Sauvignon, Syrah and Nebbiolo, for example, and the less-familiar Tannat.
Tannins are considered desirable because their anti-oxidant properties help preserve wine in aging. Over time in the cellar with ageworthy wines, tannins undergo a gradual chemical change called polymerization; astringency fades and the wine's flavors take on a more mellow complexity.
Historically, many wines meant for aging - Bordeaux and Rhone reds in particular, and Vintage Port - were virtually undrinkable in youth because of their fierce astringency. In modern times, market forces and a demand for instant gratification has prompted changes in wine making that render even many of these big wines drinkable, if not necessarily at their best, soon after purchase.
The same is true even of Tannat, but its natural tannins remain so prominently puckery that the wine gives us a serious remembrance of times past. Virtually all varietal Tannat on the market comes from two places: The Southwestern French region called Madiran (which usually adds Cabernet Franc and Cabernet Sauvignon to a Tannat-dominant blend); and Uruguay, a smallish South American country tucked between Brazil and Argentina, where 19th century Basque immigrants apparently introduced the grape and made it as much a trademark wine of the region as Malbec became in Argentina.
It's not an easy wine to find. Uruguay has only about 300 wineries growing only about 25,000 acres of vines, and few of them export. Today's featured wine is likely distributed only randomly around the U.S. and the world. If you want a taste of Tannat, though, if you can't find this wine, look for any Uruguayan Tannat - it's gaining a bit more visibility as producers seek an export market. French Madiran should also be represented with at least a few labels at wine shops in larger cities.
Bodega Carlos Pizzorno 2004 "Don Próspero" Región Canelón Chico Tannat ($14.99)
Inky blackish-purple, opaque. Plummy aromas add intriguing scents of grilled meat and red clay. Mouth-filling, chewy, good acidic backbone and - as you'd expect of Tannat - heavy (but palatable) tannins. Earthy and smoky notes blend with restrained fruit, plums and a hint of cranberry, tapering off gradually in a long finish. Definitely "rustic," but quite a complex and interesting wine. U.S. importer: Table 31 Imports LLC, Silverthorne, Colo. (Aug. 31, 2007)
FOOD MATCH: A wine as tannic as this needs rare beef or lamb to "tame" its tannic astringency, and I couldn't have asked for a better match than a locally grown and produced rib eye, pepper crusted and pan-seared medium-rare.
VALUE: No complaints in the middle teens, particularly if you enjoy the opportunity to add a less familiar country and grape to your life list.
WHEN TO DRINK: It can certainly be enjoyed now, particularly, as noted, with rare red meat. Still, its powerful tannins, reasonable fruit and acidic balance should see it through as much as a decade in a good cellar.
WEB LINK: Much of the importer's Website remains under construction, but you'll find a bit about Uruguay and its wines at this link:
http://www.table31imports.com/uruguay.html
FIND THIS WINE ONLINE:
Wine-Searcher.com comes up with only a few vendors for "Don Próspero" Tannat:
http://www.wine-searcher.com/
find/Don%2bProspero%2bTannat/-/-/USD/A?referring_site=WLP
For further information, the importer invites inquires through a "contact us" page on the company Website,
http://www.table31imports.com/contactpage.html

Today's Sponsor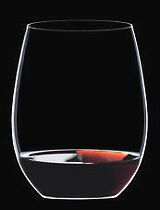 Does a wine glass need a stem?
Just about everyone has an opinion on this frequently asked question, and it's usually a vivid one, ranging from "glasses without stems are just plain tacky" at one end to "only wine snobs care if the glass has a stem" on the other.
Pro-stem fundamentalists cite long-standing tradition, and add that the stem keeps your hand from warming the wine in the glass and avoids smearing the bowl with greasy fingerprints. Anti-stem radicals argue that simple tumblers are good enough for trattoria and taverna, where wine-loving revelers understand that the purpose of the vessel is nothing more than to convey the precious fluid from bottle to mouth. Add wine-geek points to the Riedel O, they say, for turning the modest tumbler into something much more worthy for fine wine: An elegant crystal vessel with a properly shaped bowl, rendered casual and portable by the deletion of the fragile stem.
I had occasion to borrow a few Riedel O glasses for tastings during the recent MoCool gathering in Ann Arbor. The experience reinforced my opinion that if stemless isn't the only way to go - certainly fine stemmed crystal has its place on the formal table - there's much to be said for the combination of tumbler-style convenience with the delicacy and shape of a proper crystal bowl. As an alternative, not a replacement, I'm sold on the O, and if you try one, I think you will be, too.
For a look at Amazon.com's full line of Riedel O glasses, click:
http://www.amazon.com/exec/obidos/external-search?
search-type=ss&tag=robingarrswinelo&keyword=Riedel%20O&index=kitchen.


To review all Riedel glassware and decanters on Amazon.com, visit:
http://www.amazon.com/exec/obidos/external-search?
search-type=ss&tag=robingarrswinelo&keyword=Riedel&index=kitchen
As always, if you choose to make purchases through these direct links, your transaction will pay a small commission to help us pay the bills at WineLoversPage.com, and we're grateful to you for that.

Talk About Wine Online
If you have questions, comments or ideas to share about today's article
or wine in general, you're always welcome to drop by our online WineLovers Discussion Group. This link will take you to the forum home page, where you can read discussions in all the forum sections:
http://www.wineloverspage.com/forum/village
Everyone is free to browse. If you'd like to post a comment, question or reply, you must register, but registration is free and easy. Do take care to register using your real name, or as a minimum, your real first name and last initial. Anonymous registrations are quietly discarded.
To contact me by E-mail, write wine@wineloverspage.com. I'll respond personally to the extent that time and volume permit.
PRINT OUT TODAY'S ARTICLE
Here's a simply formatted copy of today's Wine Advisor, designed to be printed out for your scrapbook or file or downloaded to your PDA or other wireless device.
http://www.wineloverspage.com/wineadvisor2/
2007/09/tannic_tannat-print.html