Wine in a fruit juice box?
Walk into the wine section of an Italian super market - or any outlet of the Liquor Control Board of Ontario in Canada - and you can't miss seeing what may be the next big thing in the wine industry: Tall stacks of colorful packages that at first appear to be oversize boxes of fruit juice but that actually contain wine.
Somewhat similar to the already familiar wine-in-a-box, the throwaway bag-in-box wine package that the Australians call "cask wine," these new-to-wine containers are soft-sided, flexible cardboard boxes coated with an "aseptic," neutral plastic lining and sealed with a simple plastic screw cap. The leading producer is a Swiss-based, international firm called Tetra Pak, which gives its name to the basic tall octagonal package and its oblong sibling, the Tetra Brik, which is literally just about the size and shape of a brick.
Lightweight (about 2 1/2 pounds per liter when full of wine, a half-pound less than a 750 ml glass wine bottle holding 25 percent less wine), unbreakable, easy to carry and dispose of, the concept seems made for picnics and travel (although it should be noted that current airline security rules ban liquids from carry-on baggage). The Tetra Pak is also billed as being recyclable, although some Canadian critics have questioned this as a practical matter, as the combination of cardboard and resin requires special handling; empty Tetra Paks can't simply be recycled with newsprint and office waste and may end up in landfills.
For traditionalists and wine snobs still grappling with the notion of screwcaps and synthetic artificial corks, the notion of re-inventing a mass-market package customarily used for fruit juice, soup or milk may seem more like a nightmare than a dream.
Indeed, it's unlikely that we'll be seeing high-end, ageworthy wines in Tetra Pak in the foreseeable future if ever; this packaging isn't designed for products with a very long shelf life, and its natural market for wine appears to be everyday quaffers, the basic "spaghetti reds" and "sipping whites" meant to be drunk up while they're young and fresh.
But from an industry standpoint, that's hardly a problem, as inexpensive, everyday wines make up the lion's share of the market. In Italy, it's reported that Tetra Pak wines already make up one-third of all supermarket wine sales, matching the volume of low-end bottled wines sold there. In Canada, the LCBO blew large quantities of low-cost wine in Tetra Pak off the shelves just about as quickly as it could be packaged.
And even in the U.S., which has been slower to embrace the technology, the amount of wine-shop shelf space devoted to Tetra Pak is growing fast. Among others, "Three Thieves," a California firm that made a splash in recent years with its inexpensive wines in old-fashioned liter jugs (July 31, 2005 30 Second Wine Advisor), rushed to market a couple of years ago with a new Tetra Brik line of California varietal wines dubbed "Bandit." The French negociant Boisset has joined the cute-animal-label brigade with colorful Tetra Pak containers labeled "French Rabbit." And U.S. natural-foods leader Whole Foods got into the stampede last month with an organic Australian wine in Tetra Pak called "Green Path."
Love the Tetra Pak or hate it, we had might as well get used to it. With the market clearly accepting the concept at least for lower-end wines, the industry has little incentive to turn back, particularly when we consider that a glass bottle and cork adds well over $1 to the cost of every bottle of wine, while Tetra Paks in quantity cost the producer less than 10 cents per unit.
But how about the wine in the package? Two obvious questions arise: Does the container alter the flavor? And just how good is the wine?
Based on a couple of preliminary tastings that I undertook to check whether more extensive "blind" comparative tastings would be justified, my initial response is a cautious, slight positive: The Tetra Pak doesn't seem to impart bad or "off" flavors, at least assuming that the wine is fresh. Based on this limited sample, though, the wines - consistent with the mass-market standard for box wines and jug wines - are simple, clean but not memorable, barely rising to the level that would appeal to most "wine geeks" except perhaps for a picnic or casual party.
You'll find my notes below. I'm also particularly interested in hearing the opinions of the international wine-enthusiast community about this alternative. If you'd like to comment, please drop by this related topic in our WineLovers Discussion Group,
http://www.wineloverspage.com/forum/village/viewtopic.php?t=10685
where you can post your thoughts and also find a link to a quick poll.
Today's Sponsor
Barrel Room Blowout at The California Wine Club!
Save up to 70 percent off normal retail prices during The California Wine Club's last Wine Sale of the year. Visit www.cawineclub.com to view a full list of the wines or call 1-800-777-4443.
Choose from more than 100 award-winning, limited-production wines ... all on sale at prices well below normal retail. Half, full and mixed cases are okay. All prices FOB Camarillo, Calif.
Shop, save and stock up for the holidays!
Call 1-800-777-4443 or visit http://www.cawineclub.com

Two in Tetra Paks

Green Path 2006 South Eastern Australia Shiraz ($12.99 in one-liter Tetra Pak)
Made with organically grown grapes and packaged in Tetra Pak for Whole Foods markets, this is a clear, dark cherry-red. Plummy fruit and aromatic oak with overtones of caramel. Mouth-filling and ripe, forward red fruit and oaky vanilla, a hint of sweetness well balanced by appropriate fresh-fruit acidity. Simple, quaffable; similar to pop-style Australian Shiraz in traditional bottles at the same low-end price point. It might not be my favorite style of wine, but I can't see any evidence that the Tetra Pak is any less effective a container than glass, and it certainly boasts the advantages of lightweight portability, with a small extra point for the possibility of squeezing out most of the air before closing the plastic screw cap. Decent quaff with the bold flavors of Cuban-style arroz con pollo. U.S. importer: The Country Vintner Inc., Oilville, Va. (Sept. 7, 2007)
FIND THIS WINE ONLINE:
At this point, Green Path is too new to show up in Wine-Searcher.com or at online vendors. It should be available at Whole Foods wine markets throughout the U.S.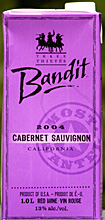 Three Thieves 2004 "Bandit" California Cabernet Sauvignon ($6.99 in one-liter Tetra Brik)
Packaged in "Tetra Brik." Clear, dark violet. Very faint aromas, slight floral perfume. First taste comes across thin and light, but crisp acidity and tannins build on the palate, providing a reasonable structure for simple, one-dimensional red-berry fruit. Long, astringent finish. Certainly drinkable, and it's better with food; simply grilled rib eyes coated with black pepper fill in the gaps and create a whole that slightly exceeds the sum of its parts. (Sept. 8, 2007)
WEB LINK:
Here's a promotional fact sheet about Bandit Cabernet Sauvignon on the producer's Website:
http://www.threethieves.com/bandit_cab_sauv.html
FIND THIS WINE ONLINE:
Three Thieves offers online sales (where shipping is legal) from its Website, and also offers this list of distributors state by state:
http://www.threethieves.com/where_to_buy.html
Look up retail vendors and compare prices for Three Thieves "Bandit" on Wine-Searcher.com:
http://www.wine-searcher.com/
find/Three%2bThieves%2bBandit/-/-/USD/A?referring_site=WLP

Talk About Wine Online
If you have questions, comments or ideas to share about today's article
or wine in general, you're always welcome to drop by our online WineLovers Discussion Group. This link will take you to the forum home page, where you can read discussions in all the forum sections:
http://www.wineloverspage.com/forum/village
Everyone is free to browse. If you'd like to post a comment, question or reply, you must register, but registration is free and easy. Do take care to register using your real name, or as a minimum, your real first name and last initial. Anonymous registrations are quietly discarded.
To contact me by E-mail, write wine@wineloverspage.com. I'll respond personally to the extent that time and volume permit.
PRINT OUT TODAY'S ARTICLE
Here's a simply formatted copy of today's Wine Advisor, designed to be printed out for your scrapbook or file or downloaded to your PDA or other wireless device.
http://www.wineloverspage.com/wineadvisor2/
2007/09/wine_in_a_fruit_juice_box-print.html

This week on WineLoversPage.com
• Our Internet radio "TalkShoe": Chateau Musar
This week's Internet Radio TalkShoe will focus on Chateau Musar, the fabled wine produced by Gaston Hochar in Lebanon's Bekaa Valley. You're selcome to listen in; TalkShoe usually goes live on Saturdays at noon. US EDT (9 a.m. on the U.S. West Coast and 18:00 in Western Europe). Times and dates are subject to change, but you can keep up with the latest by clicking to the TalkShoe page for the details:
http://wineloverspage.com/talkshoe/
In Saturday's TalkShoe, we talked about vintage the world over. Hear it online, and browse all our archived editions in streaming audio:
http://wineloverspage.com/talkshoe/latest.htm
• WineLovers Discussion Group: "Priming" your wine glass
In some upscale Italian restaurants, the sommelier will pour a little wine into your glass, swish it around, then discard it before filling your glass. What's up with that? Is it beneficial, or mere theater? Joing a conversation about "priming" wine glasses at table in our online WineLovers Discussion Group.
http://www.wineloverspage.com/forum/village/viewtopic.php?t=10523
• Netscape/Compuserve Community Poll: Tetra Pak okay for modest wine?
Simple, inexpensive wines are starting to turn up in Tetra Pak, the squarish, coated cardboard containers more familiar for fruit juices. Advocates like the casual informality and light weight of the Tetra Pak; some more conservative wine lovers consider it undignified, or fear that even modest wines won't keep well in a disposable package. Where do you stand? You don't have to have experience with Tetra Paks to vote; we're interested in sampling wine lovers' reactions to the concept, even if you haven't yet run across it. Click here to vote:
http://community.netscape.com/winelovers?nav=messages&tsn=1&tid=5393