Today's Sponsor
• Does a wine glass need a stem?
Just about everyone has an opinion on this frequently asked question. For casual sipping, we're sold on the stemless Riedel O.
Details below!
In This Issue
• Vinho Verde, cheap and good
Light, crisp and gently fizzy, the "green wine" of Portugal makes a great summer quaff, but you should drink it fresh or not at all.
• Gazela Vinho Verde ($5.99)
Priced around $5 or below, this screw-capped Portuguese refresher may be the low-end wine value of the year.
• Does a wine glass need a stem?
Just about everyone has an opinion on this frequently asked question. For casual sipping, we're sold on the stemless Riedel O.
• Administrivia Change E-mail address, frequency, format or unsubscribe.
Vinho Verde, cheap and good
The conventional wisdom about Vinho Verde, the so-called "green wine" of Portugal, has long been simple and frustrating: To enjoy it properly, you need to drink it in Portugal, as it's too fragile, fresh and light to bear the rigors of trans-Atlantic travel.
But now at least one mass-market brand is defying that wisdom - and making a compelling case - with a Vinho Verde that sells in the U.S. for as little as $4 to $6 for a bottle.
Gazela, a brand from Portugal's giant Sogrape, the corporation that brought us (and indeed still brings us) the much-maligned Mateus rosé, appears to have solved the Vinho Verde problem through two simple measures. First, it now prints a bottling date (not a vintage) in fine print on the back label, making it possible for consumers to choose the freshest wine in stock.
Second, in a move that some might consider a sign of the End Times in a wine from the home of the international national-cork industry, Gazela now comes tightly sealed under a sturdy metal screw cap. This is a strong positive, both for retaining freshness and for banishing the possibility of "cork taint" that has been a serious issue with Gazela in the past, perhaps because the economics of producing a wine at this low price point can't accommodate the cost of quality control in natural cork.
Despite its name and an undeniable brassy glint in some samples, Vinho Verde isn't named for its color but its youth. "Green" wine, as noted, is best enjoyed within a year after bottling at the most. Just to confuse the color issue a little more, the Vinho Verde wine region (Denominação Origem Controlada in Portugal, echoing the Italian DOC) lies along Portugal's misty moisty Costa Verde ("Green Coast"), north of the Port region and bordering Spain's Galicia on the coast of the Atlantic.
Some of the more authoritative Vinho Verdes are made from the Alvarinho grape, Portugal's translation of the Spanish Albariño. Most of the less expensive, light and frothy bottlings, though are made from less-familiar indigenous grapes, which like the Spanish Cavas featured in Wednesday's edition may add a few more little-known grape varieties to your life list. Gazela, for instance, incorporates four such grapes: Loureiro, Trajadura, Azal and Pedernã.
Crisp, usually dry (although some export labels add a bit of sweetness), relatively low in alcohol and given a light fizz by injecting carbonation - much like a soft drink - Vinho Verde is hardly a wine to contemplate or conjure with. But a decent brand, and Gazela certainly qualifies, rewards the taster with clean, crisp refreshment and no "off" flavors.
Gazela Vinho Verde ($5.99)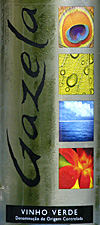 Straw color, transparent and very pale, glints of brassy green. It pours up with a very brief froth and leaves random bubbles behind, but it's petillant, not truly sparkling. Simple, delicate white-fruit aromas focus on a hint of musky melon; light carbonation adds a prickle to the crisp, dry flavor. Simple, sufficient acidity for balance, light in alcohol at just 9 percent, very refreshing. Sealed with a Stelvin-type metal screwcap to retain its clean, fresh character and banish cork taint. Top value for the price - a fine everyday quaff for summer sipping. U.S. importer: Evaton Inc., Stamford, Conn. (Sept. 5, 2007)
FOOD MATCH: Splendid as a refreshing summer aperitif, fine with all manner of shellfish, it was an excellent match with the simple, quick shrimp-and-ham paella featured in the Sept. 6, 2007, 30 Second Wine Advisor FoodLetter.
VALUE: A single-digit price might not buy complexity, but at the $6.99 price I paid, it's a whale of a bargain, and better still at its widely available price points in the $4 to $5 range.
WHEN TO DRINK: Soon. Vinho Verde is made to drink young and fresh, and even a year will diminish that a bit, although the sturdy screwcap on more recent bottlings will help preserve freshness. Check the back-label bottling date and choose the 2007 if you possibly can.
PRONUNCIATION:
Vinho Verde = "Veen-yoo Vehr-deh"
Gazela = "Gah-zeh-lah"
WEB LINK:
For a short fact sheet on Gazela Vinho Verde, scroll down to the section on "Sogrape Vinhos" and click the link for "Gazela 'Vinho Verde' White" on this importer page:
http://www.evaton.net/products.html
FIND THIS WINE ONLINE:
Look up retail vendors and compare prices for Gazela Vinho Verde on Wine-Searcher.com:
http://www.wine-searcher.com/
find/Gazela%2bVerde/-/-/USD/A?referring_site=WLP

Today's Sponsor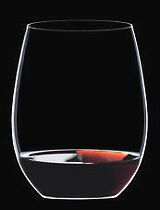 Does a wine glass need a stem?
Just about everyone has an opinion on this frequently asked question, and it's usually a vivid one, ranging from "glasses without stems are just plain tacky" at one end to "only wine snobs care if the glass has a stem" on the other.
Pro-stem fundamentalists cite long-standing tradition, and add that the stem keeps your hand from warming the wine in the glass and avoids smearing the bowl with greasy fingerprints. Anti-stem radicals argue that simple tumblers are good enough for trattoria and taverna, where wine-loving revelers understand that the purpose of the vessel is nothing more than to convey the precious fluid from bottle to mouth. Add wine-geek points to the Riedel O, they say, for turning the modest tumbler into something much more worthy for fine wine: An elegant crystal vessel with a properly shaped bowl, rendered casual and portable by the deletion of the fragile stem.
I had occasion to borrow a few Riedel O glasses for tastings during the recent MoCool gathering in Ann Arbor. The experience reinforced my opinion that if stemless isn't the only way to go - certainly fine stemmed crystal has its place on the formal table - there's much to be said for the combination of tumbler-style convenience with the delicacy and shape of a proper crystal bowl. As an alternative, not a replacement, I'm sold on the O, and if you try one, I think you will be, too.
For a look at Amazon.com's full line of Riedel O glasses, click:
http://www.amazon.com/exec/obidos/external-search?
search-type=ss&tag=robingarrswinelo&keyword=Riedel%20O&index=kitchen


To review all Riedel glassware and decanters on Amazon.com, visit:
http://www.amazon.com/exec/obidos/external-search?
search-type=ss&tag=robingarrswinelo&keyword=Riedel&index=kitchen
As always, if you choose to make purchases through these direct links, your transaction will pay a small commission to help us pay the bills at WineLoversPage.com, and we're grateful to you for that.

Talk About Wine Online
If you have questions, comments or ideas to share about today's article
or wine in general, you're always welcome to drop by our online WineLovers Discussion Group. This link will take you to the forum home page, where you can read discussions in all the forum sections:
http://www.wineloverspage.com/forum/village
Everyone is free to browse. If you'd like to post a comment, question or reply, you must register, but registration is free and easy. Do take care to register using your real name, or as a minimum, your real first name and last initial. Anonymous registrations are quietly discarded.
To contact me by E-mail, write wine@wineloverspage.com. I'll respond personally to the extent that time and volume permit.
PRINT OUT TODAY'S ARTICLE
Here's a simply formatted copy of today's Wine Advisor, designed to be printed out for your scrapbook or file or downloaded to your PDA or other wireless device.
http://www.wineloverspage.com/wineadvisor2/
2007/09/vinho_verde_cheap_and_good-print.html