The case for Cava
If you like to try unusual and offbeat grape varieties just for the fun of expanding your wine knowledge, here's a surprisingly quick and easy way to add three more oddities to your "life list."
Simply pop the cork on a bottle of Cava, the Spanish version of sparkling wine, and you're most likely tasting the grapes Macabeo, Parellada and Xarel-lo, with maybe a splash of more familiar Chardonnay thrown in.
Cava ("Cah-vah") - which means "cellar" in Catalan, the language of the Barcelona region where the lion's share of Spanish sparkling wine is made - is a modern Spanish wine word that replaced the older "Champaña" in the 1970s.
Cava has become immensely popular around the world, primarily through the marketing efforts of two giant producers of inexpensive wine, Freixenet and Codorniú. And, as so often unfortunately happens when demand drives up production, over-cropping and mass-production yielded some mighty bland wine. I'm sure I'm not the only wine enthusiast who tired of Cava and switched over to the similarly cheap but often more interesting Italian Prosecco when I wanted a cooling glass of fizz.
I still love Prosecco (although, in fairness, some of the cheaper, more industrial brands share the lackluster character that put me off Cava); but in recent years Cava seems to be bouncing back. I've found more than a few Cavas - including some from the Big Two - that stand a good chance of pleasing the taste buds with decent quality in an interesting, affordable sparkling wine.
Moreover, for those who care about such technical nuances, Cava is usually made by the Champagne process of fermentation in the individual bottle, albeit, in some cases, done in a highly mechanized process. Prosecco sticks with the "Charmat" process involving mass fermentation in the vat or tank, a less-idealized technology that, however, doesn't seem to do the better labels any harm.
As summer lingers in much of the Northern Hemisphere, a glass of Cava can make a mighty cooling quaff on a steamy day. It's extremely food-friendly, serving well with a wide variety of dishes including such relatively challenging items as gazpacho and at least moderately fiery Southeast Asian dishes and curries.
About those grapes: Macabeo ("Mah-cah-BAY-oh"), it's said, contributes floral scents to the wine, while Xarel-lo ("Sah-rel-yo") adds an earthy note of complexity; Parellada ("Pah-deh-YAH-dah"), provided it's not greedily over-cropped, builds a framework for the rest with tangy green-apple acidity. The optional Chardonnay? It adds some body, perhaps, and from a cynical standpoint, a popular and more familiar varietal name to add to the label.
Below are my tasting reports on two recently tasted Cavas. Both offer good value; at a penny under $10, the Aria - from the Freixenet portfolio - is an outright bargain.
Today's Sponsor
A message from WineLibrary.com
You may have seen us featured in GQ magazine, The Wall Street Journal, New Jersey Monthly and elsewhere. WineLibrary.com features a huge collection of top wines from around the world, great gifts and accessories, a daily video blog (WineLibraryTV), huge selection of futures (including red hot 2005 Bordeaux at incredible pricing) and much, much more!
Search our quick loading/high speed database of the hottest new wines from California, France, Italy, Australia, New Zealand, Spain, Germany, Austria, South America and more. Join our e-mail service and get an early heads up when wines like Bryant, Harlan, Dominus and others arrive!
Bottom line, we offer the lowest prices, the largest selection, lightning fast shipments and the greatest customer service in the industry! WineLibrary.com is your one-stop shop for everything wine ... so what are you waiting for? Log on to WineLibrary.com today!
For our Free Shipping Item of the Day, log on to http://free.winelibrary.com!

Each day at 1 p.m. we add a new item that is set for Free Shipping!!
Quantity is limited and products will sell out, so be sure to check out http://free.winelibrary.com each day at 1 p.m. for the new item!

Sigura Viudas NV "Aria" Estate Brut Cava ($9.99)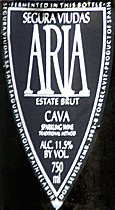 Clear pale gold with a slight green flash of brass. A quick froth falls back quickly to a persistent bubble stream. Simple and fresh aromas, apples and lime. Crisp and frothy mouthfeel, white fruit and gentle acidity masking barely perceptible fresh-fruit sweetness; snappy lime in a long, clean finish. Alcohol 11.5%. U.S. importer: Freixenet USA, Sonoma, Calif. (Sept. 4, 2007)
FOOD MATCH: The wine demonstrated its quenching nature with spicy fare alongside a Sichuan-style Ma Po tofu.
VALUE: Very good value at this price, but shop around, as it's often discounted up to several dollars less.
WHEN TO DRINK: In my experience, Cava is not a wine meant for aging. Buy it, drink it. When you need more, buy some more.
FIND THIS WINE ONLINE:
Locate vendors and compare prices for Sigura Viudas "Aria" on Wine-Searcher.com:
http://www.wine-searcher.com/
find/Viudas%2bAria/-/-/USD/A?referring_site=WLP

Gran Gesta NV Cava Brut Reserva ($14)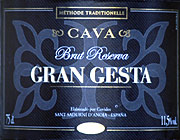 One of relatively few Cavas that explicitly disclose its varietal content on the label, it's 55% Xarel-lo, 25% Macabeo and 20% Parellada. Clear, pale-gold in color, it pours up with a frothy fizz; long-lasting streams of bubbles remain. Crisp appley fruit adds a "chalky" mineral character. Frothy, fresh and tart, apples and lemon-lime, very dry, with a hint of peach-pit bitterness in the finish. Fresh, acidic structure and relatively light 11.5% alcohol makes it a worthy table wine. U.S. importer: Quality Wines of Spain, NYC. (Sept. 1, 2007)
FOOD MATCH: Excellent with the Andalusian-style gazpacho featured in last week's 30 Second Wine Advisor FoodLetter.
VALUE: A bit more complexity than low-end Cava may justify a somewhat higher price, although its somewhat disjointed style doesn't really encourage me to buy it by the case.
WHEN TO DRINK: Soon. Cava is not for keeping.
WEB LINKS:
You'll find limited information about Gran Gesta on the U.S. importer's Website,
http://www.qualitywinesofspain.com
FIND THIS WINE ONLINE:
Check prices and find vendors for Gran Gesta Cava on Wine-Searcher.com:
http://www.wine-searcher.com/
find/Gran%2bGesta%2bCava/-/-/USD/A?referring_site=WLP

Talk About Wine Online
If you have questions, comments or ideas to share about today's article
or wine in general, you're always welcome to drop by our online
WineLovers Discussion Group. This link will take you to the forum home page, where you can read discussions in all the forum sections:
http://www.wineloverspage.com/forum/village
Everyone is free to browse. If you'd like to post a comment, question or reply, you must register, but registration is free and easy. Do take care to register using your real name, or as a minimum, your real first name and last initial. Anonymous registrations are quietly discarded.
To contact me by E-mail, write wine@wineloverspage.com. I'll respond personally to the extent that time and volume permit.
PRINT OUT TODAY'S ARTICLE
Here's a simply formatted copy of today's Wine Advisor, designed to be printed out for your scrapbook or file or downloaded to your PDA or other wireless device.
http://www.wineloverspage.com/wineadvisor2/
2007/09/the_case_for_cava-print.html