Wine Focus - Louis Jadot, Negociant
In a change of pace this month from our usual attention to a specific wine-grape variety or region, the monthly "Wine Focus" topic in our WineLovers Discussion Group forums will take a close look at the historic firm Louis Jadot of Beaune, one of the leading Burgundy negoçiants.
So, what in the heck is a negoçiant?
We'll get into this in more detail during September as we talk about, and taste, some of Jadot's wines. Today, let's set the scene with a summary:
The French term "negoçiant," sometimes rather poorly translated into English as "shipper," is a sort of middleman company that purchases finished wine, grapes or grape juice from individual producers, then finishes the wine in its own cellars, bottles and distributes it usually under the negoçiant's label.
The concept appears to be originally French, dating back to the 19th century (the house of Louis Jadot was founded in 1859), but the concept has spread through the world of wine, ranging from California (where such items as Bronco Wines' "Two Buck Chuck" or Don Sebastiani's "Smoking Loon" could be described as a negociant wines), to Australia (where it could be argued that even the sought-after Penfolds Grange meets the negoçiant qualification, being made from grapes purchased under contract from a fleet of growers).
In general, negoçiant wines tend to earn less respect than wines grown, produced and bottled by the maker, and it's no coincidence that most wine-producing regions enact strict laws to ensure that there's no fooling around about provenance when a maker puts "estate-bottled" or, in France, "mise en bouteilles au chateau" on the label.
But in Burgundy in particular, where most vineyards are subdivided into a fiendishly complicated jigsaw puzzle of tiny plots - the heritage of Napoleonic land redistribution and inheritance issues - the negoçiant system became a logical way to handle the output of vineyards too tiny to support individual wine producers. To this day, even if artisan producers in Burgundy tend to earn greater respect and higher prices, negoçiants produce more than half the region's wine, and the consumer can't necessarily assume that a specific artisan's product will beat a competing negoçiant on any given day.
From a consumer standpoint, particularly if said consumer is trying to count his Euros or is shopping outside the major urban centers, it would be foolish not to consider Burgundy's top negoçiants - a list that certainly includes Jadot, Joseph Drouhin, Louis Latour and Bouchard Père et Fils - when you're puzzling over the Burgundy shelves at your wine shop.
During September, you're invited to participate in Wine Focus as we discuss and taste any wine from Louis Jadot, which may range in price from under $10 (in some markets) for the Beaujolais-Villages, through the lower to middle teens (for the generic but well-made Bourgogne Pinot Noir and Chardonnay and the white Macon-Villages) to the $20 range (today's featured wine, Pouilly-Fuissé, and on into nosebleed realms for some of the Premier Cru and Grand Cru Burgundies.
Those interested in more advanced tasting might find it interesting to set up comparative "blind" tastings of similar wines and vintages from different negoçiants, or similar tastings that pit a negociant wine against an independent producer.
To join the fun, simply click to Wine Focus at the WineLovers Discussion Group forums,
http://www.wineloverspage.com/forum/village/viewforum.php?f=18
To check out some of my recent notes on other wines of Louis Jadot, see the Louis Jadot 2004 Bourgogne Pinot Noir ($17.99),
http://www.wineloverspage.com/wines/tn.phtml?id=774
and the Louis Jadot 2005 Beaujolais-Villages ($11.99)
http://www.wineloverspage.com/wines/tn.phtml?id=712
For older notes, use your browser's "Search" function to look for "Jadot" on my French wine reports archives page,
http://www.wineloverspage.com/wines/france.phtml
Today's Sponsor
Barrel Room Blowout at The California Wine Club!
Save up to 70 percent off normal retail prices during The California Wine Club's last Wine Sale of the year. Visit www.cawineclub.com to view a full list of the wines or call 1-800-777-4443.
Choose from more than 100 award-winning, limited-production wines ... all on sale at prices well below normal retail. Half, full and mixed cases are okay. All prices FOB Camarillo, Calif.
Shop, save and stock up for the holidays!
Call 1-800-777-4443 or visit http://www.cawineclub.com

Louis Jadot 2005 Pouilly-Fuissé ($23.99)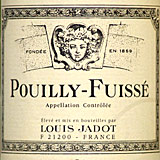 Transparent straw color. Delicious fresh apple and pear aromas, clean and rather delicate. A bit more forward on the palate, medium-bodied and dry, juicy white fruit and a distinct stony minerality; a tart, cleansing finish makes it an exceptional food wine. Good fruit, minerally, structured and lean, Chardonnay for those who don't think they like Chardonnay. U.S. importer: Kobrand Corp., NYC. (Sept. 3, 2007)
FOOD MATCH: Fine for all but the lightest fish dishes, chicken and pork or a variety of cheese; it served very well with pork cutlets in a light fresh-tomato sauce over conchiglie pasta.
VALUE: A generation ago, Pouilly-Fuissé was typically overpriced in the U.S., selling for $20 in an era when you could do as well for $10. Now the Euro and reality have caught up, and a good Pouilly-Fuissé is a fine bargain in the middle to upper teens. (This local price is well on the high side; careful shopping in most markets should bring it home for less.)
WHEN TO DRINK: Although it's drinking well now, quality Pouilly-Fuissé, like other good White Burgundies, will reward careful cellaring for five years or more with complexity and richness.
WEB LINK:
The Louis Jadot Website is published in French and English. Choose the French or British flag for the language you prefer:
http://www.louisjadot.com/
FIND THIS WINE ONLINE:
For Jadot's distributors in six continents, click "Distributors" from the Home Page. Look up retail vendors and compare prices for Louis Jadot Pouilly-Fuissé on Wine-Searcher.com:
http://www.wine-searcher.com/
find/Jadot%2bPouilly/-/-/USD/A?referring_site=WLP

Talk About Wine Online
If you have questions, comments or ideas to share about today's article
or wine in general, you're always welcome to drop by our online WineLovers Discussion Group. This link will take you to the forum home page, where you can read discussions in all the forum sections:
http://www.wineloverspage.com/forum/village
Everyone is free to browse. If you'd like to post a comment, question or reply, you must register, but registration is free and easy. Do take care to register using your real name, or as a minimum, your real first name and last initial. Anonymous registrations are quietly discarded.
To contact me by E-mail, write wine@wineloverspage.com. I'll respond personally to the extent that time and volume permit.
PRINT OUT TODAY'S ARTICLE
Here's a simply formatted copy of today's Wine Advisor, designed to be printed out for your scrapbook or file or downloaded to your PDA or other wireless device.
http://www.wineloverspage.com/wineadvisor2/
2007/09/wine_focus_louis_jadot_negocia-print.html

This week on WineLoversPage.com
• Italian Wine Guide: Italian Varieties – A to Z
At the heart and soul of Italian viticulture are the wines made from indigenous varieties. To help ease the confusion, writer Tom Hyland presents this brief guide to major Italian varieties from A to Z.
http://www.wineloverspage.com/italwineguide/varieties07.phtml
• Our Internet radio "TalkShoe": Harvest time!
Vendange, vintage, vendemmia or harvest: Whatever your wine language, it's grape-picking time in Northern Hemisphere wine regions. White grapes are coming in, the reds will soon follow, and our Internet Radio TalkShoe will broadcast from Bordeaux to talk about vintage the world over. You're selcome to join in on Saturday, Sept. 8, at noon. US EDT (9 a.m. on the U.S. West Coast and 18:00 in Western Europe). Click for the details:
http://wineloverspage.com/talkshoe/
TalkShoe took a break last week because of the moderator's travel plans, but you can still tune in all our archived editions in streaming audio online:
http://wineloverspage.com/talkshoe/latest.htm
• WineLovers Discussion Group: The dynamics of Grüner Veltliner
Grüner Veltliner, that quintessentially Austrian white wine grape, may remain a niche wine in the general marketplace, but its rise to wine-geek fancy from the shambles of a wine-adulteration scandal a generation ago has been little short of remarkable. It's arguably a great wine on the level of White Burgundy or Riesling; what's the story behind its resurrection? Join this fascinating conversation in our online WineLovers Discussion Group.
http://www.wineloverspage.com/forum/village/viewtopic.php?t=10455
• Netscape/Compuserve Community Poll: Favorite large Burgundy negoçiant
Tying in with this month's Wine Focus on the large Burgundy negoçiant Louis Jadot and its wines, our CompuServe/Netscape poll this week asks for your favorite negoçiant. The ballot includes major players Jadot, Bouchard, Joseph Drouhin, Louis Latour and Mommessin, and of course the write-in option for other choices. Click here to vote:
http://community.netscape.com/winelovers?nav=messages&tsn=1&tid=5386