Today's Sponsor
• Connoisseurs' Series I share this month's top-end selections with a group of serious wine enthusiasts at the "SemiCool" tasting in Ann Arbor, and both wines win their applause. www.cawineclub.com/ connseries
In This Issue
• What do you call ...
If it's a "pack" of wolves and a "flock" of lambs, a "pride" of lions and a "gaggle" of geese and even a "parliament" of owls, what should we name a gathering of wine geeks?
• Connoisseurs' Series I share this month's top-end selections with a group of serious wine enthusiasts at the "SemiCool" tasting in Ann Arbor, and both wines win their applause: The bold and sunny Summerland 2004 Paradise Road Vineyard Santa Ynez Valley Syrah and an intriguing Merlot-Cabernet blend, HdV 2003 Napa Valley Carneros Red Wine.
• This week on WineLoversPage.com
Articles about wine-glass shapes and a world of Riesling top this week's new articles. We talked about Riesling, too, on Saturday's Internet Radio TalkShoe. In our WineLovers Forum, we're talking about expensive wines we've hated; and our weekly CompuServe forum poll invites you to evaluate your own wine-tasting skills.
• Administrivia Change E-mail address, frequency, format or unsubscribe.
What do you call ...
If it's a "pack" of wolves and a "flock" of lambs, a "pride" of lions and a "gaggle" of geese and even a "parliament" of owls, what should we name a gathering of wine geeks? If you've got a great idea for an appropriate collective term for wine lovers assembled in groups, I hope you'll drop by our WineLovers Discussion Group and share your inspiration on this topic.
One certain contender, though, goes back nearly two decades in wine-enthusiast tradition: "Cool." This concept emerged in the early 1990s when a group of Internet-connected wine geeks in the Detroit and Ann Arbor area decided to get together for a late-summer picnic and community wine tasting. They dubbed the event "MoCool" - "Motor City Cooperative OffLine" - and soon saw the small event grow into an annual tradition that lured hundreds of enthusiasts from around the U.S. and beyond to Ann Arbor every August.
SemiCool revelers gathered in a comfortable hotel conference room.
The concept spawned respectful imitators, including "NiagaraCool" in Buffalo and Niagara Falls, N.Y., an early summer event that's building its own tradition.
In the summer of 2007, though, MoCool's string came dangerously close to snapping. An irreconcilable schedule conflict ruled out the usual lakeside picnic in the countryside near Ann Arbor, and no immediate alternatives were available. Left without a place for a party, the local organizing committee regretfully announced that there'd be no MoCool this year.
But as participants had always predicted, even if they called off MoCool, there would still be a MoCool. And sure enough, a band of stalwarts in our WineLovers Discussion Group soon hatched a plan. Picnic or no, they'd gather in Ann Arbor on the usual weekend, bring wine, meet friends, go out to dinner and find a place to spend a happy Saturday socializing, sharing wine and good things to eat.
With many thanks to a cast of organizers too numerous to mention, but certainly including OW, BobH, the Noland Brothers and JuliaB, if there was no MoCool, there was still SemiCool. Wine lovers gathered from all over, just as always, and the usual MoCool spirit filled a happy weekend that included a fine dinner at The Earle in Ann Arbor, a sociable indoor "picnic" at the city's Hawthorn Suites hotel, a "horizontal" tasting of 1998 Chateauneuf-du-Pape and the usual impromptu in-room tastings.
The lesson of this sermon is simple: Wine appreciation is not a solitary pursuit, it's a social hobby. Get a group of wine friends together to share fun, food and fine wine, and it's awfully hard to make them stop; and that's a good thing.
I've put my SemiCool report on our MoCool Home Page. You're welcome to click and read the details, including tasting reports on more than 60 wines, at SemiCool 2007, the year that MoCool almost didn't happen.
To whet your appetite, here are my notes just a few of the wines tasted, offering a bare hint at the depth and breadth of the splendid bottles that SemiCool wine lovers shared:
Vincent Girardin 2000 Chassagne-Montrachet Morgeot 1er Cru - From the wine list at The Earle, outstanding white Burgundy. Golden, rich, lots of fruit remaining, some tropical fruit, with gentle, appropriate hazelnut notes showing its maturity.
Chateau Grand Traverse 2005 Old Mission Peninsula Michigan Edelzwicker - Pale gold. Lovely, subtle floral notes. Crisp and fresh, just off-dry.
Chateau de la Gardine 1998 Chateauneuf du Pape - Translucent purple, brick edge. Black fruit and smoked meat, most well-preserved yet. Deep fruit and fragrant pepper, fine structure and balance.
Longview 2005 Leelanau Peninsula Cabernet Franc - Another surprising wine from Michigan. Deep purple. Ripe, grapey, extracted, balanced, showing amazing depth for a Michigan red. (Longview Winery is currently featured on the front page of Michwine, MoCool organizer Joel Goldberg's excellent Michigan wine Website.)
Mitchelton 2000 Airstrip Marsanne - A truly offbeat Australian wine, made from late-harvested Marsanne grapes air-dried in the style of an Italian passito but not sweet. Pale gold. Bold apricot and peach aromas. Full and rich, seems sweet at first but finishes just off-dry.
Stag's Leap Vineyard 1994 Napa Valley Fay Cabernet Sauvignon - Beautiful garnet. Subtle cassis, black fruit, great structure and length. At peak, a vivid demonstration of the benefits of cellaring ageworthy wines.
The Four Graces 2003 Willamette Valley Pinot Noir - Ruby. Subtle cherries, elegant and appealing. More forward on the palate than the nose, intense but balanced. Truly "Burgundian," a great Oregon Pinot.
Germain Saincrit 1997 Chateau de Fesles Bonnezeaux - A rare but truly memorable Chenin Blanc dessert wine from the Loire Valley. Bright gold. Amazing aromas jump from the glass, pineapple creme brulee. Unctuous, creamy, intense sweetness shaped by firm acidity.
For many more tasting notes from SemiCool 2007, visit the MoCool Home Page,
http://www.wineloverspage.com/mocool/
where you'll also find a signup form for next year's MoCool E-mail list.
FIND WINES ONLINE:
To look up vendors and compare prices for these or any other wines, we recommend the database at Wine-Searcher.com:
http://www.wine-searcher.com/?referring_site=WLP
Today's Sponsor
The Connoisseurs' Series: Showing off the glory of West Coast wines
As regular readers know, I usually offer my notes every month on the current offering from California Wine Club's limited-membership Connoisseurs' Series.
These exceptional wines, selected each month by Connoisseurs' Guide publisher Charlie Olken and California Wine Club Proprietor Bruce Boring, give wine lovers the opportunity to sample the kind of rare, limited-production California jewels that are often available only on tightly allocated mailing lists.
This month I shared my two-bottle pack at the SemiCool gathering of wine geeks, where they won applause as splendid examples of their styles: A big, bold Central Coast Syrah, and a luscious yet classically structured Merlot-Cabernet blend from Napa's cool Carneros region. You'll find my notes below.
Connoisseurs' Series members may subscribe for monthly, alternate month or quarterly packages. Each shipment includes two to four bottles of California's top wines, with detailed background information. Monthly shipments average $125-$175, including all shipping and handling. There's no membership charge, no long-term commitment (cancel any time), and every wine is guaranteed.
Visit http://www.cawineclub.com/connseries or call The California Wine Club at 1-800-777-4443 to join or learn more about The Connoisseur's Series. Feel free to tell them that I sent you ... and, if you join, please don't hesitate to contact me by E-mail and tell me what you think.

Summerland 2004 Paradise Road Vineyard Santa Ynez Valley Syrah ($41 retail, $37 per bottle for half or full case orders by Connoisseurs' Series members)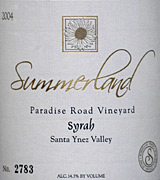 The Santa Barbara region and Bilo Zarif's Summerland Winery may be best known for Pinot Noir, but Syrah runs Pinot a close race, and this big, bold model shows why. Deep purple in color, almost black, it offers up ripe plums and berries, sunny Syrah fruit, over meaty and gamey aromas and well integrated oak. Mouth-filling and ripe with well-balanced blackberry flavors, it's big but not muscle-bound. Appealing now, but give it some cellar time and it will really come into its own. Only 300 cases were made. Winery Website: http://www.summerlandwine.com (Aug. 25, 2007)

HdV 2003 Napa Valley Carneros Red Wine ($60 retail, $55 per bottle for half or full case orders by Connoisseurs' Series members)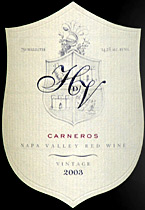 Another regional surprise from Carneros, where the Burgundian varieties Pinot Noir and Chardonnay are the trademark grapes, this remarkable blend of mostly Merlot (90%) plus a splash of Cabernet Sauvignon is surprisingly luscious for cool-climate Merlot, but it's by no means flabby. Very dark reddish violet, its appetizing scent is all about chocolate-covered cherries, with crisp acidity and soft tannins building a sturdy structure that bears up the fruit and nicely integrated oak. In a word, delicious. Winery Website: http://www.hdvwines.com (Aug. 25, 2007)

Talk About Wine Online
If you have questions, comments or ideas to share about today's article
or wine in general, you're always welcome to drop by our online WineLovers Discussion Group. This link will take you to the forum home page, where you can read discussions in all the forum sections:
http://www.wineloverspage.com/forum/village
Everyone is free to browse. If you'd like to post a comment, question or reply, you must register, but registration is free and easy. Do take care to register using your real name, or as a minimum, your real first name and last initial. Anonymous registrations are quietly discarded.
To contact me by E-mail, write wine@wineloverspage.com. I'll respond personally to the extent that time and volume permit.
PRINT OUT TODAY'S ARTICLE
Here's a simply formatted copy of today's Wine Advisor, designed to be printed out for your scrapbook or file or downloaded to your PDA or other wireless device.
http://www.wineloverspage.com/wineadvisor2/
2007/08/what_do_you_call-print.html

This week on WineLoversPage.com
• Dibbern on Wine: What's in a glass?
The event we all have been waiting for has at last occurred: Riedel has introduced its twelfth different Pinot Noir wineglass shape. Writer Donald Dibbern offers some thoughts on glassware.
http://www.wineloverspage.com/dibbern/glass07.phtml
• WebWineMan: The Renaissance Grape
Every time Richard Fadeley opens a bottle of Riesling, he wonders why we don't drink more of this under-appreciated, food-friendly variety. Fadeley and his Columbia (S.C.) Free Times tasters review Rieslings.
http://www.wineloverspage.com/webwineman/riesling07.phtml
• Our Internet radio "TalkShoe": Stay tuned!
David Bueker continued his popular series on German wines on our Internet Radio TalkShoe on Saturday, Aug 25. You can tune it in, along with all our archived editions, in streaming audio online.
http://wineloverspage.com/talkshoe/latest.htm
Because of the moderator's travel plans, we'll probably reschedule the next edition, which would normally air on Saturday, Sept. 1, at 1 p.m. US EDT (10 a.m. on the U.S. West Coast and 19:00 in Western Europe). Stay tuned, and click for the details:
http://wineloverspage.com/talkshoe/
• WineLovers Discussion Group: Most expensive wine you've hated
What could be more frustrating? You lay out more dollars, pounds, yen or Euros on a pricey wine than you really should, and then the wine disappoints. Join the conversation with your personal story of great wines you've hated on our WineLovers Discussion Group.
http://www.wineloverspage.com/forum/village/viewtopic.php?t=10343

• Netscape/Compuserve Community Poll: My tasting skills
How good a taster are you? Excellent, poor, or somewhere in-between? We'd like to find out how you think your own skills stack up, so in the confidential anonymity of the Voting Booth, please take a moment to click to our CompuServe/Netscape forum poll:
http://community.netscape.com/winelovers?nav=messages&tsn=1&tid=5381