Tavern to kitchen
Scam warning!
We've learned that one in a series of new viral or "phishing" scams going around the Internet this week starts with the greeting, "Welcome! We are so happy you joined Wine Lovers." The scam E-mail goes on to provide a purported user number, temporary login ID and password, and provides a cryptic, numerical link that the user is invited to click in order to enter a permanent user name and password.
Please be aware that this communication does not come from WineLoversPage.com and has no connection with us. Our business name is a registered trademark; the common words "wine lovers" are in the public domain. Moreover, "Wine Lovers" is only one of many similar scam mails in this series, which also includes "Dog Lovers," "Joke World," "Poker World" and many more.
Still, because our site comes up first on Google, Yahoo, MSN and AOL searches for "wine lovers," we're getting a lot of queries about this, and I thought it would be a good idea to issue a warning. It's not us. And we recommend that you delete such mails promptly.
Today we examine a well-fashioned Argentine red that evokes warm feelings about two pleasant places to enjoy our wine.
Briefly told, La Posta ("The Tavern"), a brand created by the U.S. wine importer Vine Connections of Sausalito, Calif., hails the warmth and nostalgia of a tavern in Argentina's wine-making Mendoza region where, the proprietors say, some of the top Mendoza grape growers would gather to drink wine and talk about "their soils, their vines, and their quest for superior flavors in their grapes." Right.
Contracting with some of the growers they met at this "posta del vinatero" ("vine-growers' tavern"), Vine Connection principals Ed Lehrman and Nick Ramkowsky offer a portfolio of vineyard-designated Malbec and Bonarda, along with today's wine, the "Cocina Blend."
This hearty, gutsy but balanced red evokes another warm and nostalgic setting for enjoying wine. "Cocina" means "Kitchen," and this is a wine made to go with food ... or, if you're willing to part with a glass for the sake of flavor, in the sauce or stew. Mouth-filling and appetizing, it's great with rare beef. You'll find my tasting notes below.
Today's Sponsor
A message from WineLibrary.com
You may have seen us featured in GQ magazine, The Wall Street Journal, New Jersey Monthly and elsewhere. WineLibrary.com features a huge collection of top wines from around the world, great gifts and accessories, a daily video blog (WineLibraryTV), huge selection of futures (including red hot 2005 Bordeaux at incredible pricing) and much, much more!
Search our quick loading/high speed database of the hottest new wines from California, France, Italy, Australia, New Zealand, Spain, Germany, Austria, South America and more. Join our e-mail service and get an early heads up when wines like Bryant, Harlan, Dominus and others arrive!
Bottom line, we offer the lowest prices, the largest selection, lightning fast shipments and the greatest customer service in the industry! WineLibrary.com is your one-stop shop for everything wine ... so what are you waiting for? Log on to WineLibrary.com today!
For our Free Shipping Item of the Day, log on to http://free.winelibrary.com!

Each day at 1 p.m. we add a new item that is set for Free Shipping!!
Quantity is limited and products will sell out, so be sure to check out http://free.winelibrary.com each day at 1 p.m. for the new item!

La Posta 2006 Mendoza "Cocina Blend" ($15.99)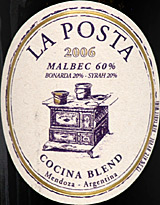 This red blend, a mix of 60% Malbec and 20% each Bonarda and Syrah, shows an opaque blackish-purple color in the glass, with glints of garnet against the light. Black plums and fragrant pepper come together in the aroma. Flavors are juicy and ripe, fresh and plummy fruit and zippy acidity, mouth-filling and appetizing, with soft but substantial tannins in the finish. Very nice wine indeed, and it's great with rare beef. U.S. importer: Vine Connections, Sausalito, Calif. (Aug. 17, 2007)
FOOD MATCH: Made to go with Argentina's excellent beef, it was fine with a comparative tasting of rare, pan-fried grass-fed natural beef steaks from two regional farms, a rib eye from Dreamcatcher Farm in Kentucky and a strip steak from Fiedler Farm in Southern Indiana.
VALUE: No complaints with the mid-teens for a wine that delivers this kind of enjoyment and food-friendliness.
WHEN TO DRINK: It's hard to predict ageworthiness in unfamiliar blends, but the excellent structure, acidity and firm but well-integrated tannins here certainly suggest that it will keep for several years and could evolve under good cellaring conditions.
WEB LINKS:
The importer has a short fact sheet about La Posta Cocina Blend at this link:
http://www.vineconnections.com/
wines/la_posta_cocina_06.htm
FIND THIS WINE ONLINE:
The importer lists state-by-state distributors in the U.S. and a link for E-mail questions on its "Where to Buy" page,
http://www.vineconnections.com/where_to_buy.html
Look up prices and find vendors for the Argentine wines of La Posta on Wine-Searcher.com:
http://www.wine-searcher.com/
find/posta%2bmendoza/-/-/USD/A?referring_site=WLP

Talk About Wine Online
If you have questions, comments or ideas to share about today's article
or wine in general, you're always welcome to drop by our online
WineLovers Discussion Group. This link will take you to the forum home page, where you can read discussions in all the forum sections:
http://www.wineloverspage.com/forum/village
Everyone is free to browse. If you'd like to post a comment, question or reply, you must register, but registration is free and easy. Do take care to register using your real name, or as a minimum, your real first name and last initial. Anonymous registrations are quietly discarded.
To contact me by E-mail, write wine@wineloverspage.com. I'll respond personally to the extent that time and volume permit.
PRINT OUT TODAY'S ARTICLE
Here's a simply formatted copy of today's Wine Advisor, designed to be printed out for your scrapbook or file or downloaded to your PDA or other wireless device.
http://www.wineloverspage.com/wineadvisor2/
2007/08/tavern_to_kitchen-print.html