Quick chill
It's a sizzling summer day, the Fahrenheit is flirting with the 100 mark, and you've just brought home a nice bottle of white or pink wine. It's dinner time, and you need to chill this stuff fast.
What's a thirsty wine lover to do?
My advice, although it may shock those who regard wine with sacramental reverence, is simple: Stick the bottle in the coldest part of your freezer, or immerse it in a small bucket or other vessel filled with water and ice.
Contrary to popular belief, wine is not all that fragile, and shoving your wine into a home refrigerator freezer (or the icy embrace of a frosty bucket) won't do it any damage at all.
Even inadvertent freezing shouldn't harm the wine - some wine geeks actually advise freezing the contents of a partly consumed bottle as a more effective way to keep it in good shape than gas or vacuum treatments. Still, just to be on the safe side (and to guard against the slim possibility that a full bottle could shatter and make a mess if the contents freeze), I suggest setting a timer so you don't forget it's in there.
How long to chill? In my experience, assuming a modern home refrigerator with a separate over-under or side-by-side freezer properly set in the neighborhood of 0F (minus-18C), 30 minutes or so should be more than sufficient to get a wine down from summer room temperature to a pleasant serving temperature.
If you insist on having it crackling cold (a practice that I don't recommend for better wines, as icy temperatures will numb your taste buds and dull the wine's flavor), then an hour is plenty. There's no need to worry about rigorous precision: If you overshoot and get the wine too cold, it won't take it long to warm up, especially during sultry August.
I prefer the freezer to the ice bucket for simple convenience, and I'm not persuaded by the conventional wisdom that the ice bucket works faster. After all, it's only 32F in there, unless you add a lot of salt in the old home ice-cream-maker tradition, a procedure that confers a slight risk of salting your wine if you don't rinse the bottle thoroughly before opening. Spare the mess. Use your freezer, that's my advice.
For today, following up on Monday's report on Sauvignon Blanc, I applied 45 minutes of freezer time to a surprisingly appealing, relatively affordable Bonterra 2006 Sauvignon Blanc from California, a blend of Sauvignon Blanc grapes from Lake County (52%) and Mendocino County (48%). It's made, I'm told, by a process adopted from New Zealand in which the wine was fermented "anaerobically" - carefully protected from exposure to oxygen. This procedure, in concert with bottling under a sturdy modern Stelvin-type screwcap, is aimed at providing maximum freshness in the wine.
It certainly works here, producing a crisp yet medium-bodied, aromatic Sauvignon Blanc that neatly walks a tightrope between the "herbaceous" and "citric" styles, presenting a tasty balance between intriguing, delicate grassiness and appealing grapefruit and tangerine flavors.
Bonterra is a certified organic winery, and the wine is labeled "made with organically grown grapes," but it can't claim to be an organic wine under new regulations that many (including me) consider profoundly wrong-headed, as it is made with a rational application of sulfites to protect its freshness.
My tasting notes are below.
Today's Sponsor
A message from WineLibrary.com
You may have seen us featured in GQ magazine, The Wall Street Journal, New Jersey Monthly and elsewhere. WineLibrary.com features a huge collection of top wines from around the world, great gifts and accessories, a daily video blog (WineLibraryTV), huge selection of futures (including red hot 2005 Bordeaux at incredible pricing) and much, much more!
Search our quick loading/high speed database of the hottest new wines from California, France, Italy, Australia, New Zealand, Spain, Germany, Austria, South America and more. Join our e-mail service and get an early heads up when wines like Bryant, Harlan, Dominus and others arrive!
Bottom line, we offer the lowest prices, the largest selection, lightning fast shipments and the greatest customer service in the industry! WineLibrary.com is your one-stop shop for everything wine ... so what are you waiting for? Log on to WineLibrary.com today!
For our Free Shipping Item of the Day, log on to http://free.winelibrary.com!

Each day at 1 p.m. we add a new item that is set for Free Shipping!!
Quantity is limited and products will sell out, so be sure to check out http://free.winelibrary.com each day at 1 p.m. for the new item!

Bonterra Vineyards 2006 Lake-Mendocino County Sauvignon Blanc ($12.99)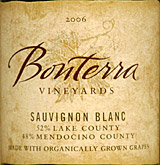 Clear, pale straw color shows just a hint of brass. Distinct but subtle "grassy" Sauvignon Blanc aromas add citrus, too, with an edge of grapefruit and a whiff of tangerine. Attractive and complex, a very appealing aromatic blend. Good body and luscious fruit on the first taste, crisp and citric, refreshingly acidic hints of fresh-squeezed grapefruit and bitter orange. Fresh acidity and appetizing fruit may cloak just a touch of residual sweetness, but the wine finishes both fruity and dry. Certainly New World in style, but delicacy and balance and appealing freshness lift it well above the pack. (Aug. 14, 2007)
FOOD MATCH: Well-suited to seafood and a match for lightly spicy fare, it was excellent alongside a Cajun-style okra gumbo with andouille sausage, made in a lighter style without roux.
VALUE: My local retail was right on the winery's suggested $13 price, a tag that's more than fair for a Sauvignon Blanc of this quality. Excellent value even at this price, but it's widely discounted, so shop around for even better deals.
WHEN TO DRINK: Although the sturdy Stelvin screwcap will likely hold it well on the wine rack, this wine's freshness is its greatest asset, and it will be most enjoyable in its youth. Drink until the 2007 arrives, then move on.
PRONUNCIATION:
Sauvignon Blanc = "So-veen-yoN BlahN"
WEB LINKS:
The winery Website is generally informative, particularly in its discussion of Bonterra's organic practices and philosophy, but it appears a bit slow to update. The Sauvignon Blanc, new with the 2006 vintage, is not yet listed under "The Wines."
http://bonterra.com
FIND THIS WINE ONLINE:
Find sources and compare prices for Bonterra 2006 Sauvignon Blanc on Wine-Searcher.com:
http://www.wine-searcher.com/
find/Bonterra%2bSauvignon%2bBlanc/2006/-/USD/A?referring_site=WLP

Talk About Wine Online
If you have questions, comments or ideas to share about today's article
or wine in general, you're always welcome to drop by our online
WineLovers Discussion Group. This link will take you to the forum home page, where you can read discussions in all the forum sections:
http://www.wineloverspage.com/forum/village
Everyone is free to browse. If you'd like to post a comment, question or reply, you must register, but registration is free and easy. Do take care to register using your real name, or as a minimum, your real first name and last initial. Anonymous registrations are quietly discarded.
To contact me by E-mail, write wine@wineloverspage.com. I'll respond personally to the extent that time and volume permit.
PRINT OUT TODAY'S ARTICLE
Here's a simply formatted copy of today's Wine Advisor, designed to be printed out for your scrapbook or file or downloaded to your PDA or other wireless device.
http://www.wineloverspage.com/wineadvisor2/
2007/08/quick_chill-print.html