Many faces of Sauvignon Blanc
It's one of the most popular white-wine varieties, but which Sauvignon Blanc do you admire? From Sancerre to Marlborough and around the world, Sauvignon Blanc shows a bewildering array of personalities.
Likely originating in Bordeaux and, like its cousin Cabernet Sauvignon probably originally a wild ("sauvage") grape though under cultivation for 1,000 years or more, Sauvignon Blanc is sometimes labeled just-plain "Sauvignon," just as Cabernet Sauvignon often goes by just-plain "Cabernet."
In white Bordeaux, Sauvignon Blanc is almost invariably blended with Semillon, but France's Loire Valley typically holds the Sauvignon quotient pure and unblended in regionally named wines from Sancerre to Pouilly-Fumé. In the New World, California's Robert Mondavi breathed new commercial life into the variety, a generation past, when he borrowed the Loire moniker to re-dub the grape "Fumé Blanc," an effort that seemed to increase the variety's market share simply because it was easier to pronounce.
New Zealand wines, once virtually unknown outside the British Commonwealth, burst into the world's view when Cloudy Bay introduced its startling rendition of Sauvignon Blanc with its bold, in-your-face green-chile and tomcat aromas; it wasn't long before the Kiwis were virtually flooding the wine world with competitors, heating up the marketplace with entries from all over ... Northern Italy, South Africa, Chile ... you'll be hard pressed to find any wine region that doesn't produce at least a little Sauvignon Blanc.
But it can be surprisingly difficult to get a handle on exactly what to expect from the grape. Sauvignon Blanc is almost invariably on the more aromatic side, but its character can change markedly depending on a variety of factors. Controlling sunlight and summer heat exposure through "canopy management" - pruning the vines so as to expose the grapes to sun or keep them under shade - can move the resulting wine across a flavor spectrum from grapefruit and citrus at the sunny end to the herbaceous "green" flavors from damp grass to gooseberry, green chile and the notorious "catbox" (or "boxwood") scents that made New Zealand famous at the shady end.
"Overcropping" - greedily farming vineyards to maximize tonnage at the expense of quality - can yield insipid wines, and frankly, I'm seeing too much of this in the lower-price range around the world. Terroir, particularly in the Loire, can contribute a lovely stony minerality, particularly if the wine is not heavily manipulated in the winery. And oak treatment can be a blessing, when it appears as a delicate perfume (as in the outstanding California Sauvignon from Iron Horse featured below), or a curse, when it's done with such a heavy hand that the Sauvignon becomes indistinguishable from an oaky Chardonnay.
How can wine consumers know what to expect from a Sauvignon Blanc? It's not always easy! In general, if you like your Sauvignon grassy but subtle, look to France, whereas those who fancy it green but brassy might veer toward New Zealand. Check the New World for full, citric renditions, but be aware throughout this process that individual bottlings will vary widely, so look for tasting reports from trusted sources or ask a trusted merchant if you're in doubt.
Today's Sponsor
The Connoisseurs' Series: Showing off the glory of West Coast wines
Every month, just about at the point when I'm getting into a happy infatuation with the European wines that I grew up with and instinctively love, I get a useful reality check with the arrival of my monthly shipment from California Wine Club's limited-membership Connoisseurs' Series.
These exceptional wines, selected each month by Connoisseurs' Guide publisher Charlie Olken and California Wine Club Proprietor Bruce Boring, invariably shake me out of my Euro-rut by confronting me with the potential glories of our own West Coast wines.
Connoisseurs' Series membership is necessarily limited by the tiny production of these splendid wines, so it's a unusual privilege that 30 Second Wine Advisor readers are now eligible for membership. Connoisseurs' Series members may subscribe for monthly, alternate month or quarterly packages. Each shipment includes two to four bottles of California's top wines, with detailed background information. Monthly shipments average $125-$175, including all shipping and handling. There's no membership charge, no long-term commitment (cancel any time), and every wine is guaranteed.
This month's package was a big one, including a full ration of four fine wines, the two featured below plus the fine Miner Family Vineyards 2003 "The Oracle" Napa Red Wine and, from Washington State, Northstar Winery 2003 "Walla Walla Valley" Merlot.
Visit http://www.cawineclub.com/connseries or call The California Wine Club at 1-800-777-4443 to join or learn more about The Connoisseur's Series. Feel free to tell them that I sent you ... and, if you join, please don't hesitate to contact me by E-mail and tell me what you think.

Iron Horse Vineyards 2005 T Bar T Vineyard "Cuvée R" Alexander Valley Sauvignon Blanc ($24 retail, $21 per bottle for half or full case orders by Connoisseurs' Series members)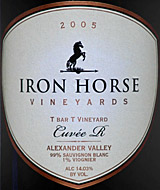 Transparent pale-straw color with just a glint of brass. Honeydew and subtle citrus, closer to lemon-lime than citrus. Big and full, ripe and juicy white-fruit flavors; bone-dry and well-built on a firm acidic structure. The 14.03 percent alcohol and barrel fermentation in both French and American oak might concern me in an everyday Sauvignon Blanc, but this is no everyday wine: All the components are handled beautifully and come together in an impressive Sauvignon Blanc that can't be compared with the Loire or New Zealand or even other California bottlings but speaks persuasively with its own voice. Fine with a light summer dinner crafted to match: Shuckman's alder-smoked salmon cured in Pappy Van Winkle Bourbon, sliced thin and tossed with cucumber julienne in crème fraîche with subtle South Asian spice. Only 1,000 cases made. Winery Website: http://www.ironhorsevineyards.com (Aug. 12, 2007)

Addamo Vineyards 2005 Santa Barbara County Pinot Noir ($39 retail, $34 per bottle for half or full case orders by Connoisseurs' Series members)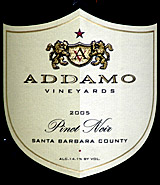 Clear, dark ruby. Distinct cherry cola and herbal aromas loft over deep red fruit. Ripe and juicy fruit flavors follow the nose, velvety and well-balanced with mouth-watering, fresh-fruit acidity; 14.1 percent alcohol level is entirely appropriate to the wine's medium-weight texture. Clearly New World in style, but it scores with fine elegance and balance. Winery Website: http://www.addamovineyards.com (Aug. 10, 2007)


Talk About Wine Online
If you have questions, comments or ideas to share about today's article
or wine in general, you're always welcome to drop by our online WineLovers Discussion Group. This link will take you to the forum home page, where you can read discussions in all the forum sections:
http://www.wineloverspage.com/forum/village
Everyone is free to browse. If you'd like to post a comment, question or reply, you must register, but registration is free and easy. Do take care to register using your real name, or as a minimum, your real first name and last initial. Anonymous registrations are quietly discarded.
To contact me by E-mail, write wine@wineloverspage.com. I'll respond personally to the extent that time and volume permit.
PRINT OUT TODAY'S ARTICLE
Here's a simply formatted copy of today's Wine Advisor, designed to be printed out for your scrapbook or file or downloaded to your PDA or other wireless device.
http://www.wineloverspage.com/wineadvisor2/
2007/08/many_faces_of_sauvignon_blanc-print.html

This week on WineLoversPage.com
• Bucko's Wine Reports: More Summer 2007 Releases
Pinot Noirs from France and Oregon stole the show at the International Pinot Noir Celebration Passport to Pinot at Linfield College in Oregon's Willamette Valley last month. Randy "Bucko" Buckner was there, and features 28 beauties from the event in his monthly report on 100 new wine releases.
http://www.wineloverspage.com/bucko/bucko0807.phtml
• Our Internet radio "TalkShoe": Wildcard Q&A
We'll have another open potpourri topic, with a particular focus on food-and-wine topics if you'd like to bring 'em, on our next Internet Radio TalkShoe on Saturday, Aug 18, at 1 p.m. US EDT (10 a.m. on the U.S. West Coast and 19:00 in Western Europe).
http://wineloverspage.com/talkshoe/
Last session featured a random walk through wine-related topics ranging from wine-shipping laws to real-world "offline" gatherings of wine geeks to true "blind" tasting from black glasses. You can tune it in, along with all our archived editions, in streaming audio online. Click to listen:
http://wineloverspage.com/talkshoe/latest.htm
• WineLovers Discussion Group: Open Mike - Chardonnay
More than most wine grapes, Chardonnay is a bit controversial because it divides wine enthusiasts into pro and anti camps. Do you love it, or are you a card-carrying member of the Anything But Chardonnay club? Tell us your preference ... and bring tasting notes ... as we taste and talk about Chardonnay on our WineLovers Discussion Group.
http://www.wineloverspage.com/forum/village/viewtopic.php?t=9918
In case you missed Friday's announcement, we're also polling whether men or women are more likely to keep their wine if a fly or other insect wanders into your glass. Please take a moment to "vote"!
http://www.wineloverspage.com/forum/village/viewtopic.php?t=10078

• Netscape/Compuserve Community Poll: I'm okay with cork ...
It's time for another of our periodic reality checks on wine-consumer acceptance of alternatives to natural cork for wine-bottle closures. This time we're shooting for a snapshot of the level of acceptance by asking the degree to which you're okay with cork, ranging from "never" to "always." The more votes, the more meaningful the results, so please take a moment to share your opinion in our CompuServe/Netscape forum poll.
http://community.netscape.com/winelovers?nav=messages&tsn=1&tid=5366