A fine white and a fun poll
Quickly told on a sizzling summer Friday, let's wrap up the work week with a look at an exceptionally appealing Washington State white and an online forum poll that revisits a question we last asked in 2001: "Would you share your wine with a fly?"
First, the wine:
We return to L'Ecole No. 41, the excellent Washington State winery we visited a couple of weeks ago in "School's out," a report on L'Ecole's relatively affordable red blend, "Recess Red." This time the featured wine is a white, "Walla Voila," a gentle pun on Walla Walla, Wash., the trademarked label for L'Ecole's old-vines Chenin Blanc.
The back label describes "Walla Voila" as "fresh and frivolous ... tart, lightly sweet and delightfully fruity Chenin Blanc from Willard Family Farms," created by the L'Ecole's founding wine maker Jean Ferguson and produced since 1987.
I'm not sure about the "frivolous" part, which might imply a lack of seriousness; in fact, this white is seriously good. Cold-fermented and fresh, food-friendly at the table and interesting enough to enjoy on its own as a summer aperitif. The winery declares it Ferguson's version of Vouvray, and I could go along with that, based on its excellent balance of fruit, gentle sweetness and steely acidity over a rational 13.5 percent alcohol. Still, there's something about its body and luscious, forward fruit that says "New World" in the best sense.
Worth seeking out, especially during the heat of summer; serve it chilled but not so mouth-numbingly cold that you'll dull its attractive complexities.
Now, the poll:
Speaking of aperitifs and lazy, hazy summer days, 'tis the season when fruit flies, mosquitoes and gnats are most likely to wander into your glass. When this minor tragedy occurs, do you flick out the obstreperous invader and keep on sipping, or do you dump the glass and scrub it squeaky clean before pouring a refill?
We asked this question five years ago in a Wine Advisor article and online forum poll, generating a lot of discussion. This week we're returning to the topic in another poll, this time with a twist: To check the hypothesis that men are more likely to ignore the creature, women more likely to reject the rest of the glass, we're inviting you to tell us your reaction, casting your ballot by gender.
To see current results and read the discussion, click to our WineLovers Discussion Group forum,
http://www.wineloverspage.com/forum/village/viewtopic.php?t=10078
If you wish to vote - and I hope you will - it's necessary to register and log in. Registration is free and simple, requiring only that you register using your real name (or, as a minimum, first name and last initial). If you have difficulties, feel free to E-mail me for help at wine@wineloverspage.com . See you in the forum!
L'Ecole No. 41 2006 Washington State "Walla Voila" Chenin Blanc ($14.99)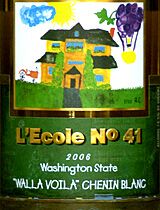 Transparent, light straw color. Pears and melons, rather ripe and forward white fruit on the nose and palate. Juicy and fresh pear and citrus flavors, gentle sweetness more than adequately balanced by a vibrant edge of fresh-fruit acidity. (Aug. 9, 2007)
FOOD MATCH: The slight sweetness of the wine works very well indeed with the reciprocal sweetness of fresh bay scallops seared in butter and finished with a dash of lemon and lime juices, served over linguine.
VALUE: No complaints about a price in the middle teens for a wine of this quality, both food-friendly and enjoyable as a summer aperitif. Compare prices for best value in competitive markets, as the winery suggested price is just $12.
WHEN TO DRINK: Ready to drink and made in a style for early consumption, but Chenin Blanc can be one of the most ageworthy of whites, so it wouldn't be a bad experiment in aging if you were to "lose" one under good cellar conditions for a few years.
WEB LINK:
For the winery's short fact sheet on its Chenin Blanc, click:
http://www.lecole.com/wines_chenin.php
FIND THIS WINE ONLINE:
You can buy "Walla Viola" direct from the winery for $12 a bottle plus shipping where laws permit, using this link to the winery page:
http://www.lecole.com/product.php?cPath=135&products_id=1108
Look up retail vendors and compare prices for L'Ecole No. 41 "Walla Voila" on Wine-Searcher.com:
http://www.wine-searcher.com/
find/Ecole%2bChenin/-/-/USD/A?referring_site=WLP

Talk About Wine Online
If you have questions, comments or ideas to share about today's article
or wine in general, you're always welcome to drop by our online
WineLovers Discussion Group. This link will take you to the forum home page, where you can read discussions in all the forum sections:
http://www.wineloverspage.com/forum/village
Everyone is free to browse. If you'd like to post a comment, question or reply, you must register, but registration is free and easy. Do take care to register using your real name, or as a minimum, your real first name and last initial. Anonymous registrations are quietly discarded.
To contact me by E-mail, write wine@wineloverspage.com. I'll respond personally to the extent that time and volume permit.
PRINT OUT TODAY'S ARTICLE
Here's a simply formatted copy of today's Wine Advisor, designed to be printed out for your scrapbook or file or downloaded to your PDA or other wireless device.
http://www.wineloverspage.com/wineadvisor2/
2007/08/a_fine_white_and_a_fun_poll-print.html