School's out!
For many of us who live east of the Mississippi, wines from Washington State rank right up there on the mythology scale with Santa Claus, Jack Frost and the Tooth Fairy, not to mention wine from British Columbia: We're told that they exist, but we don't see much evidence to support it.
We do get some few large, corporate brands making decent wines that are, however, indistinguishable from their industrial-strength counterparts in neighboring California. But artisanal and small-winery bottlings from Washington are thin on the ground in the Eastern U.S. and beyond.
Happily, a few smaller producers are making an effort to break out of the Pacific Northwest and offer wine lovers around the rest of the world at least an occasional taste.
One of my favorites is L'Ecole No. 41, a producer that's pushing its way from small to middle-size with production around 30,000 twelve-bottle cases annually. Focusing primarily on Merlot and Semillon, along with the other Bordeaux grapes and Syrah - it draws its name (translated, "The School No. 41") and its colorful label from the winery building, the 92-year-old "Frenchtown School" in Lowden, Washington, in the heart of the wine-producing Walla Walla Valley.
L'Ecole No 41 was founded in 1983 by Jean and Baker Ferguson, and is owned and operated today by the Fergusons' daughter and son-in-law, Megan and Martin Clubb.
I've been a fan of their Merlot over the years, a very serious wine that even the Merlot-hating character Miles in the movie "Sideways" probably would have liked; but its pricing starts around $30 and upward in this part of the world, moving it into "special occasion" territory for me.
Accordingly, I was delighted to spot a couple of new L'Ecole bottlings priced in the middle teens: an intriguing Chenin Blanc that I'm looking forward to opening soon, and today's featured wine, an offbeat blend of five Bordeaux red varieties plus a substantial glug of Syrah. Titles "Recess Red" to carry on L'Ecole's scholastic theme, it's $17 at the winery and in stock locally at $15.
If you've tried Recess Red and other L'Ecole No. 41 wines and would like to share your comments on this or other wine-related topics, you're invited to drop in and post a reply in our WineLovers Discussion Group, where you'll find this column at
http://www.wineloverspage.com/forum/village/viewtopic.php?t=9804
L'Ecole No. 41 2005 Columbia Valley "Recess Red" ($14.99)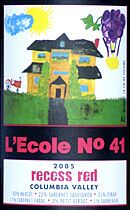 Very dark blackish-purple with glints of garnet. Black fruit and aromatic oak aromas of dark chocolate and oaky vanilla. Big, mouth-filling fruit flavors, structured and appropriately acidic; substantial tannins and hefty 14.1% alcohol. Distinctly a New World style, a whack of oak, and yet the flavors come together in a pleasant way. Juicy black fruit stands up to the acidic structure and tannins without knocking the wine out of balance, and the sweet oak doesn't overwhelm the fruit. A blend of 42% Merlot, 22% Cabernet Sauvignon, 21% Syrah, 11% Cabernet Franc, 3% Petit Verdot, 1% Carmenère. (July 25, 2007)
FOOD MATCH: This hearty, tannic red wine goes best with red meat. It was perfectly matched with a Fiedler Familiy Farms Indiana grass-fed steak crusted with black pepper and pan-seared medium-rare. Try seeking out local natural beef if you can; the environment and your taste buds will thank you.
VALUE: This fine, New World-style Washington State red blend offers excellent value at this price point. Listed for $17 at the winery, it turns up across a surprising range of prices at retail, from the middle teens to the low $20s.
WHEN TO DRINK: Although it's made to enjoy without waiting, its structure and tannins suggest that it should cellar well for five years or more.
WEB LINKS:
The L'Ecole No. 41 Website includes a lot of information about the winery and its wines and even about the family competition that yielded its familiar label, designed by a young cousin.
http://www.lecole.com
FIND THIS WINE ONLINE:
For direct purchases from the winery online shop, click
http://www.lecole.com/products.php?cPath=135
Compare prices and find additional vendors for L'Ecole No. 41 Recess Red on Wine-Searcher.com:
http://www.wine-searcher.com/
find/Ecole%2bRecess/-/-/USD/A?referring_site=WLP

Today's Sponsor
Monterey County 15th Annual Winemakers' Celebration
The Monterey County Vintners and Growers Association, MCVGA, will be hosting the Central Coast's leading outdoor summer wine festival that exclusively features Monterey County wineries on Saturday, August 11, 2007 from 12—4 p.m., at the Historic Custom House Plaza in downtown Monterey. The festivities include over forty-five Monterey County wineries joining forces to showcase their world class wines.
The Eldredge & Rossi Band will entertain wine enthusiasts as they dance to upbeat tunes on the Monterey Bay. The silent auction, always an attraction at the event, will include mixed cases and library wines, spa getaways, and golf and hotel packages.
Headline seminars will include a Wine 101 workshop and a Pinot Noir tasting of the award winning Monterey County Pinots from the Santa Lucia Highlands.
Along with everyone's familiar and favorite Monterey County wineries, there are several new wineries that will be participating in the 2007 tasting. A sampling includes Belle Glos, Figge Cellars, Mer Soleil, Mission Trail, Ronan Cellars, and Szalay Winery.
Tickets are $35 per person in advance, or $40 per person at the event. Ticket price includes a Monterey Wine Country commemorative wineglass, tastings at the winery tables, participation at the seminars, and entertainment. Guests can upgrade to a 15th Annual Anniversary glass and enjoy the reserve sampling wines for $50 in advance or $55 at the door. Designated driver tickets are available for $15, and designated drivers will receive a souvenir glass and unlimited non-alcoholic drinks provided by Southern Wine & Spirits of California, Inc.
Call (831) 375-9400 for tickets and information, or visit online at
http://montereywines.org/wine_events_winemakers_celebration.html

Talk About Wine Online
If you have questions, comments or ideas to share about today's article
or wine in general, you're always welcome to drop by our online
WineLovers Discussion Group. This link will take you to the forum home page, where you can read discussions in all the forum sections:
http://www.wineloverspage.com/forum/village
Everyone is free to browse. If you'd like to post a comment, question or reply, you must register, but registration is free and easy. Do take care to register using your real name, or as a minimum, your real first name and last initial. Anonymous registrations are quietly discarded.
To contact me by E-mail, write wine@wineloverspage.com. I'll respond personally to the extent that time and volume permit.
PRINT OUT TODAY'S ARTICLE
Here's a simply formatted copy of today's Wine Advisor, designed to be printed out for your scrapbook or file or downloaded to your PDA or other wireless device.
http://www.wineloverspage.com/wineadvisor2/
2007/07/schools_out-print.html