Today's Sponsor
• The California Wine Club
If you're looking to acquire California's highest rated and most coveted wines, turn to The California Wine Club's Signature Series.
http://www.cawineclub.com
In This Issue
• Far out!
We've traveled off the beaten path many times before in quest of new wine tasting experiences ... but we've rarely gone as far out as this!
• The California Wine Club If you're looking to acquire California's highest rated and most coveted wines, turn to The California Wine Club's Signature Series.
• Pine Ridge 2006 Clarksburg Chenin Blanc-Viognier ($15.99)
This wonderful summer sipper, a perennial favorite, offers complexity and character to lift it well above the ordinary.
• This week on WineLoversPage.com
We'll talk about serving wine, both at home and dining out, in Saturday's Internet Radio TalkShoe. In our forums, we're trying to pin down a "signature" flavor for Tempranillo, the red grape of Spanish Rioja; and taking a poll on our favorite countries for wine bargains.
• Administrivia Change E-mail address, frequency, format or unsubscribe.
Far out!
Could you imagine a world without wine? How about a world without French wine? This concept sounds like vinous hell to me, an admitted Francophile (and Italophile and a lot of other -philes), but then, I like to sample life and wine in all its infinite variety.
Still, when a bunch of wacky wine buddies announced plans for a tongue-in-cheek "Anti-Bastille Day" gathering - a just-for-fun, non-political party at which everyone must bring wines neither made in France nor using any French-heritage grape varieties - I was willing to play.
The challenge wasn't as easy as it seemed: Part of the game is that wines were to be inspected at the entrance, and any lapses from non-French form sent back to the donor's car amid much jeering and happy scorn. Not only were Bordeaux, Burgundy, the Rhone and Alsace and the Loire off the table, but I couldn't even bring my Napa Syrah or my Australian Marsanne.
I could have wimped out with something easy like an Amador County Zinfandel or maybe a Missouri Norton or even a Manischewitz Concord, but what fun is that?
No, with wine geeks at the level of this group - Master Sommeliers and candidates, wine servers and chefs - I needed to step away from France in an extraordinary way.
Fortunately, a walk through some really offbeat wines awaiting tasting came up with a couple of "interesting" samples. They're not French, and chances are that they'll be hard to find in most parts of the world. But I thought you'd find them interesting just for their oddity.
Please take note that we're not poking fun at these wines just because they're "different." They're interesting wines from out-of-the-ordinary places, but both proved to be well-made in its fashion if a far cry from the usual fine-wine paradigm. Even if you're conservative in your wine tastes, it's worth an occasional step outside your comfort zone, if only as a learning experience.
Tree of Life Collection NV Pomegranate (Armenia)

Apparently destined to be promoted on the basis of the pomegranate fruit's purported health qualities as a rich source of heart-healthy antioxidants, this "semi-sweet Wine fermented from 100 percent pure squeezed pomegranate juice" is made by Proshyan Brandy Factory in Yerevan, Armenia, and imported in the U.S. by Aiko LLC, Mt. Pleasant, S.C.
It bears a fairly close resemblance to an off-dry red table wine made from grapes. Light purple in color, not much darker than a rosé, it's passable but a bit quirky in the aroma department, with markedly vegetal characters and a distinct whiff of the dill-pickle jar. It's much more appealing in the flavor, juicy and fresh pomegranate juice, soft in acidity and gently sweet. Probably best chilled or even used with soda over ice with plenty of lemon or lime chunks as a summer spritzer.
Sansu Sangwhang Korean Traditional Wine (Korea)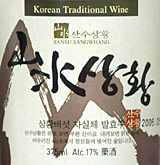 Packaged in a 375ml screw-capped "half-bottle" and apparently intended primarily for the Korean-American market, this oddity bears very little English on the label. It's made not from fruit but is described as a "liquor" (17 percent alcohol) made from a distillate of Phillinus linteus ("Sangwhang" in Korean), a yellow tree fungus that grows on mulberry trees and is a prized Korean delicacy.
Pale golden-bronze in color, it breathes a distinct, pleasant mushroomy scent akin to dried black Chinese "wood ear" mushrooms, along with a slightly floral scent of aromatic rice that's reminiscent of sake. Indeed, its overall character is reminiscent of a good, clean sake with a distinct mushroom aroma added, from its delicate aromas to its strong, slightly sweet flavor. I'd try it with Korean vegetarian fare or bring it to the sushi bar as an interesting substitute for sake. U.S. importer: Precious Wine Corp., Flushing, N.Y.
Now, for those who'd prefer something a little more traditional, here's a recent arrival, the 2006 vintage of a long-time California favorite. It wasn't eligible for the non-French gathering because of its French-heritage grapes. Too bad. More for me.
Pine Ridge 2006 Clarksburg Chenin Blanc-Viognier ($15.99)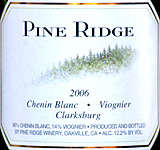 This blend of mostly (86 percent) Chenin Blanc with 14% Viognier is a pale, straw-color wine. It shows hints of both varieties on the nose, honeydew melon attributable to Chenin and light, delicate wildflowers suggesting Viognier. Fresh, lively flavor, a hint of prickly, barely carbonated "petillance" adds a refreshing vibe. Crisp white fruit and zippy lemon-lime last and last in a long, clean finish. A wonderful summer sipper, pleasantly slurpable at just 12.2% alcohol; it shows more than enough complexity and character to lift it well above the ordinary. (July 20, 2007)
FOOD MATCH: Fine with seafood, poultry or pork, it served delightfully with spaghetti aglio e olio tossed with sauteed bites of mixed cod, sea bass, grouper, tilapia and tuna.
VALUE: It's still a fine value in the mid-teens, but shop around, as the retail price I paid is at the high end of the range; some vendors around the U.S. offer it for as little as $10, at which point it's a no-brainer for buying by the case.
WHEN TO DRINK: Fresh and delicious now, but the dominance of ageworthy Chenin Blanc and the sturdy screwcap suggest it should hold up well, and perhaps gain complexity and richness, over the next several years.
WEB LINKS:
You'll find a fact sheet about this wine and vintage, with tasting notes and a vineyard report, on the Pine Ridge Website:
http://www.pineridgewinery.com/index.cfm?
fuseaction=category_detail&category_id_int=14457
FIND THIS WINE ONLINE:
Check prices and find vendors for Pine Ridge Chenin Blanc-Viognier on Wine-Searcher.com:
http://www.wine-searcher.com/
find/Pine%2bRidge%2bChenin/-/-/USD/A?referring_site=WLP
CARRY ON THIS DISCUSSION IN OUR FORUMS
If you have an opinion on this topic or information about a favorite wine you'd like to share, you're invited to post a reply to this column in our WineLovers Discussion Group, where you'll find it at
http://www.wineloverspage.com/forum/village/viewtopic.php?t=9721
Today's Sponsor
Introducing Signature Series from The California Wine Club!
If you're looking to acquire California's highest rated and most coveted
wines, turn to The California Wine Club's Signature Series.
This upper-level wine club features two to four bottles of exquisite,
hand-selected wine along with detailed tasting notes with winemaker
comments. Most of the wines featured in Signature Series are rated in the
90's, dripping with medals. and extremely limited.
Shipments average $200 per month and deliveries may be received monthly,
every other month or quarterly.
To see some of the recently featured wines and to learn more about the
Signature Series please visit
http://www.cawineclub.com/store/Membership_Types___Signature_Series?Args=
To reach The California Wine Club by phone, please call 1-800-777-4443.

Talk About Wine Online
If you have questions, comments or ideas to share about today's article
or wine in general, you're always welcome to drop by our online
WineLovers Discussion Group. This link will take you to the forum home page, where you can read discussions in all the forum sections:

http://www.wineloverspage.com/forum/village
Everyone is free to browse. If you'd like to post a comment, question or reply, you must register, but registration is free and easy. Do take care to register using your real name, or as a minimum, your real first name and last initial. Anonymous registrations are quietly discarded.
To contact me by E-mail, write wine@wineloverspage.com. I'll respond personally to the extent that time and volume permit.
PRINT OUT TODAY'S ARTICLE
Here's a simply formatted copy of today's Wine Advisor, designed to be printed out for your scrapbook or file or downloaded to your PDA or other wireless device.
http://www.wineloverspage.com/wineadvisor2/
2007/07/far_out-print.html

This week on WineLoversPage.com
• Our Internet radio "TalkShoe": Wine service!
Does wine service make you fretful, whether you're pouring for guests at home or dealing with the restaurant ritual? Can you extract a wine cork with flair? Come talk with us about wine service, at home and dining out, and bring your best stories when we go live with our Internet Radio TalkShoe on Saturday, July 28, at 1 p.m. US EDT (10 a.m. on the U.S. West Coast and 19:00 in Western Europe).
http://wineloverspage.com/talkshoe/
Last weekend's TalkShoe featured another look at that summer favorite, rosé wine from around the world. It's now available, with all our archived editions, in streaming audio online. Click to listen:
http://wineloverspage.com/talkshoe/latest.htm
• WineLovers Discussion Group: Does Tempranillo have a signature taste?
Tempranillo, the red grape of Rioja and other historic wine regions in Spain, is not a highly aromatic grape. But does it have a consistent, recognizable flavor? This seemingly simple question has generated an extended conversation in our WineLovers Discussion Group. Read it, and if you like, join in!
http://www.wineloverspage.com/forum/village/viewtopic.php?t=9539
• Netscape/Compuserve Community Poll: Favorite country for wine bargains
When we're on the lookout for real value in wine, on those shopping occasions when getting something good for a price that won't break the budget is more important than getting something great at any price, where do you turn? Spain, France, Italy, the U.S. or "other"? Click over to this week's CompuServe/Netscape forum poll and share your choice.
http://community.netscape.com/winelovers?nav=messages&tsn=1&tid=5341