A wealth of Beaujolais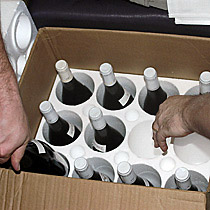 A few weeks back, in a column featuring Rudolph Chelminski's I'll Drink to That, a new book about Beaujolais icon Georges Duboeuf due for publication in October, I told how Chelminski's affectionate portayal of the man and his region had inspired me to regain a bit of affection for a producer whose wines I had come to shun.
Perhaps it's unfair to be too cynical about success, but like many wine enthusiasts, I had become wary of Duboeuf's mass-market status and suspicious about the 70-fold increase in Beaujolais production since the end of World War II, almost half of it in Nouveau Beaujolais and much of that from Duboeuf. Could "interesting" wine come from such a mass-production source?
In fairness, objective "blind" tastings over time persuaded me that smaller producers like Jean-Paul Brun or Jean-Claude Lapalu were the way to go for complex, earthy Beaujolais that wine geeks could love. Duboeuf's lush, fat and banana-scented wines didn't ring my chimes, and I generally stopped buying them.
But a little fresh (and "blind") tasting after reading "I'll Drink to That" restored my faith in The King's ability to make nicely structured and balanced Beaujolais, particularly among the Beaujolais "Crus," the products of 10 villages permitted to display their names on the label; and doubly so in an excellent vintage like the currently available 2005.
So when I had an opportunity to show up last night for a preview tasting of 10 just-released 2006 Duboeuf "Crus" from six of the villages, I wasn't shy about putting on my tasting hat and reporting for duty. Happily, most of what I tasted reinforced my readjusted favorable attitude. Only a single offering showed a hint of the old-style "banana bubble gum," and most ranked high on my Beaujolais-O-Meter. We also reviewed two Duboeuf whites and, just to keep things interesting, bracketed the Duboeuf tasting with artisanal Beaujolais from Lapalu and Brun.
Let's cut right to the chase with brief notes on all the wines tasted. If the 2006 Crus aren't in your market yet, keep an eye out, as they should be arriving soon and should sell in the range of $10 through the middle teens. Duboeuf's wines are imported in the U.S. exclusively by W. J. Deutsch & Sons Lte., of Harrison, N.Y. My notes are below.
Today's Sponsor
A message from WineLibrary.com
You may have seen us featured in GQ magazine, The Wall Street Journal, New Jersey Monthly and elsewhere. WineLibrary.com features a huge collection of top wines from around the world, great gifts and accessories, a daily video blog (WineLibraryTV), huge selection of futures (including red hot 2005 Bordeaux at incredible pricing) and much, much more!
Search our quick loading/high speed database of the hottest new wines from California, France, Italy, Australia, New Zealand, Spain, Germany, Austria, South America and more. Join our e-mail service and get an early heads up when wines like Bryant, Harlan, Dominus and others arrive!
Bottom line, we offer the lowest prices, the largest selection, lightning fast shipments and the greatest customer service in the industry! WineLibrary.com is your one-stop shop for everything wine ... so what are you waiting for? Log on to WineLibrary.com today!
For our Free Shipping Item of the Day, log on to http://free.winelibrary.com!

Each day at 1 p.m. we add a new item that is set for Free Shipping!!
Quantity is limited and products will sell out, so be sure to check out http://free.winelibrary.com each day at 1 p.m. for the new item!

Duboeuf Beaujolais "Crus"
Georges Duboeuf 2006 Chiroubles
Dark garnet. Ripe and fresh, floral, strawberries, but the telltale "banana bubble-gum" character is too reminiscent of Duboeuf's previous style to excite me.
Georges Duboeuf 2006 Brouilly
This is more like it! Blackish-purple, wild strawberries and anise. Mouth-filling and well structured, berries and earth and mouth-watering acidity.
Georges Duboeuf 2006 Brouilly Domaine Grand Croix
Very dark reddish-purple. Pleasant cherry-berry aromas, subtle, a bit tight on the nose. Deep and complex, tannic; promising, but like most of the single-domaine Duboeufs tasted, could use a year or two of cellar time.
Georges Duboeuf 2006 Fleurie
Almost black in the glass. Black plums and berries in a subtle aroma and flavor. Nicely balanced, light tannins and snappy acidity.
Georges Duboeuf 2006 Fleurie Domaine des Quatre Vents
Very dark reddish-purple. Expressive, subtle, black plums and zippy acidity. Rather tight and closed but structured and balanced; holds substantial promise.
Georges Duboeuf 2006 Morgon
Dark garnet. Grapey, ripe, strawberries and just a touch of "bubble gum." Juicy and ripe, good acidic balance, a crowd-pleasing style.
Georges Duboeuf 2006 Morgon Jean Descombes
Dark garnet. Subtle, complex, wild strawberries and tart cherries, mouth-filling and fresh. Closed but appealing, could use a year or two in the cellar but already one of the top wines of the flight.
Georges Duboeuf 2006 Juliénas La Trinquée
Very dark garnet. Strawberry and a hint of anise on the nose and palate; structured and clean, mouth-watering acidity in a long finish.
Georges Duboeuf 2006 Juliénas Chateau des Capitans
Very dark garnet. Closed up tight, light strawberries and licorice. Flavors consistent and more open, balanced and tart; first wine of the flight to show a perceptible presence of oak.
Georges Duboeuf 2006 Moulin-À-Vent Domaine des Rosiers
Clear, dark garnet. Subtle cherry-berry on the nose; big, full and tart, textured berries and discreet oak on the palate. A big boy, impressive potential, needs time.
Duboeuf Whites
Georges Duboeuf 2006 Macon-Villages
Pale straw color. Crisp, fresh cooking apples on the nose and palate; fresh and clean, good acidic backbone and just a hint of limestone minerality.
Georges Duboeuf 2006 Pouilly-Fuissé
Transparent straw color. Very appealing aromas, apples and white fruit plus a distinct but rational oak component that reads as toasted hazelnuts. Nicely balanced and complex, a stylish Pouilly-Fuissé.
Other Beaujolais
Jean-Claude Lapalu 2004 Beaujolais-Villages Vieilles Vignes
Dark ruby, hazy. Berries, earth, a hint of ripe cheese and a touch of damp wool on the nose. Funky but fine, definitely a food wine. U.S. importer: Vintner Select, Mason, Ohio.
Jean-Paul Brun 2005 L'Ancien Beaujolais Terres Dorees
Strawberries and Chambord liqueur, ripe fruit and cleansing acidity in beautiful balance. A bit less overt in the strawberry department than my last tasting, but gaining a bit of refinement and style. Still a lovely Beaujolais. U.S. importer: LDM Wines Inc., NYC; Louis/Dressner Selections.
Jean-Paul Brun 2005 L'Ancien Côte de Brouilly Terres Dorees
Big, ripe and full, strawberries and earth, almost too big to believe it's a Beaujolais, but beautifully balanced. Closed last year, now starting to come around. U.S. importer: LDM Wines Inc., NYC; Louis/Dressner Selections.
ORDER THE BEAUJOLAIS BOOK ONLINE:
You can pre-order "I'll Drink to That: Beaujolais and the French Peasant Who Made It the World's Most Popular Wine" by Rudolph Chelminski from Amazon.com in hardcover for $18.15, a 34 percent discount from the $27.50 list price. Orders placed now at this sale price will be delivered when it's published in early autumn.
http://www.amazon.com/exec/obidos/ASIN/1592403204/robingarrswineloA/
Purchases made using this direct link will return a small commission to us at WineLoversPage.com and help make it possible for us to provide our online information and communities and distribute The 30 Second Wine Advisor without charge.
WEB LINKS:
The Georges Duboeuf Website seems to have only its French pages currently available,
http://www.duboeuf.com
However, there's an English-language option, heavy on marketing if more light on serious wine information:
http://www.chilledred.com
Importer W.J. Deutsch has an English-language article and photos about Duboeuf here:
http://www.chilledred.com
FIND THESE WINES ONLINE:
Check prices and locate online vendors for the George Duboeuf's Beaujolais on Wine-Searcher.com:
http://www.wine-searcher.com/
find/Duboeuf%2bNOT%2bNouveau/-/-/USD/A?referring_site=WLP

Talk About Wine Online
If you have questions, comments or ideas to share about today's article
or wine in general, you're always welcome to drop by our online
WineLovers Discussion Group. This link will take you to the forum home page, where you can read discussions in all the forum sections:
http://www.wineloverspage.com/forum/village
Everyone is free to browse. If you'd like to post a comment, question or reply, you must register, but registration is free and easy. Do take care to register using your real name, or as a minimum, your real first name and last initial. Anonymous registrations are quietly discarded.
To contact me by E-mail, write wine@wineloverspage.com. I'll respond personally to the extent that time and volume permit.
PRINT OUT TODAY'S ARTICLE
Here's a simply formatted copy of today's Wine Advisor, designed to be printed out for your scrapbook or file or downloaded to your PDA or other wireless device.
http://www.wineloverspage.com/wineadvisor2/
2007/07/a_wealth_of_beaujolais-print.html