Today's Sponsor
• Connoisseurs' Series Two outstanding top-tier red wines from California Wine Club's elite program, available this month for 30 Second Wine Advisor readers. www.cawineclub.com/ connseries
In This Issue
• Offbeat blends
Some wine blends like Bordeaux and Chianti are rooted in ancient tradition. Then there are the offbeat inspirations that can shock, surprise, and in the case of this bold Zinfandel-Cabernet blend, impress.
• Connoisseurs' Series Two outstanding top-tier red wines from California Wine Club's elite program, available this month for 30 Second Wine Advisor readers: Byron 2004 Santa Maria Valley Pinot Noir and, the subject of today's discussion on blends, Storybook Mountain Vineyards 2004 Estate Napa Valley "Antaeus."
• This week on WineLoversPage.com
A how-to and why-to report on decanting wine, and more talk about rosé and other pink wines on Saturday's Internet Radio TalkShoe. In our forums, we're debating whether too much New Zealand Sauvignon Blanc is becoming "commercially inoffensive," and taking a poll on "worst trends in wine."
• Administrivia Change E-mail address, frequency, format or unsubscribe.
Offbeat blends
What's your pleasure, single-varietal wines or blends?
Though it's a frequent topic for discussion, one that kicked off a happy debate on one of our recent Internet Radio TalkShoe programs, this may be one of the wine questions that has no absolute answer.
Lined up on one side of the issue we have such powerful contenders as Burgundy, made from 100 percent Pinot Noir for the reds and 100 percent of Chardonnay for the whites; quality Riesling from Germany's Rhine and Mosel valleys, where blending with other grapes is unheard-of; and the long-standing tradition of 100-percent-varietal Cabernet Sauvignon in California's Napa Valley and Sonoma.
On the other side, however, the competitors are just as keen: Just to name a few world-class blended wines with many centuries of heritage we have Bordeaux from France (Cabernet Sauvignon, Merlot, Cabernet Franc and more); Tuscany's Chianti (Sangiovese, Canaiolo and more); the Grenache, Syrah, Mourvedre blends of the Southern Rhone, and the growing niche of California Bordeaux-style blends sometimes labeled with the registered trademark "Meritage."
Many who love single-varietal wines hail their tendency to display the natural character of the grape, at its best accented by the terroir that's unique to the place where it's grown. Under this line of thinking, blending grapes may "muddy" the wine's flavor, creating a potpourri with diminished individual personality.
Blending advocates, conversely - and there are plenty of them - assert that a savvy wine maker can bring together disparate elements to make a blended wine that exceeds the sum of its parts.
The primacy of both Burgundy and Bordeaux in the world of wine suggests that both sides have a strong point.
But the blends we're talking about here generally boast a long history and many generations of experience; wine blends that have stood the test of time.
How about more offbeat and experimental blends, combinations of varieties that spring from the wine maker's creative spirit rather than tradition?
In my experience, these new blends have to be judged on their own merits. Some succeed and, over time, become accepted because they work. Certainly some Australian Cabernet Sauvignon-Shiraz blends have become justly popular, and the folks at California's Caymus have found a ready market for their Conundrum, a sweet, full-bodied white blend of Sauvignon Blanc, Muscat Canelli, Viognier, Chardonnay and others.
New white blends of Sauvignon Blanc, Tocai Friulano and other Northeastern Italian whties are becoming popular in Friuli-Venezia Giulia, and some of them can be splendid. Perhaps the wackiest blend I've ever tasted came from that region, a blend of more than 500 varieties made in the small city of Cividale as a charitable fund-raising venture; although it's not meant as a serious blend, it's fun, with Muscat seeming to out-shout the rest of its very large chorus.
Most of the classic single-varietal wines, though - particularly Riesling and Pinot Noir - are rarely seen in blends, perhaps testifying to an inherent quality that requires no salt, pepper, herbs or spices to improve them.
Still, I'm a sucker for new blends and rarely loath to try an offbeat combination just to see what it's like.
This open-minded approach paid off over the weekend in one of this month's California Wine Club Connoisseurs' Series bottles, a Napa Valley red wine named "Antaeus" from the respected Storybook Mountain Vineyards, a producer best-known for its excellent, ageworthy Zinfandels.
Antaeus ("Ahn-tay-us"), named after the son of water and earth in Greek mythology, is an odd blend that I don't believe I've ever encountered before: Alost 60 percent is Zinfandel; the remainder is a Bordeaux-style blend of Cabernet Sauvignon and Merlot with a little Petit Verdot. In the glass it's very stylish indeed, no "muddy" blend but a well-balanced if robust representation of Zinfandel on the palate and California Cabernet blend on the nose and in the finish.
It's an offbeat blend, but it works. My tasting notes are below, along with another Connoisseurs' Series selection for the current month, a fine Pinot Noir from Byron in the Santa Maria Valley.
SINGLE VARIETALS AND BLENDS ON INTERNET RADIO
Our recent "TalkShoe" Internet Radio hour on "Monocepage" (single-varietal) wines is available in the TalkShoe archives. You can listen to it in streaming audio online at
http://www.wineloverspage.com/talkshoe/latest.htm
(page down to Saturday, June 9, "Single-varietal wines").
If you prefer to download the program to your computer, you can get the MP3 file here:
http://recordings.talkshoe.com/TC-11888/TS-25722.mp3
(Right-click the link and click "Save Link As ... ")
CARRY ON THIS DISCUSSION IN OUR FORUMS
If you have an opinion on this topic or information about a favorite wine you'd like to share, you're invited to post a reply to this column in our WineLovers Discussion Group, where you'll find it at
http://www.wineloverspage.com/forum/village/viewtopic.php?t=9581
Today's Sponsor
The Connoisseurs' Series: Two excellent California reds

Every month I look forward to tasting and telling you about another pair of excellent, top-tier wines from California Wine Club's limited-membership Connoisseurs' Series. These special wines are selected by Connoisseurs' Guide publisher Charlie Olken and California Wine Club Proprietor Bruce Boring, who pick out a carefully chosen selection of excellent, balanced ultra-premium wines for club members every month.
Connoisseurs' Series membership is necessarily limited by the tiny production of these great wines, so it's a rare privilege that 30 Second Wine Advisor readers are eligible to sign on. Connoisseurs' Series members may subscribe for monthly, alternate month or quarterly packages. Each shipment includes two to four bottles of California's top wines, with detailed background information. Monthly shipments average $125-$175, including all shipping and handling. There's no membership charge, no long-term commitment (cancel any time), and every wine is guaranteed.
Visit http://www.cawineclub.com/connseries or call The California Wine Club at 1-800-777-4443 to join or learn more about The Connoisseur's Series. Feel free to tell them that I sent you ... and, if you join, please don't hesitate to contact me by E-mail and tell me what you think.

Byron 2004 Santa Maria Valley Pinot Noir ($25 retail, $21 per bottle for half or full case orders by Connoisseurs' Series members)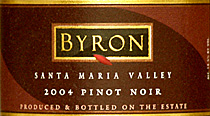 Ruby, jewel-like more translucent than transparent. Fine, earthy Pinot aromas, plummy red fruit, cola and warm brown spices. Mouth-filling and ripe, flavors follow the nose; luscious red fruit and spice, juicy cherries in the finish. Well balanced by fresh-fruit acidity, and its sturdy 14.5 percent alcohol doesn't interfere with its food-friendly Pinot style; it's a great match with juicy chicken from the charcoal grill. Winery Website: http://www.byronwines.com (July 14, 2007)

Storybook Mountain Vineyards 2004 Estate Napa Valley "Antaeus" ($44 retail, $38 per bottle for half or full case orders by Connoisseurs' Series members)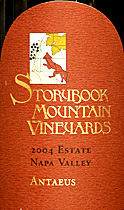 Clear, dark garnet. Lovely mixed fruit aromas are fresh and appealing, cherry-berry and red currant with a hint of chocolate, but the French oak is very nicely integrated, and the wine is so well balanced that a hefty 14.9 percent alcohol doesn't come across as either hot or harsh. A blend of 59 percent Zinfandel with a Bordeaux mix of 21 percent Cabernet Sauvignon, 15 percent Merlot and 5 percent Petit Verdot, it marries Zin and Bordeaux flavors in a surprisingly happy pairing, an offbeat concept that really works. Delicious now, and a fine pairing with the bold flavors of grilled picnic fare from chicken to spicy Italian sausages and bratwurst; expect it to gain more delicate "claret-style" complexity with several years in the cellar. Winery Website: http://www.storybookwines.com (July 14, 2007)

This week on WineLoversPage.com
• Vino 101: The Server's Perspective - The basics of decanting
When the sommelier decants your wine, he's not merely putting on a show. Decanting isn't always necessary, but it may serve two useful purposes, Jorge Eduardo Castillo explains in another edition of his "Server's Perspective."
http://www.wineloverspage.com/vino101/decant07.phtml
• Our Internet radio "TalkShoe": Rosé Redux
Earlier in the season we spent an hour talking about rosé and other pink wines. It's been such a hot summer that pinks seem more popular than ever, so we're going to do it again. Call in and listen - or better yet, speak up about your favorites - on our live Internet Radio TalkShoe on Saturday, July 21, at 1 p.m. US EDT (10 a.m. on the U.S. West Coast and 19:00 in Western Europe).
http://wineloverspage.com/talkshoe/
Last weekend's TalkShoe featured "Ugly Ducklings," a selection of less-familiar and sometimes disrespected wine grapes that still can make fine wines. It's now available, with all our archived editions, in streaming audio online. Click to listen:
http://wineloverspage.com/talkshoe/latest.htm
• WineLovers Discussion Group: Is New Zealand Sauvignon Blanc changing?
New Zealand burst over the wine world's horizon more than a decade ago with a sense of excitement surrounding the bold, bright flavors of Cloudy Bay and other attention-getting Sauvignon Blancs. Now, though, some say NZ Sauvignon - especially at the lower-price end - is slipping toward a mediocre "commercially inoffensive" character. What's your opinion? Join this spirited, civil conversation in our WineLovers Discussion Group.
http://www.wineloverspage.com/forum/village/viewtopic.php?t=9202
• Netscape/Compuserve Community Poll: Worst trends in wine
As much as we enjoy wine and wish its producers well, most of us can work up a pretty good rant about some of the trends and developments that we find less admirable, from too much oak or too much sugar to wines made in anonymous "international" styles or seemingly intended to please critical palates and win high points. All this plus price inflation, laws that make it difficult to buy wine online and more. This week's CompuServe/Netscape forum poll gives you the chance to tell us which wine trends chap your cheeks, and why.
http://community.netscape.com/winelovers?nav=messages&tsn=1&tid=5334