Pinot inflation
Wine enthusiasts can debate endlessly about whether the Pinot Noir buying frenzy that followed the 2004 movie Sideways is a lasting boom or a short-lived bubble, but at this point the Pinot trend shows no sign of abating.
What's wrong with this? Nothing, if you admire in the abstract a world that's coming to love the great red wine grape of Burgundy. Pinot Noir has long been beloved by those in the know for its potential for making complex, balanced, velvety wines that show off terroir - the "taste of the soil" that reflects a wine's origins - and that are exceptionally food-friendly.
But the wine business is also a volatile free market; and the ongoing Pinot craze is having some effects that shouldn't really have been that hard to anticipate: Increasing demand for quality Pinot Noir grapes is driving up prices at the vineyard, and that translates to higher prices at the retail store.
More and more, we're seeing the rule of thumb that has long been true of Burgundy coming to pass in all the world's Pinot-producing regions: The good wines aren't cheap, and the cheap wines aren't good.
This all came home to me the other day when I went shopping for an Oregon Pinot Noir for dinner: You can hardly find this stuff (or its cousins from California) these days for less than 20 bucks or more, and when you do spot a low-end model, you're frankly taking a risk that your "bargain buy" won't show much Pinot character.
I brought home Willamette Valley Vineyards 2005 Oregon Pinot Noir, a good Pinot from a respected producer, albeit one of the less expensive Pinots in their portfolio, and somewhat grumpily parted with $26 to put it in my shopping bag, realizing as I did so that this Oregon wine has achieved price parity with the 2005 Bourgogne Pinot Noirs and even a few villages Burgundies.
It's a good wine, and in the abstract, if a wine maker can command these prices and find buyers (like me!) in a free market, then Adam Smith was right and the price is fair.
But Oregon wine for Burgundy prices? It's going to take me a while to assimilate this concept, and I'd like to know what you think. If you have an opinion and would like to express it, post a reply to this column in our WineLovers Discussion Group, where you'll find it at
http://www.wineloverspage.com/forum/village/viewtopic.php?t=9504
Meanwhile, here's my tasting report.
Willamette Valley Vineyards 2005 Oregon Pinot Noir ($26)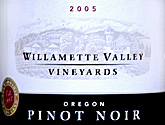 This clear ruby-color wine offers ripe red berries and fresh herbs, bright fruit mingling with an appropriate herbaceous character, in the aroma and flavor. Well balanced on the palate, not overblown at a reasonable 13.5% alcohol. Mouth-watering acidity, sweet red-berry fruit and subtle spice linger in a long, clean finish. (July 11, 2007)
FOOD MATCH: A nicely balanced Pinot with good acidic structure, this is an exceptionally food-friendly wine that will marry well with just about any meat or poultry, salmon or cheese. It was a delight with the Pork chops Hongroise with smoked paprika featured in yesterday's Wine Advisor FoodLetter.
VALUE: As discussed above, it's surprising to find good Oregon and California Pinot Noir selling at prices competitive with Bourgogne Pinot Noir and even some Burgundy villages wines, but certainly this wine competes fairly on quality with the French models at this price point.
WHEN TO DRINK: Very enjoyable now, and might gain a bit more complexity with cellar time. The back label suggests drinking between 2007 and 2010, and I certainly wouldn't quibble with holding it under good cellar conditions for three years or even a little more.
PRONUNCIATION:
Willamette = "Wil-LAM-it"
Pinot Noir = "Pee-no Nwahr"
WEB LINKS:
Here's a link to the Willamette Valley Vineyards Website:
http://www.WillametteValleyVineyards.com
For a downloadable (Adobe PDF) fact sheet on the 2005 Willamette Valley Pinot Noir, click:
http://www.willamettevalleyvineyards.com/
pdf/wvv-pn-wv_2005_f.pdf
FIND THIS WINE ONLINE:
Unfortunately, because the name of Willamette Valley Vineyards incorporates the region, it's not feasible to focus a Wine-Searcher.com result on this single producer. To find a broad range of Oregon wines from Willamette Valley, try searching:
http://www.wine-searcher.com/
find/Willamette%2bValley%2bVineyards/-/-/USD/A?referring_site=WLP
The winery Website also offers direct sales where the law allows, and provides this list of distributors in most U.S. states and some other countries:
http://www.willamettevalleyvineyards.com/?s=dist

Talk About Wine Online
If you have questions, comments or ideas to share about today's article
or wine in general, you're always welcome to drop by our online
WineLovers Discussion Group. This link will take you to the forum home page, where you can read discussions in all the forum sections:
http://www.wineloverspage.com/forum/village
Everyone is free to browse. If you'd like to post a comment, question or reply, you must register, but registration is free and easy. Do take care to register using your real name, or as a minimum, your real first name and last initial. Anonymous registrations are quietly discarded.
To contact me by E-mail, write wine@wineloverspage.com. I'll respond personally to the extent that time and volume permit.
PRINT OUT TODAY'S ARTICLE
Here's a simply formatted copy of today's Wine Advisor, designed to be printed out for your scrapbook or file or downloaded to your PDA or other wireless device.
http://www.wineloverspage.com/wineadvisor2/
2007/07/pinot_inflation-print.html