Tomato season! What to pour?
It's July, summer is going full blast in these parts, and yes, I mean blast furnace. Even with the air-conditioning cranked up, it's hard to work up much enthusiasm for firing up the oven and cooking those hearty dishes that seem so appealing in colder times of year. Heck, when the thermometer shoots up past 90F, I even lose interest in the charcoal grill.
Fortunately, summer days also mean that the vegetable garden is finally pouring out its annual bounty. Between our own little tomato patch and a wealth of local farmers' markets, there's so much delicious local produce that it's possible to craft a splendid, healthy dinner without turning on the stove.
One of my favorite summer dinners is insalata caprese - literally salad in the style of Capri - a simple, memorable combination of the juiciest, ripest fresh tomatoes with fresh basil, fresh mozzarella and rich green olive oil.
The original version from Campania (the region on the instep of the Italian boot that includes Naples, Vesuvius and Capri, of course) used dense plum tomatoes; but I like my modification even better, stacking thick slices from a softball-size beefsteak tomato with similarly thick rounds of mozzarella, drizzled with garlicky olive oil, salt and pepper and mounds of finely sliced basil right out of the garden. Eat two or three of these delicacies and you'll feel as stuffed as if you'd dined on real beefsteak, but much more virtuous.
But real beefsteak goes great with real red wine. Can the same be said for beefsteak tomatoes? On the whole, light vegetable-based dinners seem better suited for crisp, quaffable whites. But sometimes you just plain want a red, no matter what the thermometer reads.
Caprese, in my experience, solves this problem nicely when you pair it with a decent Chianti. Chianti is almost a stereotype with tomato-based pasta sauces because of its crisp, cleansing acidity; and similar principles apply even when the tomatoes are fresh and uncooked. The addition of mozzarella (use creamy, fresh-made whole-milk mozz', please, not the bland stuff that comes from the supermarket in a plastic bag) brings in a second wine-friendly component. And the aromatic fresh basil brings a third synergy to the party, highlighting the light herbal character that's typical of Chianti and other Sangiovese-based reds.
Just about any decent, young Chianti or Chianti Classico will do, like the Fèlsina 2005 Berardenga Chianti Classico featured below, although I might save the wood-aged Chianti Classico Riservas for a Tuscan steak or winter beef roast.
Another great option with just about any summer veggie dish or salad including Caprese is Prosecco, the light, crisp and frothy sparkling wine from the Veneto that's a favorite summer sipper. Today's second tasting features De Faveri Rosé Sparkling Wine, a pink sparkler that's made in the Veneto from Prosecco grapes but that doesn't claim the Prosecco label, perhaps because of the splash of juice from the rare Raboso grape that's added to give it color.
Today's Sponsor
No billing until December 2007 from The California Wine Club!
Santa's Summer Sale is here and it's one of the most popular benefits of The California Wine Club! Reserve your holiday gifts now and receive no billing and no shipping until December 2007 plus receive our lowest prices of the year!
Take the stress out of the holiday season and reserve your gifts now with The California Wine Club. Visit www.cawineclub.com or call 1-800-777-4443 for details. You'll save up to $89 per gift, plus there will be no billing and no shipping until December 2007.
When you order three gifts or more, The California Wine Club will uncork a special gift just for you!

Fèlsina 2005 Berardenga Chianti Classico ($19.99)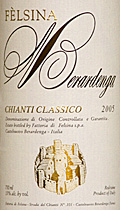 Clear dark garnet. Black cherries, fresh herbs and warm spice aromas are typical of good Chianti. Clean black fruit flavors are nicely shaped by snappy acidity with perceptible but silky tannins. Nicely balanced, pleasant but young Chianti Classico; a few years' cellar time will likely add complexity. U.S. importer: Polaner Selections, Mount Kisco, N.Y. (July 8, 2007)
FOOD MATCH: Surprisingly well paired with Insalata Caprese, the Italian summer salad of fresh tomatoes, mozzarella and basil. Fine of course in more traditional matches including rare steak and tomato-based pasta sauces.
WEB LINK: Fèlsina's Website is published in Italian, English, French, German and Japanese. Here's a link to the English start page:
http://www.felsina.it/eng/home_eng.htm
If you prefer to skip the pretty but long movie intro, start here:
http://www.felsina.it/eng/felsina/felsina.htm
FIND THIS WINE ONLINE:
Buy from the winery online at the Web link above, or check prices and locate online vendors for Rocca Family Vineyards on Wine-Searcher.com:
http://www.wine-searcher.com/
find/Felsina%2bBerardenga/-/-/USD/A?referring_site=WLP
De Faveri Rosé Sparkling Wine ($16)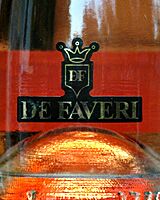 The winery declares this sparkler 98 percent Prosecco with a splash of the Raboso grape added to give it color, but for that or other reasons, its label claims no regional appellation. A very attractive rosy-pink color it pours up with a brief mousse and lasting bubbles. Its light, fragrant raspberry scent is appetizing, and so is its crisp and juicy flavor red-fruit flavor; there's a fair amount of residual sugar (16 grams per liter), but carbonation and crisp acidity present it as near-dry on the palate. A splendid summer bubbly and a great match with fresh garden vegetables. U.S. importer: Specialty Wine Co., Sandusky, Ohio. (July 4, 2007)
FOOD MATCH: Perfect with a summer vegetable risotto loaded with yellow summer squash, fresh Roma tomatoes and sweet onions.
WEB LINK: The winery Website offers a fact sheet and analysis of this wine in English:
http://www.defaverispumanti.it/eng/spumante_rose.php
FIND THIS WINE ONLINE:
Buy from the winery online at the Web link above, or check prices and locate online vendors for Rocca Family Vineyards on Wine-Searcher.com:
http://www.wine-searcher.com/
find/Faveri%2bProsecco/-/-/USD/A?referring_site=WLP

Talk About Wine Online
If you have questions, comments or ideas to share about today's article
or wine in general, you're always welcome to drop by our online
WineLovers Discussion Group. This link will take you to the forum home page, where you can read discussions in all the forum sections:
http://www.wineloverspage.com/forum/village
Everyone is free to browse. If you'd like to post a comment, question or reply, you must register, but registration is free and easy. Do take care to register using your real name, or as a minimum, your real first name and last initial. Anonymous registrations are quietly discarded.
To contact me by E-mail, write wine@wineloverspage.com. I'll respond personally to the extent that time and volume permit.
PRINT OUT TODAY'S ARTICLE
Here's a simply formatted copy of today's Wine Advisor, designed to be printed out for your scrapbook or file or downloaded to your PDA or other wireless device.
http://www.wineloverspage.com/wineadvisor2/
2007/07/tomato_season_what_to_pour-print.html

This week on WineLoversPage.com
• Oxford Town Wine: Wine experts are not like us
When people address John Juergens as a wine "expert" or, worse, a "connoisseur," he responds that he's really just a "common sewer" of wine. His rule to live by: Drink what you like.
http://www.wineloverspage.com/oxford/experts07.phtml
• Dibbern on Wine: A Taste of Terroir
Appellation laws identify wines based on where the grapes are grown. Correspondent Donald A. Dibbern surveys appellation systems in general and Oregon's layout in particular.
http://www.wineloverspage.com/dibbern/oregon07.phtml
• Bucko's Wine Reports: Summer 2007 Releases
While we're beating the heat with summer sippers, don't forget the robust red wines that can stand up to a plate of barbecue. In his monthly report, Randy "Bucko" Buckner offers 100 new wine reviews.
http://www.wineloverspage.com/bucko/bucko0607.phtml
• Our Internet radio "TalkShoe": Offbeat wine grape varieties
If you fancy Mourvèdre, Carignan, Cinsaut or even more "unpopular" varieties, you'll want to tune in our live Internet Radio TalkShoe next Saturday, July 14, at 1 p.m. US EDT (10 a.m. on the U.S. West Coast and 19:00 in Western Europe).
http://wineloverspage.com/talkshoe/
Last weekend, the TalkShoe featured Old World and New World Pinot Noir. It's now available, with all our archived editions, in streaming audio online.
http://wineloverspage.com/talkshoe/latest.htm
• WineLovers Discussion Group: My bread tastes ... corked!
A host of nasties including TCA and its precursors, chlorine, mold and mildew can create aromas reminiscent of tainted or "corked" wine in many household edibles. Join the conversation in our WineLovers Discussion Group.
http://www.wineloverspage.com/forum/village/viewtopic.php?t=9403
• Netscape/Compuserve Community Poll: How helpful is your local wine shop?
Can you rely on the staff at your local wine shop to advise you intelligently, or do you duck out of sight when you see them coming to avoid being touted to the wine they're trying to dump this week? Rate your local in this week's CompuServe/Netscape forum poll, and then take a moment to tell us about your local retailers and how they stack up.
http://community.netscape.com/winelovers?nav=messages&tsn=1&tid=5320