Un-corked
One of the more interesting wine trends to watch over recent years has been the battle between natural cork and a variety of alternative wine-bottle closures.
Let's briefly recap (pardon the expression) the history of the past decade:
• During the late 1990s, driven by a rising tide of consumer anger and disgust over an unacceptable rate of "cork-tainted" wine that many experts estimated at 5 to 10 percent of all bottled wine, a few daring producers began sealing high-end wines with metal screwcaps, which until then had been reserved for near-rotgut "jug wines."
• Around the same time, another alternative entered the marketplace in the form of synthetic plastic cork-like stoppers. Many producers preferred this option to screwcaps, because of the metal cap's bad image and because a switch to synthetics required less costly retooling.
• While the more conservative producers (and many consumers) continued to swear by the 200-year-old tradition of natural cork, many more eagerly embraced the alternatives. Australia and New Zealand led the pack, to the extent that at least for white wines, screwcaps have likely outpaced natural cork Down Under. Some U.S. producers, particularly in the lower-price ranges, soon joined in; Europe lagged, but even there, particularly in Germany, Austria, the Loire Valley and other regions known for clarity of flavor in their white wines, screw caps (and a few more offbeat notions such as glass stoppers) gathered market share.
• For a while, alternatives seemed to be gaining favor so quickly that I began to wonder if the natural cork would soon be as obsolete as the LP record or the eight-track tape. But Portugal's cork industry fought back, both in the public-relations and technology arenas, and by any unbiased account, the more responsible cork producers at least have reduced the incidence of cork taint. (Next marketing step: Dare to offer a no-questions-asked return policy on bottles stoppered with high-tech corks that the industry is willing to guarantee.)
At this point the battle is well and truly joined. I doubt that any of the contenders will be driven out of the marketplace soon. For many of us, screwcaps have become the closure of choice for white wines and many lighter reds. Synthetics, which come under some criticism for an apparent inability to keep wine well for more than a few years, remain popular for wines intended for early drinking, not cellaring. For the big boys, the "serious" wines made to keep and improve in the cellar, tradition continues to hold; with few exceptions, both the industry and the marketplace seem to prefer staying with cork.
For me, matters have reached the point where I respond instinctively to each closure:
Natural cork: "I hope it's not corked."
Synthetic: "I hope it's not oxidized. And oh, yeah, I hope I can get it off my corkscrew."
Screwcap: "Hey, not bad! I won't need my corkscrew!"
Still, cork remains so dominant among European wines - even outside Portugal where it would be seriously politically correct to use anything but natural Portuguese cork - that it still comes as a bit of a surpise to pick up a red wine in particular from any of the more traditional wine regions and find it stoppered with anything but oak-tree bark.
One of the most traditional wine regions is Burgundy (where I'll be headed for a weeklong trip next weekend), so when I opened a simple, artisanal Bourgogne Pinot Noir the other night, I had to look twice before I believed what my eyes were seeing: It was closed with a pale, cork-colored synthetic. No problems, either ... this type, with a smooth outer skin and a slightly foam-like interior, came right off my corkscrew, and the wine was fine. I wouldn't put it down for cellaring, but no matter, the basic Bourgogne Pinot Noir is rarely meant to age.
André & Jean-René Nudant 2005 Bourgogne Pinot Noir "La Chapelle Notre-Dame" ($17.99)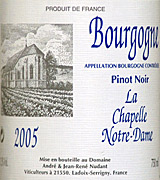 Clear ruby, not too dark. Fresh red cherries and clean earthy minerality on the nose and palate. Juicy and tart, sweet cherries and crisp acidity; just a touch of soft tannins in the finish. All in all, it's a nicely balanced, crisp and food-friendly entry-level Burgundy, representative of the region, the grape and the vintage. U.S. importer: Fruit of the Vines Inc., NYC. (June 21, 2007)

FOOD MATCH: Burgundy with lamb, check. Simpler-style Burgundy with aromatically spicy Asian dishes, check. I served it with the Chinese cumin lamb featured in the May 31, 2007 WineAdvisor FoodLetter.
VALUE: In today's market, with the Euro strong and Burgundy in demand, it's not easy to find even a simple Bourgogne Pinot Noir under $20 or so; by that standard, and in competition with other quality reds at similar price points, it's a decent value.
WHEN TO DRINK: As noted above, the synthetic cork-like stopper protects against cork taint but does not encourage cellaring. Best drunk over the next year or two.
FIND THIS WINE ONLINE:
This limited-availability item turns up only at limited vendors. To find sources for André & Jean-René Nudant's wines in general, check Wine-Searcher.com:
http://www.wine-searcher.com/
find/Nudant/-/-/USD/A?referring_site=WLP
To order it directly from Chambers Street Wines in NYC, click to this list of "Affordable 2005 Burgundies" and page down to the listing for Nudant 2005 Bourgogne Pinot Noir "La Chapelle Notre-Dame":
http://www.chambersstwines.com/Article.asp?id=80

Today's Sponsor
The California Wine Club: First month is on us!
A new winery and a new adventure every month ... it's what makes The California Wine Club so much fun!
Bruce and Pam Boring of The California Wine Club are so confident you will love their club, your first month is on them.
Here's what to expect each month from America's oldest and most trusted wine club:
• Two bottles of hand-selected, award-winning wines from California's best artisan wineries.
• Handcrafted wines made in such limited supply, they can't be found in local stores.
• An entertaining 12-page, four-color magazine called Uncorked. Uncorked offers tasting notes, recipes, wine tips, wine country travel reviews and an upclose look at the family behind the wines.
• Discounts of up to 50% on reorders.
• 100% satisfaction guarantee.
Each month is $32.95 plus shipping/handling and sales tax where applicable. Choose to receive shipments monthly, every other month or quarterly.
Try it for yourself, and your first month is on them. Save $45 now! Visit www.cawineclub.com or call 1-800-777-4443, and be sure to mention The 30 Second Wine Advisor.
Experience a true California wine adventure with The California Wine Club.