Another year, another Jaume
Regular readers will have noticed by now that a very few specific wines captivate me to the extent that I can't resist grabbing each new vintage as it appears, comparing and contrasting the new wine (and, in some cases, its rising price) with the same item in previous vintages.
One annual arrival that never fails to leap from the shelf into my shopping basket is the Grand Veneur series of Rhône reds produced by Alain Jaume of Chateauneuf-du-Pape. Jaume's flagship Chateauneuf will sell from $35 to $50 or more for the 2005 vintage, depending on location, local taxes and the rapaciousness of your vendor.
But for a fine buy, look to his second-tier bottlings designated Côtes du Rhône Villages or even the simple Côtes du Rhône. Jaume's "Les Champauvins" Côtes du Rhône Villages is literally grown just across a fence line from his Chateauneuf-du-Pape vineyards and shares similar grapes and soil with Chateauneuf, particularly the large, round "pierres roulez stones that reflect sunlight and concentrate the Rhone Valley's summer heat. With good reason, I call it a "Baby Chateauneuf" and rate it as one of the top Côtes du Rhône Villages, even if its local price tag hit $20 this year, placing it close to the price we used to pay for the real Chateauneuf-du-Pape.
An even better buy, a deliciously slurpy yet well structured wine, and never mind its "lesser" Côtes du Rhône status, is Jaume's Reserve Grand Veneur, a tasty blend of mostly Grenache with a little Syrah to add structure and a whiff of fragrant pepper. At $12 in this market, it's about as good a red-wine value as you'll find these days. My tasting notes on both wines are below.
Today's Sponsor
A message from WineLibrary.com
You may have seen us featured in GQ magazine, The Wall Street Journal, New Jersey Monthly and elsewhere. WineLibrary.com features a huge collection of top wines from around the world, great gifts and accessories, a daily video blog (WineLibraryTV), huge selection of futures (including red hot 2005 Bordeaux at incredible pricing) and much, much more!
Search our quick loading/high speed database of the hottest new wines from California, France, Italy, Australia, New Zealand, Spain, Germany, Austria, South America and more. Join our e-mail service and get an early heads up when wines like Bryant, Harlan, Dominus and others arrive!
Bottom line, we offer the lowest prices, the largest selection, lightning fast shipments and the greatest customer service in the industry! WineLibrary.com is your one-stop shop for everything wine ... so what are you waiting for? Log on to WineLibrary.com today!
For our Free Shipping Item of the Day, log on to http://free.winelibrary.com!

Each day at 1 p.m. we add a new item that is set for Free Shipping!!
Quantity is limited and products will sell out, so be sure to check out http://free.winelibrary.com each day at 1 p.m. for the new item!

Alain Jaume & Fils 2005 Domaine Grand Veneur "Les Champauvins" Côtes du Rhône Villages ($19.99)
Inky dark, almost black, glints of garnet. Raspberries and plums, hints of spice. Ripe, full and "chewy," tart and softly tannic, it's fine now with airing and an appropriate red-meat food match, but will surely benefit from a few years' cellar time. With its standard blend of 70% Grenache, 20% Syrah and 10% Mourvèdre and the favored location of this stony vineyard, it could easily pass for Chateauneuf-du-Pape. U.S. importer: Kysela Pere & Fils Ltd., Winchester, Va. (June 17, 2007)
FOOD MATCH: Perfect with lamb char-grilled in the style of Greek souvlaki; it would make a fine companion with any grilled meat.
VALUE: The near-Chateauneuf quality of Domaine Grand Veneur makes it competitive against other hearty dry reds at the $20 price point, but shop around, as Wine-Searcher.com shows it widely available for several dollars less.
WHEN TO DRINK: The excellent balance and tannins, with the structure of the 2005 vintage, make this fine red an exception to the usual rule about drinking Côtes du Rhône young: It will likely benefit from three to five years of cellar time.
WEB LINKS AND VENDORS: See below.
Alain Jaume & Fils 2005 Réserve Grand Veneur Côtes du Rhône ($11.99)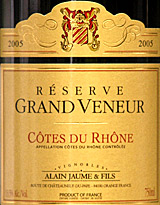 A typical Côtes du Rhône blend of 80 percent Grenache and 20 percent Syrah, this is a very dark ruby-color wine. Ripe raspberry aromas add a toasty overtone. Juicy and ripe flavors, raspberries shaped by zippy fresh-fruit acidity, offer a pure and appetizing rendition of quality Côtes du Rhône from an excellent vintage. U.S. importer: Kysela Pere & Fils Ltd., Winchester, Va. (June 19, 2007)
FOOD MATCH: Versatile and food friendly, good with grilled meat or poultry; fine with a light meatless summer dinner, an omelet stuffed with mushrooms, green peppers and onions.
VALUE: In today's market, it's an outstanding value at just over $10, worth buying by the case if you're in the market for a "house" red.
WHEN TO DRINK: Best enjoyed while it retains its youthful fruit, but I wouldn't worry about keeping it for a year or two.
PRONUNCIATION:
Jaume = "Zhome"
Veneur = "Veh-nuhr"
Côtes du Rhône = "Coat du Rone"
WEB LINKS:
Here's a link to the Domaine Grand Veneur Website, in English and French. Click the French or British flag for the language of your choide:
http://www.domaine-grand-veneur.com
For a Grand Veneur fact sheet on the U.S. importer's site, click
http://www.kysela.com/rhone/grandveneur.htm
FIND THESE WINES ONLINE:
Check prices and locate online vendors for Alain Jaume's Grand Veneur wines on Wine-Searcher.com:
http://www.wine-searcher.com/
find/Grand%2bVeneur/-/-/USD/A?referring_site=WLP