Sherry Baby, can you come out tonight?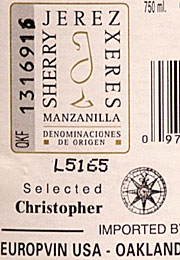 The cryptic "L5165" on this Emilio Lustau Fino reveals that it was bottled June 14, 2005, and is thus a little long in the tooth for a Fino.
This month the
Wine Focus
topic on the online WineLovers Discussion Group is
Sherry
.
All right, everyone, all together now: "Eeeuuuwwww!"
Sherry, let's face it, enjoys a less than sterling reputation among many wine enthusiasts, even those of us who love other fortified and dessert wines like Port and Madeira.
Sherry's poor image likely stems from its stereotype as a wine that your elderly aunt would keep in a dusty old cut-glass decanter from Easter until Christmas, or that your old grad-school English prof would pour in tiny sips during after-class soirees. Dark brown, dank and sticky-sweet, there's not much to like about that.
But this rap on Sherry is hardly fair, and with the current popularity of Spanish tapas and Latino bocaditos - perhaps the most enjoyable possible pairing for quality Sherry - it's high time for us to shake out the old prejudices and give Sherry another chance.
Like Madeira but in contrast with Port (which is invariably sweet), Sherry comes in a wide range of styles, from the relatively light and bone-dry Fino (and its neighbor, Manzanilla) through the richer Amontillado and Oloroso to the thick, syrupy-sweet Cream Sherries and Pedro Ximenez, the latter so dessert-like that some aficionados prefer it poured over ice cream rather than sipped from a glass.
Sherry is made around Jerez in Southern Spain, using unfamiliar grapes (Palomino, and for the sweetest styles, Pedro Ximenez and Moscatel). Like Port and Madeira, it's fortified with brandy. And like no other wine, it's fermented in an almost bizarre fashion, exposed to the air and relying on a natural yeast called Flor that blooms on the open surface of the wine. Later, all Sherries except Fino and Manzanilla are aged in a similarly offbeat barrel system called a "solera," in which stacked casks are gradually blended over the years so wines of many vintages eventually come together in the bottle.
Sherry was beloved by the British, who've been importing the stuff since the 16th Century. It was already popular in London by the time of Shakespeare, who had the lusty Sir John Falstaff declare that "if I had a thousand sons, the first humane principle I would teach them should be, to forswear thin potations and to addict themselves to sack [Sherry]," a nickname that still echoes today in the name of the mass-market brand "Dry Sack."
We'll be tasting and talking about Sherry in all its forms in this month's Wine Focus, but with summer upon us and tapas a particularly inviting choice for outdoor dining, I expect there'll be a lot of attention given to Fino and Manzanilla, the lightest and driest Sherries, best served refreshingly chilled.
HOW OLD IS MY SHERRY?
Consumers face a particular problem with Fino and Manzanilla: In contrast with the heavier, sweeter Sherries, which can last for a very long time in the sealed bottle (and even a relatively long time after opening, as your aunt with the decanter knew), these lighter Sherries are at their best when they're crackling fresh.
Some hard-core experts insist that Fino isn't worth drinking after six months in the bottle, and even the more realistic one-year rule would leave a lot of dusty bottles on the shelf.
But Sherry is never vintage-dated, so how can you tell whether your Fino is fresh? Happily, the gurus on the WineLovers Discussion Group have ferreted out a little secret: Most Sherry producers nowadays print the bottling date on the label. Perhaps to keep distributors and retailers happy, this information is not widely publicized, and the producers don't make it easy to interpret. The date is encrypted, and it's shown only in small print on the back label in a format that doesn't make it obvious what it is.
But, as shown in the photo accompanying our HTML/Graphics edition, if you know where to look, the secret is there for you to discover. First, check the back label for a small, dot-matrix number preceded by L. The number that follows the L will reveal the year and day of bottling, encoded as a "julian date," the sequential number of the day from 1 (Jan. 1) to 365 (Dec. 31).
The exact format may vary. On the Emilio Lustau Solera Reserva Fino "Jarana" featured in today's tasting, the code "L5165" starts with a "5" to signal 2005, followed by 165, the 165th day of that year, June 14. This wine is almost two years old, long in the tooth for a Fino, and its relatively dark color and nutlike aromas substantiate this. Today's other Sherry, the Osborne Sherry Manzanilla Fina, bears the code "L18406," placing Day 184 (July 3) first followed by "06" for 2006. This wine is younger, lighter and fresher, with just a hint of pecans and hazelnuts, and its sturdy metal screwcap may have helped keep it fresh.
Remember, youth is a virtue only with Fino and Manzanilla. I have a rich dry Amontillado coming up for tasting that was bottled early in 2005, and I'm not worried about that at all. But when you're shopping for the lighter stuff, check the numbers ... and if it's much over a year old, put it back.
WEB LINKS
To discuss Sherry in the WineLovers Discussion Group's "Wine Focus" section through June 2007:
http://www.wineloverspage.com/forum/village/viewforum.php?f=18
Spain's Sherry Regulatory Council (Consejo Regulador) offers this fancy Website about Sherry in Spanish, Franch and English. Click for the English start page:
http://www.sherry.org/english/index.htm
Ten Star Tapas, a British Website financed by the Sherry industry focusing on Sherry as a trendy, with-it libation, including a lot of information about pairing Sherry with food.
http://www.tenstartapas.com/
Finally, if you need a little help counting the sequential days in the small print on your Fino's back label, use the U.S. Forest Service Julian Date converter:
http://www.fs.fed.us/raws/book/julian.shtml
Today's Sponsor
A message from WineLibrary.com
Wine Library has a huge free shipping special going on right now on selected wines! Choose from a special assortment of wines that have been marked on winelibrary.com today for free shipping! This special free shipping offer is valid TODAY only so be sure to check it out! To view the products included in this special - click the following link!
http://winelibrary.com/
show_special.asp?section=freeshipping
You may have seen us featured in GQ magazine, The Wall Street Journal, New Jersey Monthly and elsewhere. WineLibrary.com features a huge collection of top wines from around the world, great gifts and accessories, a daily video blog (WineLibraryTV), huge selection of futures (including red hot 2005 Bordeaux at incredible pricing) and much, much more!
Search our quick loading/high speed database of the hottest new wines from California, France, Italy, Australia, New Zealand, Spain, Germany, Austria, South America and more. Join our e-mail service and get an early heads up when wines like Bryant, Harlan, Dominus and others arrive!
Bottom line, we offer the lowest prices, the largest selection, lightning fast shipments and the greatest customer service in the industry! WineLibrary.com is your one-stop shop for everything wine ... so what are you waiting for? Log on to WineLibrary.com today!

Osborne Sherry Manzanilla Fina ($9.99)
This clear, pale-gold wine, bottled July 3, 2006 according to the cryptic back-label code, shows little of the browning that comes with time and exposure to oxygen, and its sturdy metal screwcap likely helped keep air exposure at bay. Its intriguing scent carries just a distant whiff of the nutty character that typifies most Sherry; it's an odd but intriguing aroma dance of pecans and hazelnuts and more than a hint of Meyer lemon. Mouth-filling and dry, toasted nuts are framed by zippy, lemon-squirt acidity, leaving a gently nutty tang that lingers. U.S. importer: W.J. Deutsch & Sons Ltd., Harrison, N.Y. (June 4, 2007)
FIND IT ON WINE-SEARCHER.COM:
http://www.wine-searcher.com/
find/Osborne%2bManzanilla/-/-/USD/A?referring_site=WLP
Emilio Lustau Solera Reserva Fino "Jarana" ($12.99)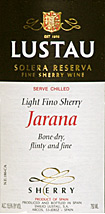 Bottled June 14, 2005 according to the label code, this Fino is a year to 18 months past its prime time for enjoyment, particularly with its undersize, liquor-bottle-style natural cork "T-cap," and the wine shows it in oxidative characters that wouldn't be out of place in a heavier Sherry but that are a little less welcome in a Fino. Clear light bronze in color, it breathes distinct aromas of walnuts and slightly dank wood. Dry and full-bodied, soft but sufficient acidity. Smooth and mellow, it strikes me as closer to a dry Amontillado than a Fino at this point in its evolution, but it's still a pleasant Sherry. U.S. importer: Europvin USA, Oakland, Calif., Selected by Christopher Cannan. (June 4, 2007)
FOOD MATCH: To prove that Fino and Manzanilla can be fine with food, I crafted a dish to match both of today's wines, making use of fine local ingredients: Stonecross Farm natural pork chops pan-seared with caramelized onions and Sheltowee farm oyster mushrooms, topped with a dab of Capriole wasabi goat cheese with toasted walnuts.
VALUE: Sherry's relative unpopularity makes it a great bargain. Once you get over it being, well, "different," both these wines offer exceptional value in the $10 range.
FIND IT ON WINE-SEARCHER.COM:
http://www.wine-searcher.com/
find/Lustau%2bJarana/-/-/USD/A?referring_site=WLP