Shiraz ... with bubbles!
Mention "sparkling Shiraz" outside Australia, particularly in the U.S., and chances are you'll inspire a facial expression that falls somewhere between disdain and disgust.
Red sparkling wine is a mighty hard sell for wine enthusiasts on this side of the water, probably because the concept brings back memories of "Cold Duck," the cheap, super-sweet sparkling red that we used to swill back in the '70s, before we knew any better.
Frankly, Australia's wine producers haven't done much to ameliorate that impression, as much of the smallish amount of sparkling Shiraz they send this way is cheap, sweet and industrially produced ... no real stylistic advance beyond Cold Duck.
But it doesn't have to be that way. Australia, which has made the noble Syrah grape of the Rhone Valley into its own trademark red wine with the Antipodean synonym "Shiraz," makes some mighty classy bubbly out of the grape. It's thoroughly popular Down Under, where the upside-down seasons make it a summer treat, an Ozzie tradition on the typically hot and steamy Australian Christmas Day.
I had my moment of epiphany several years ago with a taste of Rockford Black, perhaps Australia's most respected sparkling Shiraz, a limited-production beauty so much in demand at home that it's seldom exported. It commands a price in the $70 range on the rare occasions when a little turns up in the U.S.
A few fairly unhappy encounters with cheaper stuff had pretty much put me off the genre until just the other day, when I took a random shot at a new arrival and ... wow! Shingleback "Black Bubbles," a non-vintage Shiraz sparkler from South Australia's pretty McLaren Vale region south of Adelaide, is a very serious sparkling wine and a very serious Shiraz, showing real depth of flavor and character with Champagne-style bubbles added. Although its technical specifications suggest a medium off-dry wine, its carbonation and snappy acidity mask the 26.5 g/l residual sugar to present a flavor impression that's close to dry.
Forget those awful Cold Duck memories: This one's worth a try.
Shingleback McLaren Vale "Black Bubbles" Sparkling Shiraz ($21.99)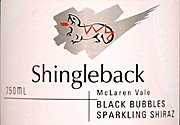 Inky dark purple, pours up with a frothy pink mousse; bubbles are lasting, with the persistent, pinpoint quality I would expect of a fine, classically made sparkling wine. Good black-fruit aromas blend plums and berries. Mouth-filling and fresh, bubbles add a creamy texture on the palate. Fresh and appropriately tart; although its residual sugar maps to moderate sweetness, carbonation and acid balance present a "dry" flavor impression. As quality sparkling Shiraz should, it shows the flavor profile of a fine McLaren Vale red with bubbles added; and that's fun. U.S. importer: Precept Brands, Seattle. (May 30, 2007)
FOOD MATCH: Usually drunk as a refreshing aperitif or for casual party sipping, this fine Shiraz will pair with red meat, is recommended with chocolate desserts, and shows surprisingly well with spicy Asian fare. It was remarkably good with the offbeat, aromatic West Chinese cumin lamb featured in yesterday's Wine Advisor FoodLetter.
VALUE: It's competitively priced with quality non-vintage sparkling wines and mid-range Australian Shiraz in the same price range.
WHEN TO DRINK: It won't fade in the coming year, but it's not meant for cellaring. Enjoy it soon.
WEB LINK:
The back label provides a link to the producer's Website:
http://www.shingleback.com.au
FIND THIS WINE ONLINE:
Compare prices and find vendors for Shingleback sparkling Shiraz on Wine-Searcher.com:
http://www.wine-searcher.com/
find/Shingleback%2bSparkling%2bShiraz/-/-/USD/A?referring_site=WLP

One month left until our Burgundy tour!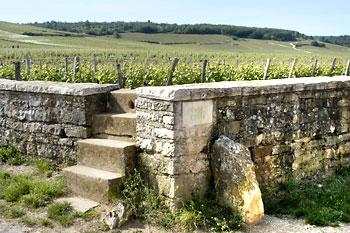 There's just one month left before we take off on this memorable weeklong tour of Burgundy July 2-7, featuring excellent meals and comfy accommodations, with VIP-style winery visits. We still have a few empty places at the dinner table, and it would be a shame to go out with the group less than full.
Why not join us? Even if you're a full-fledged member of the Procrastinators' Club, it's time to decide. You can reach me directly at wine@wineloverspage.com, and I would be delighted to hear from you.
We've done everything possible to ensure a luxurious week in Burgundy at a budget price. If a once-in-a-lifetime visit to one of the world's greatest wine regions, with yours truly as travel companion and guide, sounds good to you, please get in touch pronto. Write me at wine@wineloverspage.com, or if you would rather chat by phone, simply send me your number and let me know a good time to call.