Today's Sponsor
• The California Wine Club: Odds & Ends Sale!
It's time to clear out our cellar, and we're offering never-before- seen prices to do it!
www.cawineclub.com
In This Issue
• Offbeat grapes and wines - Freisa
The name of the grape means "strawberry," and you'll find at least a hint of it in this simple, early-drinking wine from Barolo country.
• The California Wine Club: Odds & Ends Sale!
It's time to clear out our cellar, and we're offering never-before-seen prices to do it!
• La Casaccia 2004 Vigna Monfiorenza Monferrato Freisa ($11.49)
Earthy strawberries, herbs and white pepper, crisp acidity and fuzzy tannins enhance the appeal of this simple Italian red, at least for those who like their wine in the earthy style.
• This week on WineLoversPage.com
Randy Caparoso takes on Pinot Gris and Pinot Grigio, and we've got Grüner Veltliner cued up for our Internet radio TalkShoe. On our forums, we're ranting about "crazy" hikes in fine-wine prices, and our weekly poll asks what you're doing about that.
• Administrivia Change E-mail address, frequency, format or unsubscribe.
Offbeat grapes and wines - Freisa
Up in Northwestern Italy's hilly Piemonte region, where the Nebbiolo-based Barolo and Barbaresco rank among the world's finest and most ageworthy wines, the lighter wines made from Barbera and Dolcetto are said to be the reds that the locals drink while they're waiting for the big boys to come around. Or if they can't afford the big boys.
Indeed, Barbera and Dolcetto are both fine options in my book, food-friendly and earthy and generally still relatively affordable in an age of wine-price inflation.
Worth noting also, particularly for those of us who enjoy blazing new trails and who always will hold out our glasses for a taste of something rare and offbeat, is a third modest Piemontese red made for early drinking.
Freisa ("Fray-zah") is a long-established but relatively rarely grown Northwestern Italian variety whose name comes from a dialect word for "strawberry" that's actually closer to the French "fraise" than the standard Italian "fragola."
However you pronounce it, though, it's an interesting variety, usually showing a distinct wild-raspberry scent, if not as redolent of ripe strawberries as some Beaujolais, but adding interest with earthy notes and an astringent, tart flavor profile that reminds me of Dolcetto. In Italy, some of it is made in an alternative style that's lighter, softly sweet and slightly fizzy, a very refreshing wine that should be popular for summer sipping ... if they made enough of it to export.
Frankly, even the dry, tart Freisa is rare enough to be hard to find outside Italy, so I was pleased to run across today's tasty example,
the 2004 La Casaccia Vigna Monfiorenza from Monferrato, at Chambers Street Wines in New York City.
If you keep a "life list" of unusual varieties and regions, Freisa is well worth seeking out.
Today's Sponsor
The California Wine Club: Odds & Ends Sale!
It's time to clear out our cellar at The California Wine Club, and we're offering never-before-seen prices to do it! Inventory is limited and some wines have just a few bottles remaining, so act fast. Visit www.cawineclub.com to view the full list of wines on sale.
During our Odds & Ends Sale you'll save between 35 percent and 61 percent on some of the highest-rated wines we have ever featured. Plus take advantage of our Seven $7 Super Savers and stock up for all your summer entertaining needs.
As always, every wine has been hand-selected by club owners Bruce and Pam Boring and comes with a 100 percent satisfaction guarantee. Call 1-800-777-4443 or visit
http://www.cawineclub.com/?partnerid=wineadvisor
to order during our Odds & Ends Sale.
Sale ends May 31, 2007. All prices FOB Camarillo, CA.

La Casaccia 2004 Vigna Monfiorenza Monferrato Freisa ($11.49)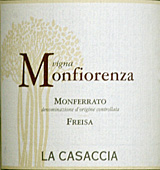 This clear, dark garnet wine's aromas offer an intriguing blend of fruit, fresh herbs and earth. Delicate wild strawberries add a faint licorice note of fresh tarragon, with distinct red-clay minerality in the background. It's crisp and bright on the palate, subtle red-berry fruit and a distinct waft of white pepper against a light backdrop of earthy tannins, with crisp acidity lingering in the finish. U.S. importer: Selected Estates of Europe Ltd., Mamaroneck, N.Y. (May 20, 2007)
FOOD MATCH: Red meat, grilled poultry or even game would be ideal, but I paired it, with surprising success, with a cool salad of fresh asparagus brought up to meet a red wine with Asian accents, a soy-ginger-garlic dressing with a basil aioli and a dab of Chinese fermented black beans.
VALUE: Assuming you like wines in the earthy, tannic style, with minerality at least at parity with fruit, this price is more than fair, particularly if you enjoy adding offbeat varieties to your "life list" of varieties and regions tasted.
WHEN TO DRINK: Despite the substantial tannins, which normally suggest aging potential, this wine - like the similarly tannic Dolcetto - is best drunk up young; cellar time will likely diminish the fruit without softening the tannins.
PRONUNCIATION
Cassacia = "Cah-sah-cha"
Freisa = "Fray-zah"
WEB LINK:
La Cassacia's Website has photos and basic information about the winery and its wines in Italian and English. This link will take you to the bilingual start page, where you can click "Inglese" at the lower left for the English pages.
http://www.lacasaccia.biz
Here's a link to the U.S. importer's Website:
http://www.selectedestates.com
FIND THIS WINE ONLINE:
Wine-Searcher.com lists only limited vendors for La Casaccia wines.
http://www.wine-searcher.com/
find/Casaccia/-/-/USD/A?referring_site=WLP
For more retail sources, click "Where to Buy" on the importer's Website. I got it from my No. 1 source for unusual wines, Chambers Street Wines in NYC:
http://www.chambersstwines.com/

This week on WineLoversPage.com
• Randy's World of Wine: You Say Pinot Gris, I Say Pinot Grigio
Pinot Gris, Pinot Grigio, Grauburgunder, Ruländer Tokay d'Alsace: Confused yet? Just when you got Syrah and Shiraz down, the wine world hands us Pinot Gris, a grape variety with more names than the artist formerly known as Prince.
http://www.wineloverspage.com/randysworld/grigio07.phtml
• Our Internet radio "TalkShoe": Grüner Veltliner!
Are you already in love with this increasingly popular wine variety from Austria? Would you like to learn more? It's all about "GV" on Saturday, May 26, at 1 p.m. US EDT (19:00 in Western Europe) on our live Internet radio TalkShoe.
http://wineloverspage.com/talkshoe/
If you missed last week's TalkShoe about buying wine online, don't fret: It's easy to listen to our archived editions with streaming audio. Click to tune it in:
http://wineloverspage.com/talkshoe/latest.htm
• WineLovers Discussion Group: Are wine prices going crazy?
Villages Burgundy for $100? Grüner Veltliner for $75? Even longtime safe harbors like Beaujolais and Muscadet are going up. Is the rising dollar, critical hype and conspicuous consumption starting to price middle-class wine lovers out of the fine-wine market? Share your rant in this conversation on our WineLovers Discussion Group.
http://www.wineloverspage.com/forum/village/viewtopic.php?t=8278
• Netscape WineLovers Community Poll: Coping with rising wine prices
Jumping off from the forum discussion on "crazy" wine prices, this week's Netscape/CompuServe Community poll seeks to determine what impact wine inflation is having on our buying habits. Are you buying less, buying cheaper, or sucking it up and continuing your buying habits as before? Click here to vote:
http://community.netscape.com/winelovers?nav=messages&tsn=1&tid=5258