White wine, red meat?
"Red wine with red meat, white wine with white meat" may be one of the most widely recognized rules of thumb in wine-and-food matching.
But we find all sorts of delicious exceptions to the white-meat rule, including such glorious combinations as Pinot Noir with wild salmon or a mature Bordeaux with roast chicken.
How about breaking the rules in the other direction, though? For me, at least, "white wine with red meat" isn't intuitively appealing. Naturally, ever the skeptic, I couldn't resist giving it a try.
With a couple of nice grass-fed filet mignons in hand and a 2005 Petit Chablis from Jean-Marc Brocard up for tasting, the stage was set. I pan-seared the steaks in olive oil and garlic to a perfect medium-rare ... chilled the white wine just to cellar temperature and uncorked, er, unscrewed the cap ... and ... meh!
In fairness, the combination wasn't awful. The beefy, earthy character of the grass-fed steak didn't actually war with the appley, tart wine. But the flavors didn't really create a greater-than-the-sum-of-its-parts synergy as the best food-and-wine pairings do. The wine washed down the steak, but you could do that with iced tea or a Coke.
There was nothing wrong with the wine: I re-capped the bottle and stuck it in the fridge to finish another day. We finished the steak with a splendid California Syrah (Domaine de la Terre Rouge 2003 "Ascent" from the Sierra Foothills) that worked with the beef as a fine red wine should. Its dark fruit and nuances of earth, "grilled meat," firm tannins and chocolatey oak played a natural counterpoint to the flavor and texture of the steaks.
Red wine and red meat: Makes sense to me.
Petite Chablis, by the way, literally translated as "little Chablis," as the name implies is a sort of little brother to classic Chablis. Located in a sub-region of Chablis that lacks the vineyard exposure and the chalky soil of the main region, Petit Chablis produces decent, pleasant white wines without the longevity or the cachet of the real thing. Brocard's "Domaine Sainte Claire" offering is a fine dry white in the 2005 vintage, with plenty of good, appley Chardonnay fruit and well-balanced acidity, but I don't find the complexity or the minerality that makes Chablis special. It's competitive in the lower teens but outrageous at the (perhaps mis-marked) $20-plus toll that I paid locally.
Jean-Marc Brocard 2005 Domaine Sainte Claire Petit Chablis ($22.99)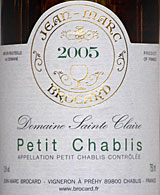 Clear straw color. Aromas focus on baking apples and rising bread dough, standard-issue Chardonnay without obvious oak. Clean, appley fruit adds a touch of lemon on the palate; good body and crisp acidity. Nicely structured if a bit on the simple side - you won't find much of the region's fabled minerality in the Petit Chablis bottlings - but it's appropriately young and fresh. U.S. importer: Martine's Wines Inc., Novato, Calif. (May 17, 2007)
FOOD MATCH: Its pleasant if rather neutral Chardonnay style makes it versatile enough to wash down just about any fare, even - as in our experiment - red meat such as steak. It's really best suited, though, for freshwater fish, poultry or even lighter-style pork dishes.
VALUE: Unreasonable at this local price, but shop with care, as this item shows up at an unusual range of U.S. prices from $12 to $23.
WHEN TO DRINK: Petit Chablis isn't made for aging, but the sturdy modern metal screw cap should hold this nicely balanced wine fresh for a couple of years. The 2006 vintage has already been released in France.
PRONUNCIATION
Petit Chablis = "Puh-tee Shah-blee"
WEB LINK:
Jean-Marc Brocard's Website is published in both French and English. Choose the tricolor or the Union Jack at
http://www.brocard.fr/
FIND THIS WINE ONLINE:
Check prices and find vendors for Brocard Petit Chablis on Wine-Searcher.com:
http://www.wine-searcher.com/
find/Brocard%2bPetit%2bChablis/-/-/USD/A?referring_site=WLP

Terroirs of Burgundy with Robin Garr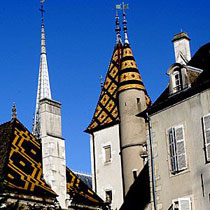 If you're still thinking about joining our Burgundy tour, it's time to decide.
A group of you will be joining me July 2-7 for a memorable weeklong stay in Burgundy, featuring excellent meals and comfy accommodations, with VIP-style winery tours. But we still have a few empty places at the dinner table, and it would be a shame to go out with the group less than full.
As I've written in several of these recent Friday "Exploring Burgundy" features, this summer is an exceptionally exciting time for a visit because just about every producer has its 2005 vintage on sale.
The more of the wines of this excellent year I taste, the more enthusiastic I am about it. In contrast with 2003, which offered highly rated but weirdly atypical Burgundies, 2005 is shaping up as a modern classic, with consistently full yet beautifully structured wines, clean and showing both lovely fruit and intriguing minerality: Burgundy at its best.
At this point, we're finalizing the itinerary and making advance reservations. But we're still able to add a few more participants until we run out of seats, so if you're still thinking about it, I would urge you to get in touch ASAP to sign on or ask any final questions that you may have. You can reach me directly at wine@wineloverspage.com, and I would be delighted to hear from you.
We've done everything possible to ensure a luxurious week in Burgundy at a budget price. If a once-in-a-lifetime visit to one of the world's greatest wine regions, with yours truly as travel companion and guide, sounds good to you, please contact me pronto. I'm available at wine@wineloverspage.com, or if you would rather chat by phone, simply send me your number and let me know a good time to call.