Woolly thinking
If you've ever worn a sweater outdoors on a drizzly day, you're probably familiar with the odd, earthy aroma of damp wool.
"Wet wool" is an infrequent scent in wine, but it turns up more often than you might expect. I've encountered it now and then over the years, and was inspired to address the topic after running into "woolly" wines twice in the past couple of weeks.
In the first, Freie Weingärtner Wachau 2004 Grüner Veltliner from Austria, the wool character was muted, close to the line between woolly and the vegetal scent that Austrian-wine experts call "lentil."
The second wine, though, the Chateau d'Orschwihr 2004 Alsace Pinot Blanc Bollenberg that's featured in today's tasting report, was way, way over the top, a wine so profoundly afflicted that it reminded me of wearing a dirty wool sweater while sitting in a dumpster eating rotting canteloupes on a hot summer day.
And yet - perhaps demonstrating the strange appeal that many of us find in food and drink with weird aromas and flavors (from ripe cheese to anchovies to "barnyardy" Burgundies) - I found it intriguing, especially with food, and didn't mind finishing my glass. I did not, however, pour a second glass.
Curiously, although many of the less pleasant aromas in wine can be clearly traced to a specific flaw - "barnyard" from the wild yeasts brettanomyces and dekkera, for instance, or "burnt match" from sulfur dioxide - there seems to be no real consensus among wine experts and judges as to the source and components of "wet wool."
A couple of technical references are silent on the topic, including Amerine and Roessler's Wines, Their Sensory Evaluation and Emile Peynaud's Knowing and Making Wine. Nor does Robinson's Oxford Companion to Wine address the issue, at least not under "wool," "wet wool" or "faults in wines."
This leaves the subject open to happy debate, and there's no dearth of that. Here's a short list of possible explanations that I've found on the Web or seen aired in our WineLovers Discussion Group Forums.
• Varietal character or terroir - "Wet wool" turns up relatively often in Loire Valley Chenin Blanc, prompting some Internet sources to declare it a characteristic descriptor for the grape or the soil. "Wet wool" can also be a signature element in White Burgundy. This explanation is called into question, however, by its appearance in wines from other grapes and regions, including the two mentioned above.
• Vineyard conditions - Botrytis cinerea or "noble rot," a fungus that's considered beneficial when it grows on late-harvested grapes destined for dessert wines like Sauternes, is less desirable when it afflicts grapes meant for dry table wines. In sweet wines, it contributes to a lovely honey-apricot character. In dry wines, it comes across as a more earthy and less pleasant element. A cool, rainy harvest in October 2004 Alsace lends some credibility to this explanation.
• Wild yeast contamination - According to one report from vineyard scientists at New York's Cornell University, brettanomyces, the wild yeast most often implicated in "barnyard," "horsey," "leathery" or even "manure" aromas in red wines, can cause a "wet wool" aroma in whites.
• Sulfur compounds - A wine-making Website in British Columbia asserts that high levels of sulfur dioxide in wine - often associated with a "burnt match" scent - can impart a "wet wool" aroma. In a related situation, "wet wool" in Champagne is often attributed to the development of sulfur compounds in sparkling wine exposed to bright light for a long period. This "lightstruck" phenomenon is largely limited to sparkling wines, though.
So, we have a variety of explanations, some of them conflicting, for a phenomenon that's not terribly common, and that depending on its strength and on one's personal taste, may be considered either an intriguing flavor element or a flaw. This is the kind of thing that makes wine appreciation interesting, or complicated, depending on your point of view.
If you'd like to talk about your experience with "wet wool" in wine, or share your knowledge about this phenomenon and its explanation, I hope you'll drop by our WineLovers Discussion Group, where I'll post this column at this link:
http://www.wineloverspage.com/forum/village/viewtopic.php?t=8225
Today's Sponsor
A message from WineLibrary.com
Finding great Chateauneuf du Pape under $30 is not always an easy task. However, those of you who get Winelibrary.com's daily e-mails took advantage of a spectacular offer on the 2004 Clos St. Jean 2004 CDP! At just $25.99, this represents one of our hottest deals of the year! Do you get Winelibrary.com's e-mail alerts? Don't miss another offer like this! Log on to winelibrary.com and join our e-mail service today! Click here to order the Clos St. Jean while it lasts!
You may have seen us featured in GQ magazine, The Wall Street Journal, New Jersey Monthly and elsewhere. WineLibrary.com features a huge collection of top wines from around the world, great gifts and accessories, a daily video blog (WineLibraryTV), huge selection of futures (including red hot 2005 Bordeaux at incredible pricing) and much, much more!
Search our quick loading/high speed database of the hottest new wines from California, France, Italy, Australia, New Zealand, Spain, Germany, Austria, South America and more. Join our e-mail service and get an early heads up when wines like Bryant, Harlan, Dominus and others arrive!
Bottom line, we offer the lowest prices, the largest selection, lightning fast shipments and the greatest customer service in the industry! WineLibrary.com is your one-stop shop for everything wine ... so what are you waiting for? Log on to WineLibrary.com today!

Chateau d'Orschwihr 2004 Alsace Pinot Blanc Bollenberg ($12.99)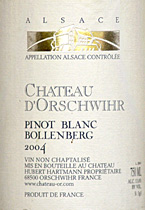 Clear light gold. Funky and organic aromas of overripe melon, lanolin and and damp, almost "dirty" wet wool take some getting used to, frankly. Still, the flavor is easier to enjoy: Full-bodied white fruit shows only a hint of "wool" on the palate, laced up with snappy acidity, ending with cleansing lime in the finish. U.S. importer: Langdon-Shiverick, Cleveland. (May 14, 2007)
FOOD MATCH: A more traditional Pinot Blanc would be well suited with white fish, chicken or pork, but these offbeat flavors call for something bold. It was surprisingly well-paired with a relatively mild rendition of Larb Gai, a Thai chicken salad that I'll feature in tomorrow's 30 Second Wine Advisor FoodLetter.
VALUE: A tough call for a wine that most people would consider flawed. I'd frankly pass on the 2004. But if the 2005 vintage, which is now in the market, proves to be similar but not as "dirty," it would be a fine value at this price point in the lower teens.
WHEN TO DRINK: Not for keeping, particularly in light of the concern that the off flavors might become even more dominant with cellar time.
PRONUNCIATION
d'Orschwihr = "Dorsh-veer"
WEB LINK:
Chateau d'Orschwihr has a fact sheet on the Bollenberg Pinot Blanc (20045 vintage) at this link:
http://www.chateau-or.com/details-e.asp?id=3
FIND THIS WINE ONLINE:
Check prices and find vendors for Chateau d'Orschwihr Bollenberg Pinot Blanc on Wine-Searcher.com:
http://www.wine-searcher.com/
find/Orschwihr%2bPinot%2bBollenberg/-/-/USD/A?referring_site=WLP