When wine makers visit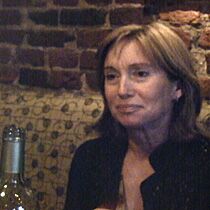 Spottswoode's Lindy Novak at L&N Wine Bar & Bistro in Louisville
Just about everyone who gets seriously into wine knows the feeling of staring thirstily at reports about rare and expensive wines that don't fit into our budget for everyday enjoyment, or perhaps into our budget at any time at all.
Is there any practical way to satisfy this hopeless craving? Well, maybe. If you live in at least a middle-sized city, the chances are good that a wine maker or winery representative with a suitcase full of samples will come through from time to time on a sales and publicity mission.
Although having a job in the wine business or as a wine writer certainly gives you a leg up on access to wine maker tastings, it may surprise you to learn that there are plenty of opportunities for "civilians" at such events.
Wine makers often partner with local restaurants for special tasting dinners and programs, and while there's typically a fee for these events to cover the cost of dinner, the chances are that the toll won't be any more than you'd pay for dinner there anyway, even without a taste of sought-after wine.
Better still, for the thrifty, wine maker visits often feature free tastings at a local wine shop, where you can meet and mingle, talk to the visiting dignitary and taste small samples of the wines.
It's not hard to find out about such events, if you keep your eyes open. Tasting dinners may be listed in local newspaper or online calendars of events or the international Website www.localwineevents.com . For news of wine shop tastings, just watch for posters at your favorite retailer - or ask the staff what's coming up.
This process has worked well for me in the past couple of weeks. In Friday's Wine Advisor, it was my pleasure to taste - and to pass along to you - the impressive Gerard Rachet Burgundies. Last week I was back at Louisville's L&N Wine Bar & Bistro again to taste the outstanding wines of Napa Valley's Spottswood Winery with the winery's national marketing rep (and family member) Lindy Novak.
Briefly told, Spottswoode is a historic Napa property in St. Helena, currently celebrating the 125th anniversary of its establishment as a winery by George Schonewald, who built a Victorian home on the property and opened it as a winery in 1882. Mrs. Albert Spotts bought the winery and changed its name to Spottswoode in 1910, and remained in residence until Jack and Mary Weber Novak bought it from her in 1972. The first Spottswoode Cabernet Sauvignon was produced in 1982, the winery's 100th anniversary. Jack died in the 1980s, and the winery is now owned and operated by Mary Novak and her daughters Beth and Lindy. With wine maker Jennifer Williams and consulting wine maker Rosemary Cakebread, assistant wine maker Aron Weinkauf, the only male on the staff, may sometimes feel a bit outnumbered at winery bull sessions.
Producing only estate-grown wines and recipients of many award and much critical acclaim, Spottswoode was a Napa pioneer in organic farming and has been certified organic since 1990. It releases just three wines each year: Spottswoode Cabernet Sauvignon, Spottswoode Sauvignon Blanc and a recent addition, Lyndenhurst Cabernet Sauvignon, which is made of fruit from younger vines.
Spottswoode ranks high among my California Cabernet favorites for its elegance and style, consistently showing a sense of place and vintage without succumbing to the blockbusterish gobs-of-fruit siren song that has lured so many of its neighbors into excess.
Because of the demand, Spottswoode wines are primarily available only to members of the winery mailing list, although it does turn up occasionally at retail. For more details and information on the winery and its wines, see the Spottswood Website, http://www.spottswoode.com.
Here are my notes from the tasting:
Spottswoode 2005 Napa Valley Sauvignon Blanc
This fine Sauvignon Blanc is a very pale gold color, but everything else about it is intense, from ripe figs and golden raisins on the nose to its rich mouthfeel and luscious tropical fruit, soft at first, with crisp acidity clamping down in a long finish. Its exotic style is likely influenced by the presence of the rare Sauvignon Musque clone making up 57 percent of the blend; French oak also makes its presence felt, but the wine is properly about fruit, not wood. It's a high-end Sauvignon Blanc at $32 for a bottle on the winery mailing list and typically around $35 to $40 when it shows up, rarely, at retail, but quality justifies the price. A beautiful match with a range of appetizers including seared diver scallops and a luscious four-cheese fondue.
Spottswoode 2003 Napa Valley Cabernet Sauvignon
The 2003 offering, which Lindy was formally showing at the tasting, is drinking very nicely despite its youth. Inky dark, with a clear garnet edge, it offers appetizing aromas of black plums, currants and cocoa. Full and ripe, it's a bit plushy at first, but good acidic structure and smooth tannins keep it in balance. The 2004 Cabernet sells for $110 on the winery mailing list. Most retail prices seem to range from $90 to $110. Again, in the lofty realms of high-end Napa Cabernet, this pricing makes Spottswood a relative bargain. A wine made for red meat, it was perfect with L&N's "lamb pops" appetizer and steak frites.
Later, a couple of earlier vintages came out, impressive if tasted less analytically as the group moved from serious wine tasting into a more social session.
Spottswoode 2002 Napa Valley Cabernet Sauvignon
Chocolate-covered Bing cherries, full and dry; beautifully structured.
Spottswoode 2001 Napa Valley Cabernet Sauvignon
A little warm at first from a couple of days of travel, but comes right around with a short stay in an ice bucket to bring it down to cellar temperatures. Structured, balanced, a beauty.
To find vendors and compare prices for Spottswoode wines on Wine-Searcher.com, click:
http://www.wine-searcher.com/
find/Spottswoode/-/-/USD/A?referring_site=WLP
Today's Sponsor
A message from WineLibrary.com
Do you get our Winelibrary.com e-mail alerts? The red-hot 92-point Robert Parker-rated Step Rd 2005 Shiraz is now in stock and selling for just $13.99 per bottle on sale! Don't miss another offer like this! Log on to winelibrary.com and join our e-mail service today!
Click HERE to order the Step Rd while it lasts!
You may have seen us featured in GQ magazine, The Wall Street Journal, New Jersey Monthly and elsewhere. WineLibrary.com features a huge collection of top wines from around the world, great gifts and accessories, a daily video blog (WineLibraryTV), huge selection of futures (including red hot 2005 Bordeaux at incredible pricing) and much, much more!
Search our quick loading/high speed database of the hottest new wines from California, France, Italy, Australia, New Zealand, Spain, Germany, Austria, South America and more. Join our e-mail service and get an early heads up when wines like Bryant, Harlan, Dominus and others arrive!
Bottom line, we offer the lowest prices, the largest selection, lightning fast shipments and the greatest customer service in the industry! WineLibrary.com is your one-stop shop for everything wine ... so what are you waiting for? Log on to WineLibrary.com today!