Exploring Burgundy - Last call for our tour!
Getting right to the point, if you've been thinking about joining Burgundy tour, it's time to decide.
A group of you will be joining me July 2-7 for a memorable weeklong stay in Burgundy, featuring excellent meals and comfy accommodations, with VIP-style winery tours. But we still have a few empty places at the dinner table, and it would be a shame to go out with the group less than full.
Although the tour is still two months off, we need final commitments in order to complete the itinerary and make advance reservations. So if you've been sitting on the fence and trying to decide, I would urge you to get in touch in the next few days to sign on or ask any final questions that you may have. You can reach me directly at wine@wineloverspage.com, and I would be delighted to hear from you.
As I've written in several of these recent Friday "Exploring Burgundy" features, this summer is an exceptionally exciting time for a visit because just about every producer has its 2005 vintage on sale.
The more of the wines of this excellent year I taste, the more enthusiastic I am about it. In contrast with 2003, which offered highly rated but weirdly atypical Burgundies, 2005 is shaping up as a modern classic, with consistently full yet beautifully structured wines, clean and showing both lovely fruit and intriguing minerality: Burgundy at its best.
Better still, 2005 is a rising tide that lifts virtually all boats: The high-end wines are remarkable (and will reward long aging). But even the simpler villages wines and generic Bourgogne have been exceptional in 2005. Frankly, publicity about this excellent vintage has pushed up prices, making our opportunity to taste a lot of this wine during our week in Burgundy even more attractive.
Today, wrapping up the Exploring Burgundy series of articles, I'd like to share with you a full range of 2005s from Gérard Raphet, a respected producer in Morey-St.-Denis on the Côte de Nuits, which you may recall is the northern stretch of Burgundy's fabled Côte d'Or, between Beaune and Dijon.
Raphet's basic 2005 Bourgogne is one of the most delicious young Burgundies I've ever met, loaded with ripe, juicy strawberry flavors held in perfect balance by snappy acidity, with a lovely subtle minerality beneath. I picked up locally for $22.99, a price that's almost laughable for a Burgundy as good as this.
Higher up the price scale, it was my good fortune last weekend (along with a few other local wine geeks) to join David Schildknecht, a top wine expert who's writing about wine these days for Robert M. Parker's Wine Advocate, to taste through the higher end of Raphet's 2005 portfolio. Some of these wines are breathtakingly expensive, but they're also breathtakingly good. Most of us won't be able to justify buying them to drink at home ... but we'll be enjoying plenty of wines like these on our July tour.
Here are my short-form notes on all the Raphet wines, all of which are imported in the U.S. by David's former employer, Vintner Select of Mason, Ohio, and other regional importers: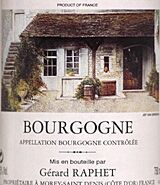 Gérard Raphet 2005 Bourgogne ($22.99)
Garnet, on the dark side for Burgundy. Ripe, luscious strawberries fill the nose and palate. Juicy and fresh flavors, delicious mouth-filling red fruit and snappy acidity, imperceptible tannins, with clean, subtle stony minerality beneath. Good balance, structure and length, ready to drink. Purchased at local retail, enjoyed at home with an offbeat but effective food pairing, aromatic but gently spiced curry beef meatballs and Indian-accented spinach. (May 3, 2007)
Tasted with David Schildknecht, without food, on Sunday, April 29, 2007, at Louisville's L & N Wine Bar and Bistro:
Gérard Raphet 2005 Chambolle-Musigny
Rather light garnet, clear edge. Light, sweet, distinct pomegranate aromas add an elusive whiff of burnt sugar. Flavors consistent with the nose, clean red fruit, intriguing minerality and tart acidity.
Gérard Raphet 2005 Gevrey-Chambertin 1er Cru Lavaux St. Jacques
Intense in color, nose and taste. Brilliant garnet. Red fruit, pomegranate and cranberry. Red fruit and zippy acidity expand to fill your head, supported by subtle minerality and silky tannins in the finish.
Gérard Raphet 1993 Gevry-Chambertin 1er Cru Lavaux St. Jacques
A special treat from David's cellar, offered as a comparison with the 2005 and a demonstration of Raphet's ageworthiness. Transparent ruby in color. Truffles, raw beef, complex organic old-Burgundy scents. "Sweet" mature red-fruit on the palate, "tomato skin" and singing acidity; soft but perceptible tannins still.
Gérard Raphet 2005 Clos Vougeot Grand Cru Vieilles Vignes
Brilliant ruby color. Delicious, elusive, layers of complex red fruit and dark, loamy earth. Deep fruit and mouth-watering acidity in balance; silken tannins and a hint of black humus linger.
Gérard Raphet 2005 Chambertin Clos de Beze
Brilliant ruby, a lovely color. Deep and complex aromas, red fruit and fragrant roses and subtle hints of smoked meat and spice. Flavors open up in layers on the palate, intense fruit and clean, moist black earth; mouth-watering acidity and significant and very gentle tannins. Deserves long cellaring; the tiny production will sell in the range of $200 a bottle.
A pattern clearly emerges in these wines, spotlighting Raphet's reputation as a producer who lets the earth and the vineyard speak, allowing the nature of the soil and the vintage to show through without excessive manipulation in the winery. Most of us won't be able to find or afford his top wines; but that "simple" Bourgogne is a whale of a value in the lower $20s. It's worth seeking out.
FIND THESE WINES ONLINE:
Find vendors and compare prices for all of Gérard Raphet's 2005 Burgundies on Wine-Searcher.com:
http://www.wine-searcher.com/
find/Raphet/2005/-/USD/A?referring_site=WLP
ONCE MORE ABOUT OUR TOUR:
Again, we are just about out of time to take reservations for this unforgettable tour. We've done everything possible to ensure a luxurious week in Burgundy at a budget price. If a once-in-a-lifetime visit to one of the world's greatest wine regions, with yours truly as travel companion and guide, sounds good to you, please get in touch pronto. For more details on the itinerary, see
http://www.wineloverspage.com/tour/
I'll be delighted to discuss the tour with you in more detail. Please don't hesitate to write me at wine@wineloverspage.com ... and if you would rather chat by phone, simply send me your number and let me know a good time to call.
Today's Sponsor
$61 Mother's Day Gift Set, Free with The California Wine Club!
On May 13 celebrate Mom with a Limited Edition Gift Set from The California Wine Club.
Send a wine club gift of three months or more, and Mom's first month will include:
• Two bottles of hand-selected wine from Santa Barbara County's Gainey Vineyards
• Wooden Collectors Wine Crate from Gainey Vineyards
• Uncorked, our fun and entertaining magazine
• The Great Wine Pyramid, more than 140 recipes transformed with wine
• Ceramic Folded Bowl, a whimsical dish for dips or nuts
• Personalized Gift Message From You
Each month is just $32.95 plus shipping! The first month will include this Limited Edition Gift Set, following months will include two bottles of award-winning wine and Uncorked.
Visit www.cawineclub.com or call 1-800-777-4443 to reserve your Limited Edition Mother's Day Gift Set today!