Exploring Burgundy - Where's Monthelie?
If you follow Burgundy at all, you've almost certainly heard of Volnay, the village that many consider the Côte de Beaune's most reliable source of red wines. Chances are the name of Meursault isn't unfamiliar to you, either, thanks to its glowing reputation for outstanding Burgundy whites.
But who in the heck ever heard of Monthelie?
This tiny village lies midway between its two more famous neighbors and doesn't get a fraction of their respectful notoriety, perhaps because it's dismissed as being a little too far south for Pinot Noir and a little too far north for Chardonnay.
But it's a name worth getting to know, as its red wines - which make up this lion's share of its production - are widely regarded as offering fine value, relatively affordable if perhaps just a bit less elegant than Volnay.
This kind of reputation-building based on geography is typical of Burgundy, where a matter of a few meters can spell the difference between sought-after wines than command breathtaking prices, and also-rans that end up in the bargain bins. Still, as Robert M. Parker Jr. notes in the first edition of his hefty "Burgundy," the Monthelie vineyards that lie closest to Volnay are not only situated on desirable high ground but purportedly enjoy more sunshine than any other location in the entire Côte d'Or.
Today's featured wine from the fine 2005 vintage comes from the respected Monthelie producer Jean Garaudet; and, like the other "value" Burgundies we've been featuring in this short Friday series, it sells in the middle to upper $20s, a neighborhood that's hard to beat in today's market for this fine albeit pricey vintage.
I've been penning this recent Burgundy series as a reminder about our upcoming July 2-7 tour of the Burgundy region with French Wine Explorers. At this point, we're drawing close to the last call for participants, as final arrangements for meals, lodging and winery tours have to be made well in advance.
If you've been putting off a decision, you're running out of time to join us on this memorable tour of a great wine and food region. We've done everything possible to ensure a luxurious week in Burgundy at a budget price. If a once-in-a-lifetime visit to one of the world's greatest wine regions, with yours truly as travel companion and guide, sounds good to you, I hope you'll take a serious look at the trip outline and itinerary at http://www.wineloverspage.com/tour/
For more information or to make reservations, send E-mail to info@wine-tours-france.com or call +1-877-261-1500 (toll-free in the U.S. and Canada). And if you would like to discuss this tour with me personally, feel free to write me at wine@wineloverspage.com
Today's Sponsor
$61 Mother's Day Gift Set, Free with The California Wine Club!
On May 13 celebrate Mom with a Limited Edition Gift Set from The California Wine Club.
Send a wine club gift of three months or more, and Mom's first month will include:
• Two bottles of hand-selected wine from Santa Barbara County's Gainey Vineyards
• Wooden Collectors Wine Crate from Gainey Vineyards
• Uncorked, our fun and entertaining magazine
• The Great Wine Pyramid, more than 140 recipes transformed with wine
• Ceramic Folded Bowl, a whimsical dish for dips or nuts
• Personalized Gift Message From You
Each month is just $32.95 plus shipping! The first month will include this Limited Edition Gift Set, following months will include two bottles of award-winning wine and Uncorked.
Visit www.cawineclub.com or call 1-800-777-4443 to reserve your Limited Edition Mother's Day Gift Set today!

Jean Garaudet 2005 Monthelie ($26.99)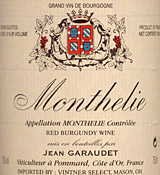 This dark-ruby wine blends subtle fruit and earth in an aroma profile that offers fresh cherries over a pleasant "dusty" note. More fruit-forward on the palate, as you might expect of a 2005, red cherries, tart and dry, with soft tannins and snappy acidity following in a long finish. U.S. importer: U.S. importer: Vintner Select in Ohio, Skurnik in New York, North Berkeley in California and other regional importers. (April 18, 2007)
FOOD MATCH: Food-friendly Burgundy goes with a wide range of dishes, from beef and lamb through pork and roast poultry to fresh wild salmon or ripe cheese. I paired it successfully with a more offbeat match designed for Pinot: Bite-size cubes of pork loin braised with eggplant and mushooms as a quick pasta sauce over rigatoni.
VALUE: Continuing the pattern of "value" Burgundies featured in our recent Friday reports, a price tag well under $30 is about as good as you're going to get for quality Burgundy above the generic Bourgogne level. This may be well above everyday-drinking prices for most of us, but in fairness, it's more than competitive with wines of similar cachet from Bordeaux, the Rhone, Northern Italy, or top wine regions in California and Australia.
WHEN TO DRINK: It's drinking so well now that it would be very difficult to keep hands off, but as with the other Burgundies I've been reporting, it would certainly be reasonable to cellar it for five years or more in hope of developing greater subtle complexity.
PRONUNCIATION
Monthelie = "MoN-teh-lee"
WEB LINK:
Jean Garaudet Monthelie's Website is available in both French and English. Here's a link to the English-language home page; click the French flag icon if you prefer to read it in the original.
http://www.monthelie.com/index_uk.html
Here are more fact sheets on Garaudet 2005 Monthelie from regional importers North Berkeley in California:
http://www.northberkeleyimports.com/articles/index.php?id=397
And Michael Skurnik in New York:
http://www.skurnikwines.com/wines.cgi?rm=view_detail&wine_id=8257
FIND THIS WINE ONLINE:
Find vendors and compare prices for Jean Garaudet Monthelie on Wine-Searcher.com:
http://www.wine-searcher.com/
find/Garaudet%2bMonthelie/-/-/USD/A?referring_site=WLP