Today's Sponsor
• DestinationWineCountry offers the best of wine country fashion, home décor, unique gifts and of course, exceptional food and wine, hand-selected and available at your doorstep with the click of your mouse.
DestinationWineCountry.com
In This Issue
• What's on the label?
Legal constraints strictly govern the information that a wine label must provide, but there's still plenty of room for creative flexibility.
• DestinationWineCountry The best of wine country fashion, home décor, unique gifts and exceptional food and wine, available at your doorstep with the click of your mouse.
• Donna Laura 2004 "Ali" Sangiovese di Toscana ($9)
Juicy and tart, fresh fruit and snappy acidity come together in this simple, low-end alternative to Chianti.
• This week on WineLoversPage.com
A visit to Foxen Vineyard and a value analysis of Australian Shiraz; we're talking rosé wine on Internet radio and sampling your opinion of the pink stuff in a forum poll. All this, an in-depth discussion of wine marketing and high-alcohol "blockbusters," and more.
• Administrivia Change E-mail address, frequency, format or unsubscribe.
What's on the label?
Gleaning information about what's inside a wine bottle from all the large and small print on the label is one of the more daunting elements in wine appreciation for many would-be wine enthusiasts, it seems. A surprising amount of my E-mail is devoted to wine-label questions, and our article, Wine Label Decoder, and our recent short video, How to Read a French Wine Label, are among the most popular downloads on WineLoversPage.com.
And yet, every now and then, you'll run into a bottle like today's featured wine in which the label is almost stunning in its simplicity, bearing only the most basic information about the wine.
How can this be? In most wine-producing countries, strict legal constraints precisely govern the information that a wine label must provide; but there's still plenty of room for creative flexibility.
In the U.S. for example, the federal Treasury Department's Alcohol and Tobacco Tax and Trade Bureau (TTB), like its predecessor, the old Bureau of Alcohol, Tobacco and Firearms, regulates the alcohol and tobacco industries and collects taxes on firearms and ammunition. That's an odd combination of industries indeed, but let's not go there.
TTB approves labels and monitors advertising in these businesses, and it regulates the labeling, marking, packaging and branding of all distilled spirits, wine and beer sold in the United States.
As you might imagine of a regulatory bureaucracy, its rules are framed in barely intelligible legalese and are complex to say the least. Moreover, much interpretation is left up to government clerks whose decisions sometimes bear a whiff of whim and caprice, particularly in approving wine labels that might be considered racy or irreverent.
(In perhaps the most famous related incident, the proprietors of Chateau Mouton-Rothschild declined to use its 1993 artist-designed label for sales in the U.S.; although the government actually approved the label - a pencil sketch of a reclining nude child by the artist Balthus - an uproar by pressure groups prompted Mouton to remove the label from the market for fear of controversy. The wine was sold in the U.S. with a plain label, although a considerable number of Balthus labels reached collectors through "gray market" sources.)
Controversial art aside, TTB spells out detailed requirements governing disclosure of information from the producer's name and location, grape varieties, geographical source of the grapes, percentage of alcohol and more, not to mention the legislatively mandated Surgeon General's warning and "contains sulfites" warnings. For a complete, clear outline of label requirements, the agency offers a detailed brochure (PDF format) online.
Note, however, that the Bureau doesn't specify, in most cases, whether the legally required information must be on the main label or an auxiliary back label or neck label. Indeed, the regulators don't seek to require that the "front label" be displayed on the front side of the bottle on the retailer's shelf. As discussed in the June 11, 2003 Wine Advisor, "Front or back?, it is entirely possible to display little more than an image and the name of the wine on the label that's intended to show, as long as all the legally required information appears in the legally mandated font sizes on the other side of the bottle.
So it is with today's wine, a simple Sangiovese di Toscana IGT from Tuscany, a delicious and affordable Chianti-style red from Tuscany. On the front label (pictured below in our Graphics Edition) there appears only a drawing of a Cupid figure, the geographical source of the wine in small print, and, in script, the wine's proprietary name, "Ali." Wine geeks or federal inspectors who wish to know more need simply turn the bottle around.
Today's Sponsor
A message from Destination Wine Country
Celebrate the wine country and add a touch of its sultry elegance to your life.
DestinationWineCountry.com offers the best of wine country fashion, home décor, unique gifts and of course, exceptional food and wine, hand-selected and available at your doorstep with the click of your mouse.
Enjoy the extensive array of luxurious cashmere sweaters and wraps, stylish handbags by J. Donald Pliner and Kooba and ultra-hip denim. At DestinationWineCountry.com you can check out whimsical jewelry by Dogeared as well as gorgeous diamond pendants and organic-inspired designs by Caroline Ballou. Indulge in decadent hand-made gourmet chocolates or savory crackers and sumptuous spreads. Browse DestinationWineCountry.com and explore the array of wine accessories from our Fruit of the Vine collection, the assortment of aficionado gift baskets or choose from the exclusive selection of Santa Barbara County's world-class wines.
And certainly don't miss new products from the wine country arriving every day. Now through Mother's Day save 10% on all purchases! Use code "winelover" during checkout.

Donna Laura 2004 "Ali" Sangiovese di Toscana ($9)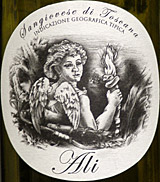 This is a dark ruby-color wine, with appealing scents of black and red cherries and warm spices. Juicy and tart, it's all about simple fresh-cherry fruit and zippy acidity in a nicely balanced package. Simple, low-end Sangiovese, on the modest side, but its good quality makes it a fair ringer for a decent Chianti. U.S. importer: Banville & Jones Wine Merchants, North Bergen, N.J. (April 9, 2007)
FOOD MATCH: This should go anywhere modest Chianti will take you, from pasta with meat sauce to pizza to red meat. It was excellent with leftover roast lamb reconstituted as a pasta ragù.
VALUE: A price tag under $10 makes this fruity, well-balanced Chianti lookalike an excellent value.
WHEN TO DRINK: It's more a drink-me-now wine than a cellar-keeper, and I wouldn't count on it evolving over the long haul; but it certainly boasts the fruit and balance to keep well for a year or several.
PRONUNCIATION:
Sangiovese = "Sahn-joe-VAY-zeh"
WEB LINKS:
Here's a fact sheet on Donna Laura, with links to Adobe Acrobat (PDF) files about Ali and its other wines, on the Website of the U.S. importer, Banville & Jones:
http://www.banvilleandjoneswinemerchants.com/
portfolio/donnalaura.php
FIND THIS WINE ONLINE:
Check prices and find vendors for Donna Laura "Ali" Sangiovese on Wine-Searcher.com.
http://www.wine-searcher.com/
find/Laura%2bAli%2bSangiovese/-/-/USD/A?referring_site=WLP

This week on WineLoversPage.com
• Schaefer on Wine: Foxen raises the quality bar
It's been a while since Dennis Schaefer stopped in at Foxen Vineyard. In the meantime, Foxen has raised the quality bar even higher, our Central Coast guru reports: Foxen has to be considered one of the premier producers in Santa Barbara County.
http://www.wineloverspage.com/schaefer/foxen07.phtml
• WineBlueBook: 2001-2004 Australian Shiraz
When we combine all the vintages (plus a few 2005s) by score and price, the 2003 has 13 Great Values while the 2004 has 11. The 2002 vintage has six while the 2005 and 2001 have four Great Values.
http://wineloverspage.com/qpr/qprwines.phtml
• This week's "TalkShoe": In the pink with rosé!
Spring is here in the Northern Hemisphere, and summer is on the way. Let's think pink for the season, as we discuss rosé wines in our live Internet radio TalkShoe. Join us at 12:30 p.m. US EDT (18:30 in Western Europe), or download past programs from the archives. See the TalkShoe page for details:
http://wineloverspage.com/talkshoe/
• WineLovers Discussion Group: Does the market make the wine, or the wine make the market?
Are subtle, delicate, low-alcohol wines no longer commercially feasible? That's the gist of wine maker Andrew Murray's remarks in a San Francisco Chronicle story that inspired a long, thoughtful discussion on our wine forum. It's a worth-while topic. We hope you'll click over, read the converation and add your own comments and questions.
http://www.wineloverspage.com/forum/village/viewtopic.php?t=7701
• Netscape WineLovers Community Poll: What's your take on rosé?
It's spring, the weather is getting warmer, and a lot of wine lovers' thoughts turn to the refreshing virtues of crisp, dry rosé wine. For others, rosé seems pale and pallid, neither pure white nor honest red. Where do you stand on pink wine? Love it or hate it, or somewhere in-between. Please tell us your take on rosé in this week's Netscape/CompuServe Community poll.
http://community.netscape.com/winelovers?nav=messages&tsn=1&tid=5215