Exploring Burgundy - Givry
Let's continue our weekly series of Friday Burgundy tutorials leading up to our July French Wine Explorers tour with a look at a Burgundy region and sub-region that offer relative value for the price.
In last week's overview of Burgundy and its highly regarded 2005 vintage, I mentioned the Côte d'Or as the region's core vineyard region and source of many of its mostly highly regarded - and usually most expensive - wines.
Today we take a short step out of this favored region to the stretch of hillside vineyards just to its south, the Côte Chalonnaise. As we so often see in the traditional world of wine, the wines of the Chalonnaise tend to be a bit less sought-after simply because they're not from the Côte d'Or.
But the lay of the land, the climate and sun exposure, the geology, the grapes and the tradition are all similar, and so are the wines. Several of the Chalonnaise villages - particularly Rully and Montagny for Chardonnay and Mercurey and Givry for Pinot Noir - can produce really excellent wines that generally sell for significantly less than their Côte d'Or neighbors.
Today let's sample a Givry, a name that should not be confused with the similar-sounding Gevrey-Chambertin, a fabled Côte de Nuits village whose wines rarely fall in the affordable price range.
Givry lies just about in the middle of the Côte Chalonnaise. Although it traces its formal appellation status only to the years since World War II, it's a historic wine village, taking pride in the legend that the Sixteenth Century King Henri IV particularly loved Givry (perhaps because his girlfriend was born there).
Givry is best known for its red wines, and 90 percent of the village's production is Pinot Noir, although you'll occasionally encounter a white (Chardonnay) Givry. Like its neighbor Mercurey, it's well worth seeking out Givry, particularly from a trusted importer, for quality Burgundy in the lower price ranges. Like most Burgundies, today's wine - a limited-production item from Xavier and Guillamette Besson - sells well above the "everyday" price range; but priced in the middle $20s for the excellent 2005 vintage, it's mighty affordable by Burgundy standards.
And the same, I might add, is true of our upcoming tour in early July with French Wine Explorers, in which we've done everything possible to ensure a luxurious week in Burgundy at a budget price. Time's running short to sign on, so if a once-in-a-lifetime visit to one of the world's greatest wine regions, with yours truly as travel companion and guide, sounds good to you, I hope you'll take a moment to look over the trip outline and itinerary at http://www.wineloverspage.com/tour/
For more information or to make reservations, send E-mail to info@wine-tours-france.com or call +1-877-261-1500 (toll-free in the U.S. and Canada). And if you would like to discuss this tour with me personally, feel free to write me at wine@wineloverspage.com
Today's Sponsor
$61 Mother's Day Gift Set, Free with The California Wine Club!
On May 13 celebrate Mom with a Limited Edition Gift Set from The California Wine Club.
Send a wine club gift of three months or more, and Mom's first month will include:
• Two bottles of hand-selected wine from Santa Barbara County's Gainey Vineyards
• Wooden Collectors Wine Crate from Gainey Vineyards
• Uncorked, our fun and entertaining magazine
• The Great Wine Pyramid, more than 140 recipes transformed with wine
• Ceramic Folded Bowl, a whimsical dish for dips or nuts
• Personalized Gift Message From You
Each month is just $32.95 plus shipping! The first month will include this Limited Edition Gift Set, following months will include two bottles of award-winning wine and Uncorked.
Visit www.cawineclub.com or call 1-800-777-4443 to reserve your Limited Edition Mother's Day Gift Set today!

Domaine Besson 2005 Givry 1er Cru "Le Petit Prétan" ($26.99)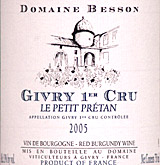 This is a dark, reddish-purple wine with a clear, bright garnet edge. The aroma offers an attractive mix of red fruit - cranberry and cherry - leading into a bright, clean flavor with snappy acidity and freshness communicating an appealing sweet-fruit impression although the wine is technically dry. Cleansing acidity sets up a food-friendly finish. U.S. importer: Vintner Select, Mason, Ohio, Skurnik Wines in New York, and other regional producers. (April 15, 2007)
FOOD MATCH: Good just about anywhere Pinot Noir goes, from beef to poultry to grilled wild salmon. It made a perfect pair with a so-long-to-winter pork roast.
VALUE: By the elevated standard of Burgundy in general, 2005 Burgundy in particular and even higher-tier California Pinot Noir, a price well under $30 for Pinot Noir of this quality represents real value.
WHEN TO DRINK: Delicious Pinot fruit and excellent balance has this young wine drinking at its peak right now, but there's certainly no harm in cellaring it for a few years.
PRONUNCIATION
Givry = "Geev-ree"
WEB LINK:
Importer Skurnik has information about Xavier Besson and his wines at this link:
http://www.skurnikwines.com/wines.cgi?rm=view_detail&wine_id=8281
Importer Vintner Select offers this fact sheet (in Adobe PDF format) on Domaine Besson and its Givry "Le Petit Prétan."
http://vintnerselect.com/Producer_Sheets/France/BESSON.pdf
FIND THIS WINE ONLINE:
Wine-Searcher.com is not yet showing listings for the 2005, but you can find limited sources for earlier vintages here:
http://www.wine-searcher.com/
find/Besson%2bGivry/-/-/USD/A?referring_site=WLP
To find prices and vendors for many more Givry producers, click to Wine-Searcher.com's regional link:
http://www.wine-searcher.com/
find/Besson%2bGivry/-/-/USD/A?referring_site=WLP