Impressive Lugana
One of the most scenic wine regions in a very scenic country, Lugana sits on the border between Lombardy and the Veneto on the south end of beautiful Lake Garda, where the fertile Po Valley plain rises into Northern Italy's lake country and the glacial foothills of the Alps.
In my April 2 article, Touring Lombardy, written at the end of my recent wine-judging trip to Vinitaly in Verona, I touched briefly on the three Lombardy wine regions we toured: Oltrepò Pavese, Franciacorta and Lugana. Starting with Lugana today and following up on the other two in future articles, I'll report in a bit more detail on these regions.
Lugana is hardly a household word for most wine enthusiasts, but perhaps it ought to be: This region's white wines, luscious, full-bodied and surprisingly ageworthy, deserve ranking among the world's great whites for their balance, beauty and food-friendly style.
I expect it's no coincidence that the wine evolved on the shores of one of Italy's largest freshwater lakes makes a stunning companion with just about every kind of fish. I still count a recent lunch at Ristorante Lugana in Lugana Parco al Lago - in which every course but dessert featured fresh local fish, accompanied by an extensive flight of Luganas - as one of my most memorable meals ever.
A favored wine region with its climate influenced by the lake, Lugana boasts a history dating back to the First Century or earlier. The wines of Lake Garda, which the ancients called "Rhetic" wines, were mentioned in the writings of Pliny and Virgil. After the fall of the Roman Empire, the Gothic King Deodatus purportedly had large quantities of it delivered to Rome for royal banquets.
All Lugana is white; a small amount is sparkling, but the lion's share is made as a dry, still wine. The grape is Trebbiano, a variety that in most of the rest of Italy (and in France, where it's known as Ugni Blanc) is lightly regarded at best.
In Lugana, however, Trebbiano is different, a serious grape making a serious wine. Whether it's a variant clone of standard Trebbiano or, as some producers in the region insist, an entirely different grape, may have to await future DNA testing. The simple answer, though, lies in the tasting: Luscious and "transparent," exceptional for showing minerality and "terroir," Lugana has become one of my favorite white wines.
During my visit, we sampled wines from Fratelli Fraccaroli, I Frati and Provenza, all fine producers. We tasted well-cellared Luganas from 1998 (Fraccaroli) and 1997 (I Frati) and found them remarkable, holding up very well and showing the kind of richness and depth that you might expect of a great White Burgundy.
Today's featured wine, picked up at local retail after my return home, comes from Tenuta Roveglia, also an excellent and characteristic producer. You'll find my notes below.
Today's Sponsor
A message from WineLibrary.com
You may have seen us featured in GQ magazine, The Wall Street Journal, New Jersey Monthly and elsewhere. WineLibrary.com features a huge collection of top wines from around the world, great gifts and accessories, a daily video blog (WineLibraryTV), huge selection of futures (including red hot 2005 Bordeaux at incredible pricing) and much, much more!
Search our quick loading/high speed database of the hottest new wines from California, France, Italy, Australia, New Zealand, Spain, Germany, Austria, South America and more. Join our e-mail service and get an early heads up when wines like Bryant, Harlan, Dominus and others arrive!
Bottom line, we offer the lowest prices, the largest selection, lightning fast shipments and the greatest customer service in the industry! WineLibrary.com is your one-stop shop for everything wine ... so what are you waiting for? Log on to WineLibrary.com today!
For our Free Shipping Item of the Day, log on to http://free.winelibrary.com!

Each day at 1 p.m. we add a new item that is set for Free Shipping!!
Quantity is limited and products will sell out, so be sure to check out http://free.winelibrary.com each day at 1 p.m. for the new item!

Tenuta Roveglia 2004 Lugana ($14)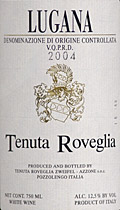 This transparent, light-gold wine offers a delicate scent of peaches with a subtle backdrop of fresh herbs. Full-bodied and intense, luscious fruit flavors follow the nose, wrapped up with mouth-watering acidity. An exceptional white wine, worth seeking out. U.S. importer: John Given Wines Co., Manhasset, N.Y. (April 6, 2007)
FOOD MATCH: Inspired by a course of tagliatelle with pike served with Lugana at Ristorante Lugana in Lugana Parco al Lago, I came up with a perfect match, a simple dish of fresh Walleye flaked over linguine. Just about any simple dish based on fresh, white freshwater fish would be fine, and I wouldn't say no to Lugana with poultry or pork.
VALUE: In comparison with other world white wines of comparable quality, Lugana is dramatically under-priced in the middle teens. Stock up before it becomes better-known.
WHEN TO DRINK: Lugana is a white wine of remarkable longevity; during my visit, I tasted quite a few decade-old bottlings of great richness and depth. Given good cellar conditions, I wouldn't hesitate to keep it for five to 10 years. Note also that the 2005 vintage is already available in the U.S., and the 2006 has arrived in Europe.
PRONUNCIATION:
Lugana = "Loo-gah-nah"
WEB LINKS:
The U.S. importer, John Given, has a fact sheet about the 2005 Tenuta Roveglia Lugana, which is now in the market, at this link:
http://www.jgwines.com/Factsheets/tenutarovegliaLugana05.html
For detailed information and maps about Lugana, its wine regulations, recipes for authentic regional food matches and more, see ItalianMade.com, the Italian Trade Commission's excellent wine-and-food information site in English:
http://www.italianmade.com/wines/DOC10186.cfm
FIND THIS WINE ONLINE:
Check prices and find vendors for Tenuta Roveglia Lugana on Wine-Searcher.com.
http://www.wine-searcher.com/
find/Roveglia%2bLugana/-/-/USD/A?referring_site=WLP
For more sources in the U.S., contact importer John Given through his Website,
http://www.jgwines.com
Talk about wine online
To read and comment on today's column in our non-commercial WineLovers Discussion Group, click:
http://www.wineloverspage.com/forum/village/viewtopic.php?t=7664
Today's article is cross-posted in our Netscape WineLovers Community, where we also welcome comments and questions.
http://community.netscape.com/winelovers?nav=messages&tsn=1&tid=5208
To contact me by E-mail, write wine@wineloverspage.com. I'll respond personally to the extent that time and volume permit.
PRINT OUT TODAY'S ARTICLE
Here's a simply formatted copy of today's Wine Advisor, designed to be printed out for your scrapbook or file or downloaded to your PDA or other wireless device.
http://www.wineloverspage.com/
wineadvisor2/2007/04/impressive_lugana-print.html