Wine Focus: Chianti and Tuscany
The "Wine Focus" in our WineLovers Discussion Group forums this month highlights Chianti, with specific attention to Chianti Classico and Chianti Classico Riserva.
Chianti, of course, is the historic red wine of Tuscany, with a heritage of 700 years or so in the hill country that lies between the cities of Florence and Siena. Sangiovese is the dominant grape of the region - current regulations require that wines labeled Chianti contain 75 to 90 percent of this variety. The Sangiovese may be blended in a range of specified proportions with Canaiolo, a less familiar red grape; a tiny amount (or none) of white Malvasia or Trebbiano and, under modern regs, a splash of up to 10 percent of "non-traditional" grapes like Cabernet Sauvignon.
The Chianti Classico label is limited to wines made from grapes grown in the central part of the region, generally considered best and most traditional; Chianti labeled Riserva is aged for a total of three years (in oak and/or in bottle) before release.
In our parents' time, Chianti was a lightly regarded wine, usually sold in the traditional wicker-basket-wrapped bottle called a fiasco and thought of as a rough, harsh red for spaghetti and pizza. In modern times, that reputation has turned around, and Tuscan wines - both Chianti and the modern blends called "Super Tuscans" - earn considerable respect.
I've always loved them, even back in the wicker-bottle days, for their warmth and structure and remarkable food-friendliness. A great Burgundy or Bordeaux or Barolo may make me sit up and take notice, but Chianti almost always makes me smile.
To participate in this free wine-study group, simply click to the Wine Focus section of our WineLovers Discussion Groups,
http://www.wineloverspage.com/forum/village/viewforum.php?f=18
You're welcome to read the discussions, and encourage to chime in with comments, questions and, of course, to post your own tasting reports.
The floor during April is open to any style of Chianti, and we'll also welcome reports for any other Tuscan DOC ("Denominaziona dall'Origine Controllata" or "controlled appellation") wine, from Chianti's respected cousins Brunello di Montalcino and Vino Nobile di Montepulciano to such lesser-known DOCs as Chianti Colli Senesi and Morellino di Scansano. Let's keep it to the DOC and DOCG categories, however, reserving the non-traditional IGT and Super Tuscan categories for another time (or, of course, for our general wine forum).
You're also welcome to pop into the Forum Kitchen and talk about Tuscan food and recipes and wine matching. Tuscan cuisine is known for its hearty rustic simplicity, featuring grilled meats, polenta and the widespread use of beans as starch (the rest of Italy jokingly calls Tuscans "Mangiafazoli" or "bean eaters"), and relatively little pasta.
Here's a tasting report on a recently tasted Chianti Classico Riserva. Priced in the mid-$20s, it's a bit above the price tag most of us will pay for everyday wine; but for better or worse, many of the world's respected wines have inflated into this range, and top Tuscans remain relative values compared with (for example) red wines of quality from Italy's Piemonte, France's Bordeaux, Burgundy and the Rhone, and even California's Napa.
"Castello di Querceto is named for the 'little forest of oak' in which it is nestled. Since 1897 the winery has produced wines of quality and character. The Riserva demonstrates the personal style of winemaker Alessandro Francois."
Querceto 2001 Chianti Classico Riserva ($25)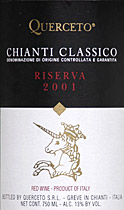 This clear, dark-garnet wine could serve as a benchmark standard for young Chianti Classico Riserva: Subtle black cherry aromas with complex notes of earthy spice. Similar on the palate, black cherry and clean, earthy loam, gently tannic, Euro-style subtle oak and bright, food-friendly Chianti-style acidity. U.S. importer: P.W.I. Co., NYC. (April 8, 2007)
FOOD MATCH: Served with an Easter buffet, it went particularly well with ham and assorted cheeses. It would be a natural with grilled beef or chicken, and its snappy acidity would certainly work - although it might be overkill - with stereotypical tomato-sauced pasta dishes.
VALUE: As noted, the mid-$20s rise above the "everyday" price point for many wine enthusiasts, but in fairness, it's more than competitive with wines of similar quality from other top world wine regions. Shopping around may pay dividends, too, as Wine-Searcher.com shows many sources offering the wine as low as the upper teens, at which point it's a fine value.
WHEN TO DRINK: Chianti Classico Riserva is really made for further cellaring. While it's drinking nicely now, it would reward a year under good cellar conditions with additional complexity and "tertiary" flavors of bottle age.
PRONUNCIATION:
Chianti = "Kee-AHN-tee"
FIND THIS WINE ONLINE:
Check prices and find vendors for Querceto Chianti Classico Riserva on Wine-Searcher.com.
http://www.wine-searcher.com/
find/Querceto%2bRiserva/-/-/USD/A?referring_site=WLP

Today's Sponsor
A message from WineLibrary.com
You may have seen us featured in GQ magazine, The Wall Street Journal, New Jersey Monthly and elsewhere. WineLibrary.com features a huge collection of top wines from around the world, great gifts and accessories, a daily video blog (WineLibraryTV), huge selection of futures and much, much more!
NEW! Order your 2005 Bordeaux Futures by the bottle! Click here for more info! Log on to WineLibrary.com today and browse our enormous selection of futures from the 2005 vintage in Bordeaux. Looking for Cheval Blanc, Mouton, Pavie, Leoville Las Cases or others? We have them all available as futures now! It's the vintage we will all be talking about for years ... order your futures today before it's too late!
Bottom line, we offer the lowest prices, the largest selection, lightning fast shipments and the greatest customer service in the industry! WineLibrary.com is your one-stop shop for everything wine ... so what are you waiting for? Log on to WineLibrary.com today!

To read and comment on today's column in our non-commercial WineLovers Discussion Group, click:
http://www.wineloverspage.com/forum/village/viewtopic.php?t=7469
Today's article is cross-posted in our Netscape WineLovers Community, where we also welcome comments and questions.
http://community.netscape.com/winelovers?nav=messages&tsn=1&tid=5195
To contact me by E-mail, write wine@wineloverspage.com. I'll respond personally to the extent that time and volume permit.
PRINT OUT TODAY'S ARTICLE
Here's a simply formatted copy of today's Wine Advisor, designed to be printed out for your scrapbook or file or downloaded to your PDA or other wireless device.
http://www.wineloverspage.com/
wineadvisor2/2007/04/wine_focus_chianti_and_tuscany-print.html