Easter Bunny
Faced with an onslaught of cute little animals on the labels of mass-produced industrial bottlings, cautious wine lovers might be inclined to carefully avoid any wine with an animal on the label.
But such an excess of caution wouldn't be wise, considering that a hard-core "no animals" approach would rule out such treasures as Chateau Cheval Blanc, California's excellent Stag's Leap, and Piemonte's pricey La Spinetta red wines with the rhinoceros label.
Now add another tasty treat to the approved animals list: From my pal and one-time Rhone Valley traveling companion Erich Russell at Rabbit Ridge in Central California's Paso Robles comes a special seasonal red, just in time for Easter: Rabbit Ridge "Bunny Cuvee," a hearty drop that Russell bills as "a lush red blend created and bottled once every spring, in limited quantities, to celebrate the Bunny's favorite time of the year."
I might have guessed Zinfandel from its exuberant, fruit-forward berry aromas and flavors and its blockbusterish 14.9% alcohol level, but it's actually a wild blend of varied red grapes that are rarely found in the same glass - about 60 percent of the Bordeaux varieties Cabernet Sauvignon, Petite Verdot and Cabernet Franc with about 40 percent Petite Sirah - a non-vintage blend of 2004 and 2005 grapes aged in new oak barrels.
Lovers of austere, earthy European wines might want to steer clear, but if you like a big but balanced California red in the older style, this is an honest wine with real character.
The Rabbit Ridge Website indicates that this wine is available only to winery club members, but for what it's worth, I found it on retail sale in Louisville for a penny under the $12 suggested winery price, so with a little sleuthing (and asking about it at local shops that carry Rabbit Ridge wines), you might be able to find it in your neck of the woods, too.
Rabbit Ridge Paso Robles "Bunny Cuvee" Red Wine ($11.99)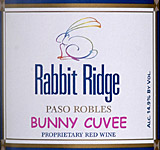 This is a very dark reddish-purple wine. A burst of ripe berry fruit and a whiff of vanilla leap out of the glass. Big and ripe in flavor, a mouth full of berries mirror the nose. Fruit-forward and full, oak is present but doesn't dominate, and its hefty alcohol content makes it warm but not incendiary. (April 8, 2007)
FOOD MATCH: It worked nicely with a range of dishes on a casual Easter buffet, from sliced ham and Italian-style gardiniera to a variety of pizzas. Hold the hard-boiled eggs.
VALUE: No complaints at all about this low-teens price point.
WHEN TO DRINK: The winery Website indicates that this wine, bottled Nov. 7, 2006, "should age well for a long time." Based on its varietal content and its balance, I would agree. Certainly five years in a quality cellar would do it no harm.
WEB LINK:
Here's a fact sheet on the Bunny Cuvee on the Rabbit Ridge Website:
http://www.rabbitridgewinery.com/ts2_bunnycuveeNV.html
FIND THIS WINE ONLINE:
Wine-Searcher.com lists only the winery as a source for Bunny Cuvee, but you can use this link to find vendors and comparative prices for Rabbit Ridge wines in general:
http://www.wine-searcher.com/
find/Rabbit%2bRidge/-/-/USD/A?referring_site=WLP

Today's Sponsor
The California Wine Club Wine Sale Extended!
Two days left to save up to 70 percent off normal retail prices during The California Wine Club's Wine Sale! Visit www.cawineclub.com or call 1-800-777-4443.
More than 100 wines, each one guaranteed. Browse our online Wine Store and choose from award-winning wines hand selected from California's best artisan wineries. Take an extra 20 percent off wines in our upper-level club, Signature Series, and International Selections too. Visit www.cawineclub.com or call 1-800-777-4443.
Prices as low as $8.40/bottle, F.O.B. Camarillo, CA.
Sale ends April 10. Half, full and mixed cases okay.

This week on WineLoversPage.com
• Dibbern on Wine: Think Slow?
It's time for a change of pace, so let's think slow, as writer Donald Dibbern offers us a broader look at Slow Food and the big picture of wine and food appreciation.
http://www.wineloverspage.com/dibbern/slowfood07.phtml
• Vino 101: Spring forward!
Spring is here, which means it's time to put away your sweaters and winter coats, break out the shorts and flip-flops, and refocus our enjoyment of wine. In his "Server's Perspective" column, Jorge Eduardo Castillo discusses refreshing wines for the season.
http://www.wineloverspage.com/vino101/spring07.phtml
• This week's "TalkShoe": Corkscrews and opening bottles!
Corks and corkscrews, the 300-year-old closure system that makes wine complicated: Have you ever had to battle a corkscrew, and lost? What's your favorite kind of corkscrew? We're sharing corkscrew stories on this week's interactive Internet radio TalkShoe. You can participate online at noon Mondays, US EDT (17:00 in Western Europe), or download our past TalkShoes from the archives. See the TalkShoe page for details:
http://wineloverspage.com/talkshoe/
• WineLovers Discussion Group: Help with Tempranillo
This "Open Mike" conversation on our WineLovers Discussion Group invites participants to post reports on wines made from this classic Spanish grape, hoping to find "benchmark" elements that can help define the variety. Pull a cork and share your own Tempranillo impressions!
http://www.wineloverspage.com/forum/village/viewtopic.php?t=7476
• Netscape WineLovers Community Poll: Top priority in food shopping?
Some of us will pay top dollar for foods labeled natural or organic; others count "food miles," supporting local producers and avoiding product shipped worldwide. Many shoppers buy on sight, choosing the produce and meats that look freshest and best; others put priority on value, buying the cheapest food available regardless of its looks or origin. How about you? We turn from wine to food as we invite your participation in this week's Netscape/CompuServe Community poll.
http://community.netscape.com/winelovers?nav=messages&tsn=1&tid=5190