Winery does well by doing good
I'm home after two weeks in Italy, still full of happy memories of good wine, good food and good friends, and not at all jet-lagged. I laugh at jet lag! Still, that 24-hour-plus travel day coming home did leave me feeling a little stunned, so let's move briskly along to today's article as we resume regular Monday-Wednesday-Friday publication.
Staying on the subject of Italy for one more day, we take a look at San Patrignano, a most unusual winery that, as the old saying goes, "does well by doing good."
On the surface, San Patrignano appears to be a standard if rather high-end Italian winery. Located in Emilia-Romagna (not far south of my recent base in the Veneto and Lombardy), San Patrignano grows its grapes in the coastal Rimini hills (Colli di Rimini DOC), producing big red Sangioveses and modern blends with Cabernet Sauvignon, Cabernet Franc and Merlot. It boasts highly rated wines and celebrates its association with Riccardo Cotarella, a consulting wine maker who seems to have a natural skill at fashioning big, bold wines that critics like Robert Parker and Wine Spectator will love.
But this is a winery with a difference: Cotarella, who usually demands and gets breathtaking fees, serves San Patrignano pro bono, as do a remarkable roster of "corporate friends" ranging from Armani, Bulgari and Adidas to Fiat, Lamborghini, Nissan, Ford ... and JP Morgan banks.
What's the story? Simply told, San Patrignano is not just another winery but a community of service, launched by Vincenzo Muccioli in 1978, that exists to help young people from around the world overcome drug addiction and turn their lives around through hard work and training under experts in more than 50 crafts and professions, ranging from fashion and graphic design to agriculture, animal training ... and wine making.
The program has served more than 20,000 young people, who stay at no cost for three years of training. The organization says 50 percent of its funding comes back through the sales of wine and other products, the rest being covered by corporate sponsors.
The program works, the sponsors say: Nearly three-fourths of participants are "fully reintegrated into society and today enjoy a drug-free existence," while the community's products - from its wines to oils, cheeses, meats, honey, even show horses - are consistent award-winners.
I learned about San Patrignano, and first tasted its 2003 "Noi" (an earthy, complex Sangiovese-Cabernet-Merlot blend whose name means "us") from Jane Kettlewell with Palm Bay Imports, the U.S. importer, during a visit to New York last autumn. It took a while to get my hands on some of the wine, which sadly isn't available at retail in Louisville, but I'm glad to have the chance to try it again - and to support both the social-change and the artisanal ventures at San Patrignano. It's a project well worth supporting.
Today's Sponsor
A message from WineLibrary.com
You may have seen us featured in GQ magazine, The Wall Street Journal, New Jersey Monthly and elsewhere. WineLibrary.com features a huge collection of top wines from around the world, great gifts and accessories, a daily video blog (WineLibraryTV), huge selection of futures and much, much more!
NEW! Order your 2005 Bordeaux Futures by the bottle! Click here for more info! Log on to WineLibrary.com today and browse our enormous selection of futures from the 2005 vintage in Bordeaux. Looking for Cheval Blanc, Mouton, Pavie, Leoville Las Cases or others? We have them all available as futures now! It's the vintage we will all be talking about for years ... order your futures today before it's too late!
Bottom line, we offer the lowest prices, the largest selection, lightning fast shipments and the greatest customer service in the industry! WineLibrary.com is your one-stop shop for everything wine ... so what are you waiting for? Log on to WineLibrary.com today!

San Patrignano 2003 "Noi" Colli di Rimini Rosso ($33)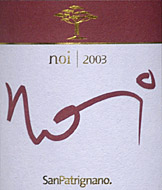 This is a very dark reddish-purple wine, almost black, showing brilliant garnet glints against a bright light. Interesting and complex aromas start with juicy black plums, adding a mix of dried herbs and a distinctive whiff of leather. Tart, mouth-watering acidity shapes a flavor profile that follows the nose, earthy and ripe, with the structure needed to make it a fine food wine. U.S. importer: Palm Bay Imports, Boca Raton, Fla. (April 3, 2007)
FOOD MATCH: Its high acidity makes it a natural with tomato-based dishes, and it was fine with a dish of veal polpettone simmered in a light fresh-tomato sauce over penne. For a more basic match, it wouldn't go amiss with a sizzling rare steak.
VALUE: These are quality wines, placed well above an everyday price point, but those who admire the up-by-their-bootstraps San Patrignano program might consider it as much a gesture of support as an investment in wine.
WHEN TO DRINK: The varietal blend and vinification suggest a wine that will cellar well. Drink now or store under good environmental conditions for five years or more.
PRONUNCIATION:
Noi = "Naw-ee"
San Patrignano = "Sahn PAH-treen-YAH-no"
WEB LINK:
The home page for San Patrignano, featuring information on all the organization's products and services, is located at the following link in Italian. Click the United Kingdom flag at upper left for the English version.
http://enogastronomia.sanpatrignano.org/
For more information about San Patrignano and its programs, visit the importer's Website:
http://www.palmbayimports.com/xq/asp/VID.891/qx/brands.html#
FIND THIS WINE ONLINE:
Check prices and find vendors for San Patrignano on Wine-Searcher.com.
http://www.wine-searcher.com/
find/San%2bPatrignano/-/-/USD/A?referring_site=WLP
To read and comment on today's column in our non-commercial WineLovers Discussion Group, click:
http://www.wineloverspage.com/forum/village/viewtopic.php?t=7419
Today's article is cross-posted in our Netscape WineLovers Community, where we also welcome comments and questions.
http://community.netscape.com/winelovers?nav=messages&tsn=1&tid=5180
To contact me by E-mail, write wine@wineloverspage.com. I'll respond personally to the extent that time and volume permit.
PRINT OUT TODAY'S ARTICLE
Here's a simply formatted copy of today's Wine Advisor, designed to be printed out for your scrapbook or file or downloaded to your PDA or other wireless device.
http://www.wineloverspage.com/
wineadvisor2/2007/04/winery_does_well_by_doing_good-print.html