Seedy Grignolino
There's something just a little seedy about today's featured wine, but don't worry about it: Grignolino ("Green-yo-leen-oh"), keeps good company among its compatriots from Northwestern Italy's Piemonte.
Its name, borrowed from a local dialect word for "grape seeds," simply means that this red grape is abundant in seeds, so much so that the wine it makes can be unusually astringent and tannic for such a pale-colored, lightweight fluid.
If wine grape conservationists kept track of threatened species, Grignolino might be on a watch list, as its plantings even in Italy are declining. A finicky grape that requires good sun exposure for ripening, this grape needs quality vineyard space that regional producers, with one eye on the Euro, prefer to use for more commercially viable varieties like Barbera and Dolcetto.
But as long as a few traditionalists remain, this heirloom grape will likely persist in at least small amounts, in Piemonte and also in Northern California, where long-ago immigrant wine makers brought over vines for nostalgia's sake, and here and there small patches remain. Napa's Heitz Cellars, for instance, has been tending an eight-acre plot of it for nearly 50 years, and still uses it in a red and a crisp rosé.
Today's tasting is Italian, another tiny-production wine that's worth seeking out if you like to collect unusual varieties on your life tasting list.
As I mentioned Wednesday, we're celebrating strange and little-known grapes this week in honor of the Wine Century Club, a casual organization for wine lovers who actually keep count of the varieties they've tasted and can submit a list of at least 100 of them. The club plans its annual gathering in New York City on Sunday, March 18. For details, click
http://www.winecentury.com/.
La Casaccia 2004 Poggeto Grignolino del Monferrato Casalese ($10.99)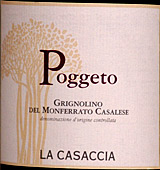 This is a clear, cherry-red wine, rather light in color. Its delicate scent mingles dried fruit and pleasant medicinal herbs in an overall effect that's somewht reminiscent of Campari. Flavors reflect the nose, light-bodied and crisp, red fruit and mouth-watering acidity that lingers with a citric snap. Light but appealing, good with food. U.S. importer: Selected Estates of Europe Ltd., Mamaroneck, N.Y. (March 6, 2007)
FOOD MATCH: This tart but rather delicate wine looks for a subtle food match, and finds it in a simple vegetarian dinner of fresh oyster mushrooms in a truffle-scented Italian cheese sauce over rice.
VALUE: An easy addition to the grape-seeker's life list; its $10-range price tag is more than fair.
WHEN TO DRINK: With its light and delicate flavor profile, this one strikes me as a drink-me-now wine, best enjoyed within the next year or so.
PRONUNCIATION:
Grignolino = "Green-yo-lee-no"
WEB LINK:
Here's a link to the U.S. importer's Website:
http://www.selectedestates.com
FIND THIS WINE ONLINE:
Wine-Searcher.com lists only limited vendors for La Casaccia wines.
http://www.wine-searcher.com/
find/Casaccia/-/-/USD/A?referring_site=WLP
For more retail sources, click "Where to Buy" on http://www.selectedestates.comthe importer's Website. I found it, as I do so many of my more strange and offbeat wines, at Chambers Street Wines in NYC, which will ship to many parts of the U.S.:
http://www.chambersstwines.com/

Terroirs of Burgundy with Robin Garr
What wine lover hasn't dreamed of touring this great wine region, meeting its wine makers, learning about its wines and dining in its characteristic restaurants and bistrots? Burgundy is one of the world's greatest wine regions but also one of the most difficult to learn. Its patchwork of tiny vineyards is intriguing, but almost bewilderingly complicated. There's no better way to learn Burgundy than being there, touring the wine roads, visiting historic producers like the pictured Clos de Vougeot, and tasting with a trusted guide.
Now, with the respected wine-touring company French Wine Explorers, we've crafted a special, once-in-a-lifetime Terroirs of Burgundy tour aimed at thrifty, value-seeking wine lovers.
If you've long dreamed of learning Burgundy and its wines with an expert at hand but thought you couldn't possibly afford it, I invite you to consider The Terroirs of Burgundy. I'll be personally leading the July 2-7, 2007 tour, and I promise maximum "bang for the buck."
Interested? Don't delay. The tour is strictly limited to 16 wine lovers, and spaces are filling up. You can review the itinerary and details at http://www.wineloverspage.com/tour/
For more information or to make reservations, send E-mail to info@wine-tours-france.com or call +1-877-261-1500 (toll-free in the U.S. and Canada). And if you would like to discuss this tour with me personally, feel free to write me at wine@wineloverspage.com