Offbeat grape: Poulsard
Every year around this time I'm usually making plans to visit New York City for the annual meeting of the Wine Century Club, a casual, lovable organization for wine enthusiasts who have tasted wines made from at least 100 different grape varieties ... and love to talk about it.
Alas, I won't be able to make it this year, thanks to a calendar conflict with the giant Vinitaly wine expo in Verona. But I'll be there in spirit, and if you're going to be in the Big Apple on St. Patrick's Day weekend, you can be there in person. For information, visit the Wine Century Club Website.
Meanwhile, in celebration of the Century Club concept, let's devote this week's columns to further exploration of a few rare and little-known wine grapes.
Today we'll take a taste of Poulsard, a red grape from the Jura region of Eastern France, a hilly strip that lies up against the Swiss border east of Burgundy. Jura is probably best known (if at all) for the white Savagnin grape used in the region's trademark Vin Jaune, an oxidized, Sherry-like golden wine traditionally sold in a squat, old-fashioned bottle.
In comparison, the Jura red grapes Trousseau and Poulsard make relatively "normal" wines, both still reds and, often blended with Gamay, the sparkling Bugey-Cerdon that I featured in the Nov. 17, 2006 Wine Advisor.
Poulsard, which the natives sometimes confusingly call "Ploussard," is a large, thin-skinned and rather lightly colored grape. This combination lends itself to long fermenting on the skins, a process that can yield the odd but intriguing combination of light body and flavors that are intriguingly both delicate and intense at the same time.
On occasion, as with most small-production, artisanal, rustic country wines, things can go terribly wrong. One specific Poulsard - not from today's producer - prompted one of the most outrageous wine reports I've ever read on our wine forums. Warning: It's hilarious, but R-rated bawdy. If you're curious and not easily offended, it's in our WineLovers Discussion Group archives,
http://www.wineloverspage.com/forum/village/viewtopic.php?p=16958#16958
Rest assured, today's Poulsard is nothing like that. Made by Jacques Puffeney in the village of Arbois, a longtime wine and cheese maker who purportedly has earned the affectionate moniker, "the Pope of Arbois," it's lean, tart and delicately complex in a style that reminds me a bit of a Loire Valley red. Unfiltered and unfined, it's fresh and clean. My notes are below.
Today's Sponsor
A message from WineLibrary.com
You may have seen us featured in GQ magazine, The Wall Street Journal, New Jersey Monthly and elsewhere. WineLibrary.com features a huge collection of top wines from around the world, great gifts and accessories, a daily video blog (WineLibraryTV), huge selection of futures and much, much more!
NEW! Order your 2005 Bordeaux Futures by the bottle! Click here for more info! Log on to WineLibrary.com today and browse our enormous selection of futures from the 2005 vintage in Bordeaux. Looking for Cheval Blanc, Mouton, Pavie, Leoville Las Cases or others? We have them all available as futures now! It's the vintage we will all be talking about for years ... order your futures today before it's too late!
Bottom line, we offer the lowest prices, the largest selection, lightning fast shipments and the greatest customer service in the industry! WineLibrary.com is your one-stop shop for everything wine ... so what are you waiting for? Log on to WineLibrary.com today!

Jacques Puffeney 2003 Arbois Poulsard "M" ($22.99)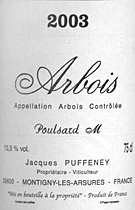 Clear cherry red, not too dark; bright crimson glints against the light. Fresh and delicate aromas of spicy red fruit, subtle herbs and fragrant white pepper mix in a subtle blend. Light-bodied but intense, tart cherries and white pepper meet crisp acidity and smooth but perceptible tannins on the palate. U.S. importer: Rosenthal Wine Merchant, NYC. (March 3, 2007)
FOOD MATCH: Its light, acidic style, not unlike a Loire red, suggests pairing with poultry, pork or cheese. It was fine with pollo all'Abruzzese, a Central Italian chicken fricasee somewhat akin to a cacciatore without the bright-red "gravy."
VALUE: It's an interesting wine, worth the investment to add an obscure grape to your life list or Century Club qualification, but frankly a bit spendy at this price.
WHEN TO DRINK: Its delicate freshness suggests a wine to drink up in the shorter term, although I wouldn't hesitate to keep it for a year or two.
PRONUNCIATION:
Arbois = "Ahr-bwah"
Poulsard = "Pool-zahr"
WEB LINK:
The U.S. importer's Website offers this detailed if somewhat outdated fact sheet about Jacques Puffeney and his wines:
http://www.madrose.com/puffeneyprint.html
FIND THIS WINE ONLINE:
Only a few vendors for Puffeney Arbois Poulsard show up on Wine-Searcher.com.
http://www.wine-searcher.com/
find/Puffeney%2bPoulsard/-/-/USD/A?referring_site=WLP
I got mine from Chambers Street Wines in NYC, which will ship in the U.S. where the law allows:
http://www.chambersstwines.com/