Focus on Chenin Blanc
Here's a conundrum to conjure with: Why is one of the world's 10 most widely planted white grapes, capable of producing indisputably great sweet wines and excellent dry whites as well, often thought of as a mere "niche" grape, producing wines difficult to find in any but the most well-stocked wine shops?
We're talking about Chenin Blanc, which may reach its zenith in the Loire Valley of France but is grown around the world. Chenin Blanc is the most widely planted grape in South Africa, where it's also known as Steen and is said to make up nearly one-third of the nation's plantings. It's popular in California, where Jancis Robinson says there's more of it grown than in France. South of the Equator, it's popular in Argentina and at least a niche player in Australia and New Zealand.
Perhaps Chenin Blanc's popularity doesn't match its acreage because - like Pinot Grigio and a few other potentially fine varieties - a good deal of it is industrially grown and ends up in mass-market wines with no real varietal character. Still, Chenin Blanc tends to show some personality even in lackluster wines, in the form in tart, palate-cleansing acidity that makes it a useful player in improving anonymous jug-wine blends.
But taste a few really good Chenin Blancs, and chances are you'll become a convert. If you love sweet wines, go directly to the Loire, do not pass "Go," do not collect $200, and fill your glass with one of the great Loire sweeties like Bonnezeaux, Coteaux du Layon, Quarts de Chaume or a sweeter-style Vouvray. These wines at their best are rich, full-bodied, textured, yet fresh and clean, beautifully blending luscious sweetness and singing acidity to make dessert wines perhaps unmatched by any other sweet wine anywhere. They're enjoyable fresh but age amazingly well: The rare, classic Moulin Touchais is still drinking beautifully from the 1957 vintage, if you can find it.
If dry wine is your style, you're covered, too: Savennières, by some measures, may be the greatest, a dry white that almost demands a decade's aging to show at its best; Vouvray, Montlouis and Saumur, too, among many other Loire regions, make excellent Chenin, dry or sweet or even that lovely in-between style called moelleux or "marrow-like." If you want it bubbly, that can be arranged, too, in the fine, good-value sparkling Vouvray labeled Crémant de la Loire.
This month's "Wine Focus" feature on our WineLovers Discussion Group forums invites us to take a closer look at Chenin Blanc from around the world. I hope you'll drop in often during March (and thereafter) to ask questions, talk about the grape, and share your notes on Chenin Blanc from all over.
Let's get things started today with a report on a very attractive Chenin Blanc from South Africa, Ken Forrester 2006 Stellenbosch Petit Chenin, widely available in the $10 range. Ken Forrester, the producer, is a restaurateur as well as a wine maker, and this may help explain the exceptional balance and food-friendly style of this value-priced, crisp and pleasantly aromatic Chenin Blanc.
Forrester owns the highly regarded 96 Winery Road restaurant on his Zandberg Farm near Stellenbosch, which is also the location of the winery and its 100 acres of vineyards. A historic property, Zandberg's tradition goes back to the 16th century, but it had fallen into disrepair when the Forrester family purchased and restored it in the early 1990s. Chenin Blanc is his "flagship" grape, but the property also grows Sauvignon Blanc, Merlot, Cab Franc, Petit Verdot, Grenache, Mourvedre, and Shiraz.
Ken Forrester's wines, the winery Website proudly states, "were the only wines served at Nelson Mandela's 85th Birthday party."
Ken Forrester 2006 Stellenbosch Petit Chenin ($9.99)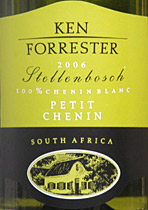 This is a transparent, straw color wine with fresh, delicate scents of honeydew melon and lime juice. Similar on the palate but much more forward, a burst of green melon and snappy citrus, medium-bodied, dry and refreshingly acidic. The proprietary name "Petit" belies rather high alcohol for a white wine at 14%, but it doesn't manifest itself as harshness or heat. Fine Chenin Blanc. U.S. importer: Boutique Wine Collection, Philadelphia. (March 2, 2007)
FOOD MATCH: A delight with chunks of mixed fish (sea bass, grouper, tuna and cod) sauteed meuniere style and served over conchiglie in a light wasabi cream.
VALUE: A no-brainer at the $10 level, worth buying by the case with spring and summer coming.
WHEN TO DRINK: Although this low-end wine isn't really meant for aging, the natural ageworthiness of Chenin plus the wine's excellent balance, alcoholic strength and taint-free screwcap all suggest that a modest experiment in cellaring might not be wasted.
PRONUNCIATION:
Chenin Blanc = "Shay-naN BlahN"
WEB LINK:
The winery has an in-depth Website with information about the winery, the wines, and Mr. Forrester's restaurant:
http://www.kenforresterwines.com/
For a consumer view of Ken Forrester and his wines, you'll find a good article on Jamie Goode's "Wine Anorak" Website at
http://www.wineanorak.com/southafrica/part1_kenforrester.htm
FIND THIS WINE ONLINE:
To locate vendors and compare prices for Ken Forrester Petit Chenin on Wine-Searcher.com:
http://www.wine-searcher.com/
find/Forrester%2bPetit/-/-/USD/A?referring_site=WLP

Today's Sponsor
Biggest Sale of the Year at The California Wine Club
The biggest sale of the year is going on now at The California Wine Club. Take an additional 20 percent off the already discounted reorder price, and save up to 70 percent off normal retail prices.
Visit www.cawineclub.com or call 1-800-777-4443. New wines and inventory are added daily so check back often!
Since 1990 The California Wine Club has been introducing wine enthusiasts to limited production wines from California's best artisan wineries. Club owners Bruce and Pam Boring personally travel California's wine country, meeting the winery families, tasting their wines and hand-selecting the best for their lucky wine club members. In fact, The California Wine Club is the only club in America that promises to never feature any bulk, closeout or private-label wines, and every wine is 100% guaranteed.
If you've not yet tried The California Wine Club, take advantage of this month's wine sale to sample a wide array of award-winning and highly rated wines. Visit
http://www.cawineclub.com/?partnerid=wineadvisor
or call 1-800-777-4443.
Half, full and mixed cases okay. For your convenience, pre-selected mixed cases are also available.

This week on WineLoversPage.com
• Today's Live "TalkShoe": Wine Goes Hollywood!
Wine in the movies, movies about wine, and movie stars and directors who make wine: All these topics were to air today on our interactive Internet radio TalkShoe! You can listen online or download it to your iPod from the archives; and mark your calendar to catch next week's TalkShoe live on Monday, March 17, at 1 p.m. US EST (10 a.m. PST, 18:00 in the UK, 19:00 in Western Europe). See our TalkShoe page for details.
http://wineloverspage.com/talkshoe/
• WineLovers Discussion Group: "Barnyard" as wine description: Compliment or insult?
We're back on a favorite topic this week, as participants in our WineLovers Discussion group talk about bad aromas in good wine, and why some seemingly disgusting descriptions don't necessarily mean quite what it seems. Read the discussion, and join in:
http://www.wineloverspage.com/forum/village/viewtopic.php?t=6760
• Netscape WineLovers Community Poll: Most important factor in choosing wine?
Among the many variables that influence your decision to buy a particular bottle of wine, which one weighs the most heavily in the balance? Price, grape, country or region or something else? We're repeating a popular WineLovers Voting Booth survey from 1999 in this week's CompuServe/Netscape WineLovers Community poll.
http://community.netscape.com/winelovers?nav=messages&tsn=1&tid=5139