White Burgundy and ... fast food?
Does fine wine demand an elegant setting? For many people, the idea of a glass of quality wine seems locked in with white tablecloths, china, sterling and crystal, and candles on the table.
Barring the standard exceptions of crisp pink rosé for summer picnics or rough country reds with spaghetti and meatballs, the association of wine with fancy food and formal dining seems fixed and enduring.
But where it it written that wine must not be consumed with casual fare ... even fast food? You certainly won't find this wisdom written in my book of sermons. After all, humans fermented grape juice in the first place in an effort to come up with a tasty drink that would go very well with food, and our ancestors have been fine-tuning the formula for 5,000 years or more. It's hard to think of any dish that can't find its ideal wine match.
To pursue this line of inquiry, we dropped by a new local pizzeria the other night and picked up a stack of boxes to bring home. We got a traditional pie topped with Italian sausage, onions, green peppers, mushrooms and olives. We tried a wacky new-wave pizza topped with grilled chicken and crispy bacon and, in place of the usual tomato sauce, a tangy ranch-style dressing, a concept that sounds mighty bizarre but that holds a distant kinship with an Alsatian flammenkuchen. And, to put the icing on the cake, so to speak, we added a Philly cheesesteak the size of a rugby ball.
The obvious choice for pizza would be something stereotypical yet delicious in the Italian fashion - a simple Chianti, for instance, or a modest Montepulciano d'Abruzzo.
But we're pushing the envelope here, so I went off in a completely different direction. Focusing on the "white" pizza, I checked out the wines I had lined up for tasting and came away with a thoroughly non-stereotypical choice: Verget 2005 "Terroirs de Côte d'Or" Bourgogne from the redoubtable Jean-Marie Guffens, a Burgundian producer whose white wines are quite popular if sometimes gently criticized for a fat, not-quite-dry style that the critics love.
As it turned out, this modest ($15) white Burgundy wasn't "Parkerized" at all. Simple but fresh, its appley, yeasty aroma profile could serve as the dictionary illustration for the type. Its clean, fresh flavors are versatile and food-friendly, making it a very fine match indeed with the white pizza, very good with the cheesesteak and even, surprisingly, more than adequate with the sausage-and-peppers pie.
While I don't expect most fast-food restaurants would be accommodating about BYO, the next time I bring home a sack of White Castles or fish sandwiches, I'll be a little more willing to consider pulling a cork on something other than Coke or iced tea.
Have you tried offbeat wine pairings with fast food? I'd love to hear your stories and hope you'll take a moment to post them in our interactive WineLovers Discussion Group. To respond to this column, click:
http://www.wineloverspage.com/forum/village/viewtopic.php?t=6791
Verget 2005 "Terroirs de Côte d'Or" Bourgogne ($14.99)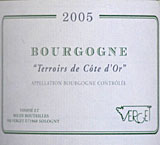 Transparent straw color. Aromas display ripe apples and a more subtle touch of rising bread dough, simple and fresh. Flavors are consistent with the nose, apples and a touch of roasted chestnuts; medium-bodied, dry and nicely balanced by acidity. As the name suggests, the grapes are sourced from vineyards in Côte d'Or villages, specifically Puligny and Meursault. Despite Verget's reputation for oaking its Burgundies "American-style," this one is discreet, half of the blend aged in used oak barrels and half in stainless steel. It's a benchmark example of basic Bourgogne Chardonnay. U.S. importer: Vintner Select, Mason, Ohio, North Berkeley Imports in California, and other regional importers. (Feb. 27, 2007)
FOOD MATCH: An easy, amiable match with a range of dishes from pork, veal, poultry and cheeses to the non-conventional matches featured in today's Wine Advisor: Bacon and chicken ranch pizza, sausage, peppers and onion pizza, and even a Philly cheesesteak.
VALUE: No complaints in the mid-teens, a price point at which it tops both white Burgundies and California Chardonnays for value.
WHEN TO DRINK: Well balanced if simple Chardonnay, protected by a sturdy modern screw cap, it will hold safely for a year or more, but it won't really gain anything with cellar time.
PRONUNCIATION:
Verget = "Vehr-zhay"
Côte d'Or = "Coat door"
Bourgogne = Boor-gon-yuh
WEB LINK:
The Verget Website is attractive and deep, but it appears to be published only in French:
http://www.verget-sa.com
Here's a long if rather sales-oriented importer's review of Verget's Jean-Marie Guffens and his 2005 wines, including a short tasting report on the "Terroirs de Côte d'Or."
http://www.northberkeleyimports.com/articles/index.php?id=265
FIND THIS WINE ONLINE:
Compare prices and find vendors for Verget "Terroirs de Côte d'Or" Bourgogne on Wine-Searcher.com:
http://www.wine-searcher.com/
find/Verget%2bTerroirs%2bCote/-/-/USD/A?referring_site=WLP

Terroirs of Burgundy with Robin Garr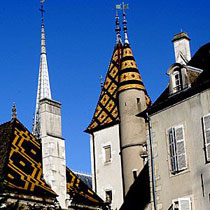 Burgundy is one of the world's greatest wine regions but also one of the most difficult to learn. Burgundy produces great Pinot Noir (and Chardonnay) from a patchwork of tiny vineyards that's almost bewilderingly complicated. There's no better way to learn Burgundy than being there; and what wine lover hasn't dreamed of touring this great wine region, meeting its wine makers, learning about its wines and dining in its characteristic restaurants and bistrots?
Now, with the respected wine-touring company French Wine Explorers, we've crafted a special, once-in-a-lifetime Terroirs of Burgundy tour aimed at thrifty, value-seeking wine lovers.
If you've long dreamed of learning Burgundy and its wines with an expert at hand but thought you couldn't possibly afford it, I invite you to consider The Terroirs of Burgundy. I'll be personally leading the July 2-7, 2007 tour, and I promise maximum "bang for the buck."
Interested? Don't delay. The tour is strictly limited to 16 wine lovers, and spaces are filling up. You can review the itinerary and details at http://www.wineloverspage.com/tour/
For more information or to make reservations, send E-mail to info@wine-tours-france.com or call +1-877-261-1500 (toll-free in the U.S. and Canada). And if you would like to discuss this tour with me personally, feel free to write me at wine@wineloverspage.com