Super Veneto
It's hard to believe that it has been a good 30 years since a few rebel Tuscan wine makers decided to defy both tradition and the wine laws, adding the juice of "foreign" grapes like Cabernet Sauvignon and Merlot to their Sangiovese and aging the wines in small French barrels to create a new style of wine called "Super Tuscan."
The concept took off, and over time both law and tradition changed to keep up. New wine laws accommodated the variants under the designation "Indicazione Geografica Tipica," or IGT for short; and even the ancient rules of Chianti changed to allow more flexibility in the historic blend.
Nowadays, Super Tuscans are some of Italy's most sought-after wines, and the top labels command respect (and high prices) in the international market.
Based on this success, it's hardly surprising that more Italian regions are getting into the act. Throughout Italy, many producers now fashion their wines in a more "modern," "international" style that's controversial among those who respect tradition and want to keep it, but that arguably makes its case in sales.
A bit less common are Italian wines that directly imitate the Super Tuscan model, beginning with the local grape, blending in Bordeaux-style grapes and often following up with small-barrel treatment.

Although I'm enough of a traditionalist to worry about the potential for loss of historic wine styles in a rush toward a modern character that makes all wines taste pretty much alike, I'm also open-minded enough to give new ideas a try.
Recently, starting to prep for a trip to judge wine at the giant Vinitaly wine expo in Verona next month, I ran across a new wine from Northeastern Italy's Veneto region that earns description as a "Super Veneto."
Bertani "Catullo" is a 50-50 blend of the local grape Corvina - which is best known as the primary player in the regional Valpolicella and Amarone - with Cabernet Sauvignon. While the Corvina is aged for a year in more or less traditional Slavonian oak, the Cabernet spends that time, French-style, in French oak "barriques" (small barrels) that have been charred to a "medium toast." Blended after oak aging, the wine succeeds in spite of being the product of a disastrously rainy vintage; I'd be eager to try it again from a more typical year.
Despite (or maybe because of) its modern style, Catullo takes a bow toward ancient Roman tradition with the name of the Latin poet Catullus, who lived more than two millennia past and who wrote poetry celebrating the beauty of the Veronese hillsides.
Bertani 2002 "Catullo" Veneto ($19.99)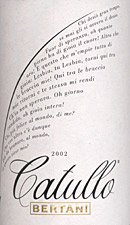 Very dark reddish-purple. Attractive dried-cherry scent, reminiscent of Valpolicella. Fresh and bright, crisp red fruit and mouth-watering acidity over smooth, well-integrated tannins. It's a nicely balanced, food-friendly and refined red, akin to a Valpolicella on steroids or a lighter-style Amarone, but with a character all its own. U.S. importer: Palm Bay Imports, Boca Raton, Fla. (Feb. 10, 2007)
FOOD MATCH: With its juicy, tart dried-fruit flavors, this would be a natural with the dark, earthy and rich flavors of duck or dark turkey meat, and I could see accompanying it - as I've done with Amarone - with fresh-sliced curls from a wheel of Parmigiano-Reggiano. It was excellent with the Sudtirol dish featured in last week's WineAdvisor FoodLetter, white creamer potatoes in a creamy sauce of Crucolo cheese and milk with prosciutto.
VALUE: With Super Tuscans going for $50 and up, it's hard to quibble with a Super Veneto of this class at $20. Some retailers list it for a dollar or two less than the $19.95 retail that I paid.
WHEN TO DRINK: It's drinking beautifully now, and I'm not sure that cellar time would improve it, but there's certainly no hurry to drink it.
WEB LINK:
The U.S. importer's Website offers a detailed fact sheet on Bertani Catullo at this link:
http://www.palmbayimports.com/
xq/asp/VID.121/WID.176/qx/products.html
FIND THIS WINE ONLINE:
To find regional distributors for Palm Bay Imports' products in the U.S., use this search box to find "Bertani:"
http://www.palmbayimports.com/wine_locator.asp
To locate vendors and compare prices for Bertani Catullo on Wine-Searcher.com:
http://www.wine-searcher.com/
find/Bertani%2bCatullo/-/-/USD/A?referring_site=WLP

Today's Sponsor
Wine Sale Starts Today! Save an extra 20% with The California Wine Club
It's here! The California Wine Club's biggest SALE of the year is here, Take an additional 20% off every wine available. To choose from more than 100 award-winning, limited production wines visit www.cawineclub.com or call 1-800-777-4443.
Half, full and mixed cases are okay. Choose from the largest selection ever offered by The California Wine Club and at prices too low to beat. March is Simply The Best Time To Save!
Order early for the best selection! Sale ends March 31, 2007. All prices FOB Camarillo, CA. Visit
http://www.cawineclub.com/?partnerid=wineadvisor
or call 1-800-777-4443.

This week on WineLoversPage.com
• April on Wine: Blending in!
Some time ago, especially in the United States, consumers began to believe that wines made from more than one grape were inferior to single-grape ("100 percent varietal") wines. It's time to reconsider, says April Eichmeier, arguing that some of the greatest wines on the planet are blends.
http://www.wineloverspage.com/april/blends07.phtml
• Today's Live "TalkShoe": Champagne!
Today's interactive Internet radio TalkShoe featured Champagne and sparkling wines, with authors Don and Petie Kladstrup as our special guests. You can listen online or download it to your iPod from the archives; and mark your calendar to catch next week's TalkShoe live on Monday, March 5, at 1 p.m. US EST (10 a.m. PST, 18:00 in the UK, 19:00 in Western Europe). See our TalkShoe page for details.
http://wineloverspage.com/talkshoe/
• WineLovers Discussion Group: Planning a Burgundy tasting
Asked to help with specific suggestions of quality Burgundy for a tasting, our wine forum participants come up with a long list of producers and vintages that offer good value (under $100, anyway) in the quality range. Read the discussion and add your favorites!
http://www.wineloverspage.com/forum/village/viewtopic.php?t=6643
• Netscape WineLovers Community Poll: When I have wine, I usually drink ...
We assume that most serious wine enthusiasts are moderate consumers, if only for the pragmatic reason that if getting wasted is your objective, you can do it much more efficiently with less costly fluids. But what's moderate for you? One glass, two glasses or more? In the privacy of the Voting Booth, tell us your preference in our CompuServe/Netscape WineLovers Community poll!
http://community.netscape.com/winelovers?nav=messages&tsn=1&tid=5127