Gambling in the bargain bin
Living as I do in a town that's probably best known for a big annual horse race, I have no real philosophical problem with risking a few dollars at the race track ... or in the wine shop.
I'll even take an occasional gamble on a real long shot, figuring the chance of loss is fairly balanced by the potential for excitement. Still, I'm also well aware of the old wisdom about a fool and his money being soon parted, so I steer well clear of the $100 betting windows at Churchill Downs.
All of which leads us to the topic for today's sermon, in which we examine some of the variables that govern the wine-related bets we place when the wine shop offers a risky option that looks almost too good to be true.
So it was the other day, when I was browsing the Burgundy section at a local merchant in the difficult quest for something both interesting and affordable. Burgundy, as most wine enthusiasts of moderate means are well aware, can be a minefield because the great wines aren't cheap, and the cheap wines are rarely great. So my eyebrows popped up when I spotted a bin full of Volnay from Olivier Leflaive marked at a surprisingly low $15. Did I mention that this was 1996 Volnay?
An 11-year-old Burgundy in the middle teens! Should I go for it? Naturally I was intrigued. Here, in a few quick "bullet points," are the criteria I considered in making the decision.
• THE PRODUCER: Olivier Leflaive of Puligny-Montrachet is a big name in Burgundy, albeit more renowned for his white wines than his reds. Still ...
• THE VINTAGE: Just about all the experts agree that 1996 was a splendid vintage throughout the Côte d'Or, the kind of full but classic and ageworthy year that unites both classicists and modernists in their applause.
• THE APPELLATION: Here we start getting a little more skeptical. Volnay is a classic, typical region on the Côte de Beaune, but realistically, this is not a high-end Grand Cru or Premier Cru from a named vineyard but a simpler "villages" wine made from fruit grown anywhere in the Volnay appellation, likely the less favored vineyards. Still, even a villages Volnay can be a delightful Burgundy, and assuming reasonably good storage, it could very well be at its peak of maturity.
• ITS CONDITION: Much like walking down to the paddock to get a close-up-and-personal look at your horse before placing your bet, here's where we take a skeptical look at the bottle. Hold it upright. Does it appear normally full, or is there an unusual amount of "ullage" (air space) in the neck of the bottle? This one shows only a small air bubble beneath the cork, a very good sign. A bottle filled only to the "shoulder" of the bottle or below betrays possible leakage, hinting at a deteriorated cork. The capsule twists freely, indicating that it's not glued in place by seepage. The label bears a few scars, but no telltale signs of red-wine drips. And, as best I can tell, no heavy sediment has fallen to the bottom of the bottle. All these clues hint at reasonably good storage and improve the odds that the wine is in good shape.
• THE MERCHANT'S STORY: Assuming that you trust the wine-shop management (and you really shouldn't be shopping for good wine at a shop where you don't), it's never rude to ask frank questions. This stash, I was told, was a close-out lot from a distributor who was clearing shelf space by getting rid of older stock at a good price. Bottom line, "if the wine is bad, bring it back for a refund or exchange." That's good enough for me! I paid my money, and off I went; and the wine was just fine.
I'd love to know your tricks and tips for evaluating these occasional "wine gambles," and I'd be glad to answer your questions. To read and comment on today's column in our interactive WineLovers Discussion Group, click:
http://www.wineloverspage.com/forum/village/viewtopic.php?t=6652
Olivier Leflaive 1996 Volnay ($14.99)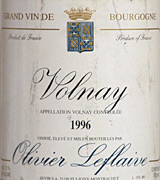 Ruby with reddish-orange glints and a clear edge, no sign of age. Fresh red-fruit aromas and subtle spice; no geriatric character here either, and the flavor completes the trifecta with juicy fruit, appropriate earthiness and mouth-watering acidity, with tart red cherries and plums in a long finish. It's still a villages Burgundy, not a Premier Cru, and its modest heritage shows in a relatively light texture and modest complexity. Still, it's a great value: This gamble pays off with a jackpot. U.S. importer: Frederick Wildman & Sons Ltd., NYC. (Feb. 22, 2007)
FOOD MATCH: Older Burgundies are versatile food wines that marry well with a broad range of fare from red meat to pork, poultry and even fresh salmon. It was an amazing match with the earthy, rich flavors of sear-roasted turkey thighs.
WHEN TO DRINK: Although it's showing no real signs of age and may stay on this plateau for years, the conventional wisdom advises against holding most villages Burgundies for much over a decade.
PRONUNCIATION:
Volnay = "Vol-nay"
WEB LINK:
Attractive and full of useful content, the Leflaive Website is published in French and English. Click the national flag for the language you prefer:
http://www.olivier-leflaive.com/
For a short fact sheet about the Volnay region in English, with photos
and a map from the Wine Growers Syndicate of Volnay, click
http://www.volnay.com/index_uk.html
FIND THIS WINE ONLINE:
Unfortunately, as an older wine on local closeout, this specific wine will be difficult to find. If you're in the Louisville area, check Old Town Wines, 1529 Bardstown Road, while the supply lasts. (I promise not to buy them out.)
Check prices and find vendors for all vintages of Leflaive Volnay on Wine-Searcher.com:
http://www.wine-searcher.com/
find/Leflaive%2bVolnay/-/-/USD/A?referring_site=WLP

Terroirs of Burgundy with Robin Garr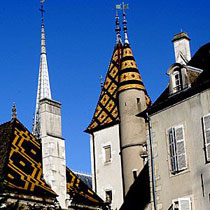 As noted above, Burgundy is one of the world's greatest wine regions but also one of the most difficult to learn. Burgundy produces great Pinot Noir (and Chardonnay) from a patchwork of tiny vineyards that's almost bewilderingly complicated. There's no better way to learn Burgundy than being there; and what wine lover hasn't dreamed of touring this great wine region, meeting its wine makers, learning about its wines and dining in its characteristic restaurants and bistrots?
Now, with the respected wine-touring company French Wine Explorers, we've crafted a special, once-in-a-lifetime Terroirs of Burgundy tour aimed at thrifty, value-seeking wine lovers.
If you've long dreamed of learning Burgundy and its wines with an expert at hand but thought you couldn't possibly afford it, I invite you to consider The Terroirs of Burgundy. I'll be personally leading the July 2-7, 2007 tour, and I promise maximum "bang for the buck."
Interested? Don't delay. The tour is strictly limited to 16 wine lovers, and spaces are filling up. You can review the itinerary and details at http://www.wineloverspage.com/tour/
For more information or to make reservations, send E-mail to info@wine-tours-france.com or call +1-877-261-1500 (toll-free in the U.S. and Canada). And if you would like to discuss this tour with me personally, feel free to write me at wine@wineloverspage.com