Aromatic Musque
When is a grape variety not a grape variety? Philosophers might debate this question at length, but U.S. regulators harbor no such doubt: No matter how distinctive and true-breeding the fruit, it's not a true varietal grape unless the Federal Tax and Trade Bureau (TTB) recognizes it as such.
So, while Pinot Noir, Pinot Gris, Pinot Grigio, Pinot Gris, Pinot Meunier and Pineau d'Aunis are all recognized varieties that may legally be named on a wine label, and so are Cabernet Franc, Cabernet Sauvignon and Sauvignon Blanc, Sauvignon Musqué is not.
That's surprising in a way, if a tasting of this rarity from Sonoma County's Dry Creek Vineyard is any guide: It produces a delicious wine that's truly distinctive with a ripe, aromatic peach and mango character.
Dry Creek produces one of the very few California wines that use Musqué as if it were a varietal grape, selecting it to the exclusion of more traditional Sauvignon Blanc fruit in its Taylor's Vineyard Musqué.
The label language, however, has to jump through a few hoops to gain regulatory approval: On the front it's billed as "Taylor's Vineyard Musqué," with "Dry Creek Valley Sauvignon Blanc" in smaller print below. The back label uses an alternate route to reach the same destination, marshaling parentheses to declare the wine "Taylor's Vineyard (Sauvignon) Musqué."
"Call it what you will," instructs the winery Website. "Sauvignon Musqué is best described as a newly recognized selection, isolated from Sauvignon Blanc vines, though some would refer to it as a separate clone altogether."
Jancis Robinson, wearing her grape expert's hat, declares Sauvignon Musqué (and the similarly aromatic and uncommon Chardonnay Musqué) mutations of the parent grapes, adding that they are "particularly aromatic and may add to the variety's own characteristics a grapey, heady scent."
I'll buy that. The Dry Creek, which is one of the California Wine Club Connoisseurs' Series selections this month, is surely the most aromatic Sauvignon Blanc I've tasted, offering luscious mangoes and peaches in place of the variety's more customary citrus, grass or chile peppers. I like it.
Also featured today is the other Connoisseur's Series selection of the month, the powerful yet elegant Signorello 2004 Luvisi Vineyard Napa Valley Zinfandel.
N.B.: California Wine Club and Connoisseurs' Series are long-time friends and advertising partners, but the following tasting reports and the opinions they contain are entirely my own. If you're interested in the club, call them at +1-800-777-4443 ... and tell them I sent you.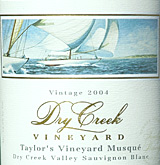 Dry Creek Vineyard 2004 Dry Creek Valley Taylor's Vineyard Musqué Sauvignon Blanc
($30 retail, $27 in half- and full-case lots from Connoisseurs' Series)
Brilliant pale gold. Attractive peach aromas loft over subtle mixed citrus and a distant minty note. Juicy peaches and musky cantaloupe meld on the palate, fresh and bright with snappy, food-friendly acidity. Textured full body and a back note of stony minerality become more evident as the wine warms in the glass, adding intriguing notes of complexity. Wonderful Sauvignon Blanc, a shame that only 350 cases were made. Fine with pork, poultry and fish, but its intensity calls for bolder fare. It was find with a dish adapted from Scott Conant's New Italian Cooking, sear-roasted chicken thighs marinated with juniper berries, fresh thyme and garlic. Limited production, 243 cases made. Winery fact sheet: http://www.drycreekvineyard.com/news/news_03Musque.html (Feb. 17, 2007)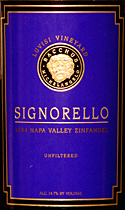 Signorello 2004 Luvisi Vineyard Napa Valley Zinfandel
($36 retail, $31 in half- and full-case lots from Connoisseurs' Series)
This is an inky, dark reddish-purple wine. Plentiful black fruit and mixed-berry aromas are plentiful, with all the concentration and power of a classic "blockbuster" Zin, but it's suprisingly elegant, balanced and deep, focused on blackberries and rich dark chocolate on the palate, gently shaped by soft acidity and smooth tannins in a classic Zin flavor that goes on and on. Hefty 14.7% alcohol is well handled, so well balanced that it gives no sense of out-of-control power or heat. An exceptional Zin, it would serve well in a traditional match with grilled rare beef, but also went well with a Mediterranean-style dish, of turkey sauteed eggplant and onions and fresh tomatoes over pasta. Winery Website: http://www.signorellovineyards.com (Feb. 16, 2007)
FIND THESE WINES ONLINE:
As noted, these wines are available with membership in Connoisseurs' Series, the high-end division of my old friends at The California Wine Club. Call 1-800-777-4443 for more information or to join the club, or visit
http://www.cawineclub.com/connseries
Terroirs of Burgundy with Robin Garr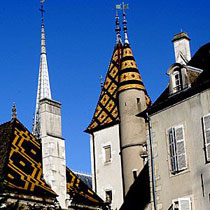 One of the world's greatest wine regions but also one of the most difficult to learn, Burgundy produces great Pinot Noir (and Chardonnay) from a patchwork of tiny vineyards that's almost bewilderingly complicated. There's no better way to learn Burgundy than being there; and what wine lover hasn't dreamed of touring this great wine region, meeting its wine makers, learning about its wines and dining in its characteristic restaurants and bistrots?
Now, with the respected wine-touring company French Wine Explorers, we've crafted a special, once-in-a-lifetime Terroirs of Burgundy tour aimed at thrifty, value-seeking wine lovers.
If you've long dreamed of learning Burgundy and its wines with an expert at hand but thought you couldn't possibly afford it, I invite you to consider The Terroirs of Burgundy. I'll be personally leading the July 2-7, 2007 tour, and I promise maximum "bang for the buck."
Interested? Don't delay, as the tour is limited to 16 wine lovers, and the list is starting to fill. You can review the itinerary and details at http://www.wineloverspage.com/tour/
For more information or to make reservations, send E-mail to info@wine-tours-france.com or call +1-877-261-1500 (toll-free in the U.S. and Canada). And if you would like to discuss this tour with me personally, feel free to write me at wine@wineloverspage.com

Paul Pernot et ses fils 2005 Bourgogne Chardonnay ($14.99)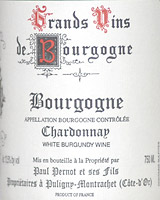 Clear straw color, almost watery pale. Lovely, complex White Burgundy aromas: cooking apples, chestnuts, a whiff of wool. Crisply acidic, medium-bodied and textured, baked apples finish with a citric snap. U.S. importer: LDM Wines Inc., NYC; Louis/Dressner Selections.
(Dec. 20, 2006)
FOOD MATCH: In general, fine with simply prepared chicken or mild fish. It was just fine with an Italian-style take on "macaroni and cheese" featuring farfalle pasta with Cheddar, Emmentaler and Pecorino Romano cheeses, pancetta and peas.
VALUE: Like its Pinot Noir sibling from Paul Pernot's portfolio featured last Wednesday, this is exceptional Burgundy at a price that makes it hard to resist.
WHEN TO DRINK: Although it might gain richness over a few years under excellent cellar conditions, it's really meant to drink up over the next year or so.
PRONUNCIATION:
Bourgogne = "Boor-GON-yuh"
Pernot = "Pehr-no"
WEB LINK:
Here's a short info sheet about Paul Pernot and his sons and their Burgundy properties from the U.S. importer's Website:
http://www.louisdressner.com/Pernot/
FIND THIS WINE ONLINE:
This wine came from Chambers Street Wines in NYC,
https://www.chambersstwines.com
Check prices and find other vendors for Paul Pernot Bourgogne on Wine-Searcher.com:
http://www.wine-searcher.com/
find/Pernot%2bBourgogne/-/-/USD/A?referring_site=WLP

This week on WineLoversPage.com
• WebWineMan: Lowdown on Screwcaps
Trendy or tacky? Cheap or chic? Heretical or avant-garde? Richard Fadeley and the Columbia (S.C.) Free Times taste-test cork versus screw caps.
http://www.wineloverspage.com/webwineman/screwcap07.phtml
• Bucko's Wine Reports: Late Winter Releases
As usual at this time of year, the wineries roll out their red wine offerings. Randy "Bucko" Buckner's wine reviews this month criss-cross the globe and range from $8 to $100.
http://www.wineloverspage.com/bucko/bucko0207.phtml
• Today's Live "TalkShoe": Burghound in Beaune!
We talked about Burgundy on our interactive Internet radio TalkShoe today, including several interview segments with Allen "Burghound" Meadows, who's over on the Côte d'Or this month. You can listen to it at any time from the archives; and mark your calendar to catch next week's TalkShoe live on Monday, Feb. 26, at 1 p.m. US EST (10 a.m. PST, 18:00 in the UK, 19:00 in Western Europe). See our TalkShoe page for instructions, information and hotlinks.
http://wineloverspage.com/talkshoe/
• WineLovers Discussion Group: Looking for a "restrained" Zinfandel
A reader loves Zin with elegance and balance, but where have they all gone in this age of high-alcohol blockbusters. Nalle is one that still follows the elegant style. Tell us about other Zins that you love!http://www.wineloverspage.com/forum/village/viewtopic.php?t=6550
• Netscape WineLovers Community Poll: Favorite fortified wine
Spring is approaching in the Northern Hemisphere, but chances are that most of us still have our share of cold, blustery evenings to go yet. Before winter runs out, we might as well enjoy the season for fortified wines. What's your favorite: Port, Madeira, Sherry or something else? Cast your vote and check the totals in our CompuServe/Netscape WineLovers Community poll!
http://community.netscape.com/winelovers?nav=messages&tsn=1&tid=5112